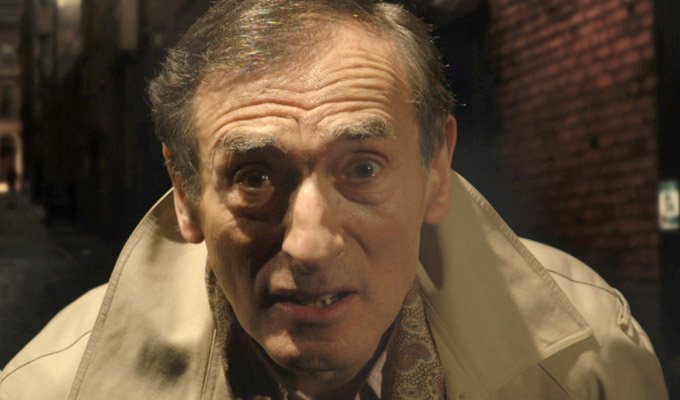 Arnold Brown: The movie
Arnold Brown is making a 'semi-fictionalised' film about his life, which he's described as 'the patisserie version of Trainspotting'.
The film will star Miriam Margoyles, Bill Patterson, David Schneider and Helen Lederer – although no one has yet been confirmed to play the Glaswegian comic himself.
Brown, who performed at The Comedy Store opening night, is hoping to raise £20,000 via crowd funding to develop a script, 'to put me back into the recognition I deserve before I die'.
But the 76-year-old joked in an interview on BBC Radio Scotland's Culture Studio yesterday that he would also be appealing to disgraced New York financier Bernie Madoff .
The film revolves a supposedly pivotal moment in Brown's life – his decision to quit accountancy in 1950s Glasgow for comedy after the death of his uncle Harry, a regular character in his routines 'who began with socialism, drifted into Buddhism and ended up with rheumatism'.
Director Jes Benstock suggested that for the lead they were looking for 'someone like Jason Isaacs… we need someone handsome but neurotic'.
Benstock, who was nominated for the Perrier Award as part of the Merry Mac Fun Show in 1985 and 1986, a year before Brown won the prize, directed the 2011 documentary The British Guide To Showing Off about an alternative Miss World beauty pageant, which featured Julian Clary and Ruby Wax alongside the likes of Brian Eno, Richard O'Brien and Zandra Rhodes.
Brown previously appeared in Julian Temple's 1981 documentary The Comic Strip, recorded at the comedy club of the same name and featuring Alexei Sayle, Rik Mayall, Adrian Edmonson, Dawn French, Jennifer Saunders, Nigel Planer and Peter Richardson. He also appeared in Bill Forsyth's 1984 comedy Comfort And Joy, alongside Patterson, playing a psychiatrist in a manner similar to his stand-up style.
Benstock has made two short film noir pastiches with Brown for Channel 4's Random Acts strand, The Alleyway of a Thousand Questions and Where is the Fish That Never Swam?, in which he mused upon his Uncle Harry's offbeat philosophy.
Rejecting the idea of a straight account of Brown's life, Benstock said they'd realised 'that the most exciting thing with Arnold was not to make a documentary but actually to make a film set inside his mind. Because it seemed a much more exciting place than dull old reality because of his marvellous surreal qualities'.
Asked by Culture Studio host Janice Forsyth if And Why Not? would recall Spike Jonze's postmodern, self-reflective comedy Being John Malkovich, Benstock replied: 'sort of. Basically, I love an unreliable narrator, who you're not quite sure if they're telling the truth or not.'
As if to emphasise the point, Brown then told an anecdote about meeting Dustin Hoffman at The Comic Strip while the American actor was preparing to play Lenny Bruce and asking him about the difference between London and New York comedy, before ultimately confessing that he'd made the encounter up.
Brown admitted that 'a lot of my material is 30 years old. But I don't mind that. A lot of the rabbis are still telling jokes from the Bible, which is over 5,000 years old.'
Brown is launching his Kickstarter campaign to crowdfund And Why Not? by hosting a chat show with the film's cast members at the Soho Theatre in London on November 12, as part of the UK Jewish Film Festival.
- by Jay Richardson
Published: 25 Oct 2013
Recent News
What do you think?