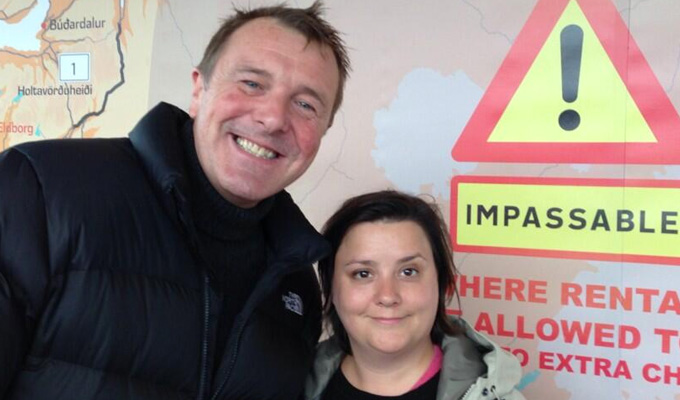 Spend, spend, spend!
David Baddiel, Richard Herring and Susan Calman are among celebrities trying to blow £10,000 in cash in a day for a new comedy travel series for Dave.
Spending Dave's Money will see 'double acts' flown to unfamiliar locations around the globe where they must spend all of their local currency within 24 hours or face a forfeit.
The rules state that the contestants must have nothing to show for their spending spree – as in the Richard Pryor and John Candy film Brewsters Millions – and they can only gamble away 10 per cent.
Yesterday, Baddiel and Herring flew out to Yerevan, capital of Armenia, once part of the USSR, with Baddiel tweeting: 'In Air France Lounge in Paris with @Herring1967 on our way to Yerevan. We've secretly got married and it's our honeymoon.'
Under the challenge's rules, the contestants cannot gamble more than £1000. At current exchange rates, Baddiel and Herring will have more than 6.5million Armenian Drams to spend in Yerevan, which is one of the world's oldest continually habited cities.
Dating from the 8th Century BC and surrounded by the Caucasian Mountains, supposedly where Noah's Ark landed, Trip Advisor recommends the Monastery of Geghard and the Armenian Genocide Monument and Museum as its top visitor attractions.
Last month, and with the help of comedy mindreader Doug Segal, Calman overcame her fear of flying to visit Reykjavik, the capital of Iceland, with former cricketer-turned-pundit Phil Tufnell. While there, she abseiled down a crevasse and tweeted that she had had 'two near death experiences'.
Other contestants are still to be announced for the five, 60-minute episodes, which are expected to air from spring next year.
The show is made by Renegade Pictures, which also made Conspiracy Road Trip with Andrew Maxwell and World's Most Dangerous Roads, which paired Baddiel with Hugh Dennis in Ethiopia, Ed Byrne and Andy Parsons in Siberia, Rhod Gilbert and Greg Davies in Nepal and earlier this year, Marcus Brigstocke and Phill Jupitus in Bolivia.
Hilary Rosen, commissioning editor of UKTV, which owns Dave, said: 'Spending Dave's Money puts an unconventional spin on the hugely popular comedic travelogue format by taking the money, and ultimately the control, out of the producers' hands, and giving it to the talent. That's what makes it such an exciting and unpredictable watch full of fast-paced, off-the-wall adventure – absolutely anything could happen.'
Renegade Pictures' director of programmes, Harry Lansdown, added: 'It's a very bold commission that takes Dave into exciting places and forces some of the UK's funniest, most popular personalities out of their comfort zone, as they battle with the challenge of getting rid of the cash in a country they've never been to before.'
Meanwhile, Herring has revealed that he is writing a comedy drama script for Channel 4, 'provisionally entitled Chedwood'.
A spokesperson for the channel confirmed that a script was in development but could give no other details. Herring grew up in Cheddar, in Somerset, a 'woody' area, and has frequently referred to it in his comedy.
However, having previously announced that he was writing a sitcom for the BBC based on the life of Rasputin, he suggested to readers of his mailout that this may not be going ahead.
He wrote: 'No news on the Rasputin script, so you can draw your own conclusions there'.
- by Jay Richardson
Published: 24 Sep 2013
What do you think?