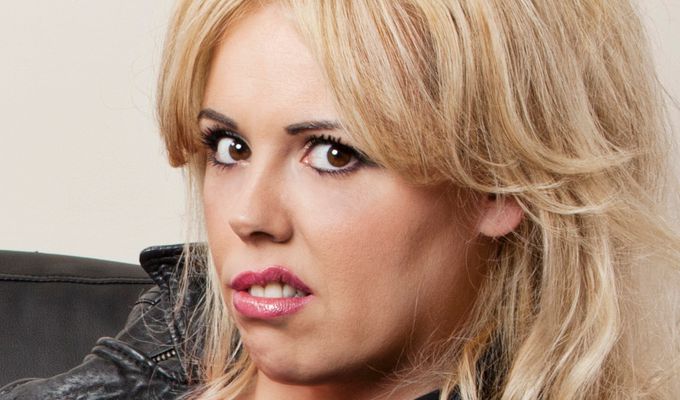 C4 pilots Roisin Conaty sitcom
Roisin Conaty has landed her own Channel 4 pilot as part of a new series of 4Funnies.
The sitcom will be based on her 2010 Fringe show Hero, Warrior, Fireman, Liar, which won her the best newcomer title in the Edinburgh Comedy Awards.
It had been intended as an online Comedy Blap short, but Channel 4 decided to make a full half-hour broadcast pilot.
Made by Peep Show producers Objective, the show, currently going by the working title Roisin Conaty, revolves around a hapless 30-year-old, Marcella, about to give a speech about life as a successful actress in America... even though she isn't.
It is one of four pilots announced by the broadcaster today, including confirmation of the Caitlin Moran project Raised By Wolves.
Head of comedy Phil Clarke said: 'With exceedingly well crafted scripts and new talent at the heart of this year's run, 4Funnies is brimming with clever witty laughs.
'Roisin was originally a Comedy Blap but we green lit straight to a 4Funny; Raised by Wolves is the glorious wordsmith Caitlin Moran retelling tales from her childhood; Scrotal Recall, a memorable title, is a very cleverly constructed script with a big heart, and The Revengers! a moc-doc comedy is Batman meets The Office.
'I'm also hoping that I'll be able to add a couple more pilots to the mix before the year is out.'
Scrotal Recall, created by Pramface writer Tom Edge, is about twenty-something Dylan Witter, who must contact every woman he's ever slept with over the years to tell them he has chlamydia.
The Revengers! is about a group of ordinary people who live in Croydon who decide to try to fight crime, dressed in neon lycra, even though they are not heroes. Simon (the Fox) is a car insurance salesman who lives with his mum. Ian (RazorBoy) is a janitor with psychotic tendencies. Keith (The Black Shadow) is an estate agent and his wife Claire (White Lightning), a yoga teacher. Written by Jack and Harry Williams, it will star Daisy Haggard, Oliver Maltman and Daniel Taylor..
Raised By Wolves is written by Caitlin Moran and her sister Caroline and is about being brought up a Wolverhampton council estate. She said. 'It is a modern day reimagining of us, when we were growing up – loads of kids, no money, home-schooled, and educating ourselves.'
Published: 22 Aug 2013
What do you think?