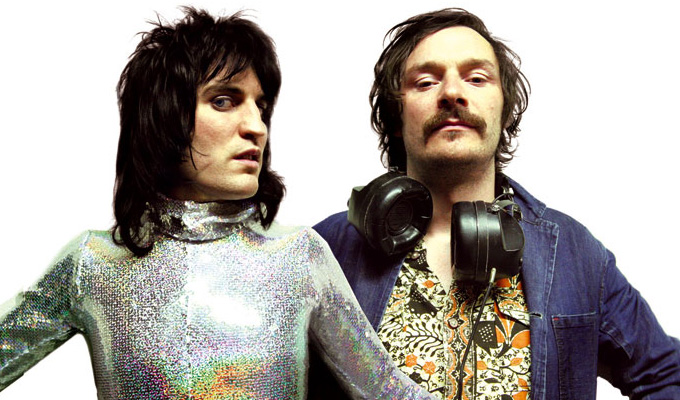 The Boosh are back
The Mighty Boosh are reuniting for the first time in four years.
Noel Fielding and Julian Barratt will be back on stage together in October for an American comedy music festival hosted by Tenacious D.
The move will reassure fans who feared the duo might have permanently split after their 2009 Future Sailors Tour. Since then both have pursued solo projects, with Fielding making his Luxury Comedy series for E4 and captaining a team on Never Mind The Buzzcocks, and Barratt taking on dramatic stage and screen roles.
Fielding and Barratt will join Eric Idle, Zach Galifianakis and Sarah Silverman at the first Festival Supreme, a one-day event on Santa Monica pier put together by Tenacious D's Jack Black and Kyle Glass. Hollywood star Adam Sandler will make a rare live appearance, improvising new songs. And seminal sketch group Mr Show will also be reuniting for the event.
Black enthused that The Boosh are 'our favourite television show to come out of the UK since Monty Python's Flying Circus' – adding that he was 'freaked' that Idle agreed. He told Rolling Stone magazine. 'We asked him thinking, "He's not gonna do it" – and now he's doing it. I just sent him an email or a love letter, basically... and he bought it.'
Tim and Eric, Demetri Martin, Hannibal Buress and Reggie Watts are also in the line-up of the October 19 event, along with Neil Hamburger and The US Office's Craig Robinson with their backing bands. Completing the UK contingent is beatboxer Beardyman.
The Boosh ran their own music and comedy festival in Hop Farm in Kent in 2008, although it was not deemed a success, with Fielding's eclectic and sometimes obscure music taste blamed for baffling punters.
Festival Supreme will be more focussed, and came out of benefit gigs that Tenacious D set up. Black said: 'Every once in a while where whenever there would be a big tragedy, we would gather up all the comedians and musicians that we knew and do a little Tenacious D Presents... It was just always so damn fun, and we thought we should do it on a bigger scale and make it like a festival rather than just a concert.'
He said doing a comedy festival in Los Angeles was a 'no-brainer' as that's where all the acts lived – and the city was crying out for such an event.
Not all of the comics involved have a musical pedigree, with the performances spread out over several stages. Black said: 'The stand-up comedians who are gonna go up, like Sarah Silverman and Hannibal Buress, are going to be in a tent. I think that's a big part of it. When you're out in a giant stadium or an arena, you're just sort of a little mosquito out there. It's the not the ideal venue for stand-up comedy.'
Black played occasional supporting roles in Mr Show and confirmed that creators David Cross and Bob Odenkirk will be involved, but admitted he had 'no idea' what the cult duo were planning.
'That's the thing about Bob and David,' he said. 'They always swerve. They bob and weave. You can't really anticipate what they're gonna do.'
Here are Tenacious D plugging the festival, tickets for which go on sale at 6pm UK time (10am local time) today.
- by Jay Richardson
Tweet
Follow @chortle
Published: 11 Jun 2013
Recent News
What do you think?