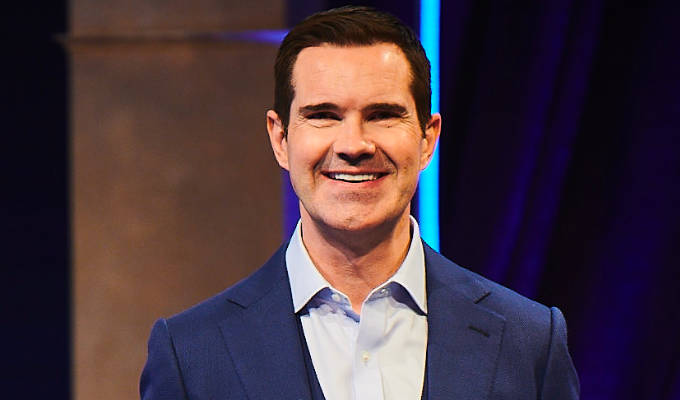 'They say you can't avoid death and taxes. I've done my best to dodge both'
Jimmy Carr's new game show I Literally Just Told You – as created by presenter Richard Bacon – starts on Channel 4 tonight. Here the comedian talks about the show, his lockdown, and his impending 50th birthday...
---
What can you tell us about I Literally Just Told You? What attracted you to it?
The more Richard Bacon told me about it, the more I thought it might work.
I really badgered, begged, cajoled and pleaded to be allowed to do this because great ideas for TV shows don't come along very often and you grab one when you can.
I think the show came out of Richard going to see Brian Cox, the wonderful physicist, give a talk, and he was sitting there thinking 'I wonder how much of this the audience will remember in five minutes' so he noted down something Brian said and thought 'there's no way anyone will remember that.'
I don't think you can double screen with this show, that's something I really love about it. I'm as guilty of that as anyone – I'll sit down and watch something amazing, one of my favourites shows, and be checking the news on my phone at the same time.
It reminded me a little of one of the first things I ever did on TV called Distraction which featured me and four members of the public – it was crazy, and it felt like it was the most exciting thing I could possibly do.
I like to think of TV being like a train set, and you've got to come up with the most fun game to play with. It's such an unusual, weird and wonderful show. I think it's the best thing I've ever done.
That's a big claim!
It's not that big a claim! It genuinely was a joy to make.
My main job is I'm a stand-up comedian, I go out there on my own and decide what I say, what I don't say, that's how it goes and that's great.
TV is like a team sport… I'm in the show, I host it but really if you haven't got good contestants, this show wouldn't be anything. The contestants are crazy good, I don't know where we found these people, but we searched high and low!
The show has an enormous play-at-home factor which most game shows don't have. Most game shows are binary, you either know the answer or you don't.
All you have to know for this show is what's just happened, you just have to pay attention, and you can get the whole thing. We had real fun with the fact that anything could happen – 15-second celebrity cameos, false ad breaks, you can really mess with people's minds. It felt really exciting as a premise for a show.
How would you do on this show? Are you observant? Do you pay attention?
I think I was pretty good. I'm used to being on stage and having to remember someone's name from 15 minutes ago so I can do a callback, so my memory's not bad. If you're a one-liner guy, and I'm a one liner guy, you need to remember 300 jokes in a row every night, so you work that muscle a lot.
Random things happen. We'll show them a film and I'll say 'Dave, roll VT' and then the question ends up being 'what was the name of the VT operator?' It's tangential, weird, wonderful stuff – we messed around a lot.
It took a long time to record because we were shutting down at each end of every part and went 'right, we need to write some questions for the next part.' We had a bank of people writing questions live which is time-consuming and crazy but for the viewer at home, that's fantastic.
How does it feel to be back in a TV studio making a new show after the pandemic?
Making a TV show is always quite a lot of work, but we were having a ball. The contestants had a brilliant time, the audience, albeit a small socially distanced one, were amazing and we just had such fun. We were all so emotionally engaged with the show in the end and genuinely cared about who was going to win.
As for the lockdown, I went off and wrote a book. It seemed like every comedian was given an ultimatum by management – you either do a podcast or write a book. I think I took the gentleman's approach and wrote the book. Plus I was a full time dad! I had a good lockdown, I never would have had that expanse of time with my child and I liked it an awful lot.
Have you ever forgotten something really important?
Well I lost a pair of sunglasses when I was 14. That's the last thing I lost. Oh and hang on, I did forget to pay my taxes for a while there. I'm not going to fucking forget that again.
You turn 50 next September. How are you feeling about the milestone? Any worries about it?
I mean I've had a reasonable amount of work done! They say you can't avoid death and taxes and I've done my best to dodge both.
I'm trying to Benjamin Button this shit, I look fucking terrific, look at that skin – iridescent, beautiful. No, I'm good with it. I think it's about life stage, not age – I've got a young kid and I'm running around with him. I've never felt better.
• I Literally Just Told You starts on Channel 4 at 10pm tonight. Edited from an interview supplied by Channel 4 press.
Published: 16 Dec 2021
What do you think?