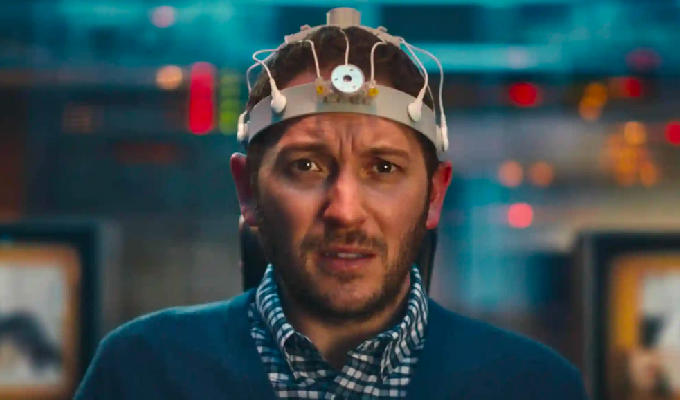 'You have to be grateful for everyone who makes the decision to come and watch your thing'
Jon Richardson is currently shooting the third series of Meet The Richardsons, the Dave mockumentary about his marriage to fellow comic Lucy Beaumont. Here he speaks to namesake JAY RICHARDSON about the show, and Channel Hopping, which returns for a second series on Comedy Central tonight, alongside co-host Judi Love and guest James Acaster.
---
Do you watch specific shows on television? Or are you a channel hopper yourself?
I seem to have missed all the big series since The Sopranos. I didn't see that and I haven't seen Breaking Bad. It's the commitment. My telly viewing is half an hour to an hour at a time, that's about all I have the patience for these days. So doing this show's perfect for me. My entire career could be boiled down to a three-minute clip on a Ukrainian TV clip show and I'd consider that work well done.
Were you a fan of people like Clive James, Jasper Carrott and Dennis Norden talking about television on television when you were growing up? There's not so much laughing at 'funny foreigners' any more ...
That's why one of my favourite sections is our foreign correspondent, because you instantly lose that sense of us saying 'look what they're up to over there!' We have someone, often a comic from that country, saying 'you don't know about this but we watch it and we think it's crazy, what do you think?' They take ownership of their own telly, which is a twist, I think.
Sensitivities have changed, you have to be a lot more careful now. A lot of the clips come from reality TV shows and we're finally in an age where you're obliged to think about the well-being of the person in the clip.
Having Judi there every week and a guest is another step away from Clive James being completely in charge. I'm proffering something up and then we have a discussion about it.
Still, there's some insane stuff that you feature, from Japan and America especially. Do you think there's comfort viewing in thinking that we're not quite as extreme in the UK?
Yeah, certainly in terms of devising a show, we're not as brave. When you watch gameshows where people are genuinely taken hostage and thrown out of planes, you just think 'God, a lot of people had to be all right with that'. A lot of people sat round a table – lawyers, TV execs and talent – and they all said 'yeah, that's fine, let's do it'. Which I think makes it all the more remarkable, because through the evolution of TV, everyone understands telly a bit more.
Can you give me an example of something that was too depraved to feature in Channel Hopping?
There's an Egyptian prank show with Ramez Galal which I just couldn't believe, I couldn't stop watching it. It starts with Paris Hilton… they hijack a plane she's on, convince her that it's going to crash and they're all going to die. And she gets to the ground and you can see she doesn't know how to react. He keeps saying 'oh, you've been pranked' and she's just saying 'that's not a prank, I wasn't pretending to be scared'.
His special last year was the first one to get complaints, so you can see a change in culture there. It's still audiences that have to pull telly people up a lot of the time. After it's been commissioned, filmed and signed off, they're still having the conversation of 'oh right, maybe we traumatised people in that show'.
Tell me about your relationship with your co-host Judi Love.
Judi is my favourite kind of comic to work with. Someone who you can throw anything at and she will have a) an instant reaction, which is really important for telly but then b) an opinion on it. To do all that and be funny, that's the game, really, on telly. Judi's a really intelligent, interesting person, who is able to be funny in everything she says.
Because we filmed under Covid, we don't have a studio audience and you need someone in the room who's like an audience. That's what she is. She'll take it off somewhere totally new, say something I hadn't thought of. Then we'll go off with the guest and between the three of you, you create a moment. You could never have written it if you'd sat in a writing room.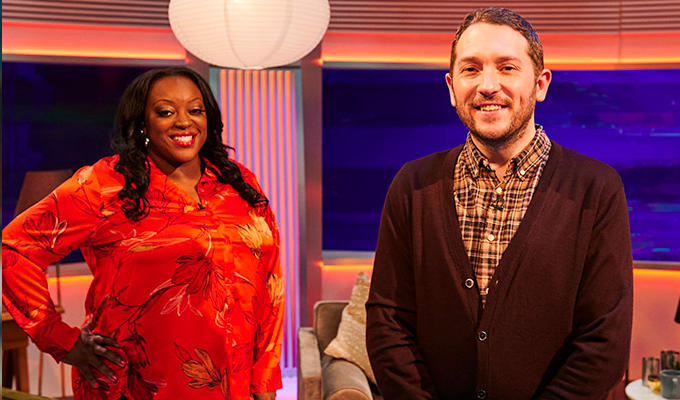 What was the television that formed you as a comedian?
All stuff that was not meant for me at the time. Watching Bottom when I was too young. Russ Abbot I remember. I was watching a lot from 10, 11. Anything that was comedy on telly I just devoured. And without realising it, wanted to learn from.
Have I Got News For You has been a mainstay, not just of my adult life but my teen life. I would watch that like a rehearsal. I never thought I could be a comedian. But I would watch it thinking 'I wonder if I'd have said what they've just said'.
Now looking back, you realise the Nineties were just an exceptional time for Thursday night telly. Sitcom and sketch. I would get into school on a Friday morning and the shows we were talking about were Shooting Stars and the Fast Show, Alan Partridge.
Men Behaving Badly is massively underrated. If it's on Gold now and Lucy goes to bed at about 10pm, I'll say I'm just going to watch five more minutes and stay up for two hours, because it's still really incredible writing and performances. We were spoiled by exceptional comedy. Stand-up was exceptional then.
Comedians like yourself and James Acaster have plenty of credits on the bigger channels. But it feels like your generation of stand-ups have moulded the likes of Comedy Central and Dave in your own image doesn't it?
Yeah, those channels now represent a really legitimate first route. In the past, you had to try and get something away on the BBC and Channel 4. But [Comedy Central and Dave] now are the places you got to first now sometimes to say 'look, I've got an idea'.
You've already mentioned Clive James and whenever we announce Channel Hopping, I'll get a few tweets saying 'ooh, it's already been done that'. But that's because it's a format that's timeless. Nobody owns the idea of watching telly from around the world, talking about it and being funny about it, so it will go on forever.
The bigger channels might have an insecurity about it, saying 'oh, it's a bit close to this' or 'what can we do to tweak it?' But Comedy Central have been fantastic. They commissioned it straight away, they've backed really good talent to come on as guests and they've let us just get on with it and make it.
With Meet The Richardsons, how gratifying is it to have Dave's highest-rated comedy that hasn't been poached by Channel 4?
There's a lot of caveats in that sentence! It's the most popular comedy, but you cannot ignore that people would still rather watch Americans breaking into a storage hut for statues of labradors to drive across the country. But you know, give the people what they want. So for series three I'll hire an HGV and just drive to Wigan for no reason to pick up a load of stuff from a lock-up.
But no, it's incredible, it's flattering. There's a generation of people who check what's on channels One, Two, Three and Four and then, if there's nothing on there, they'll do something else. Everyone who comes to Dave, we're aware they've made that decision and we're really grateful for it. And the same with Channel Hopping. There's just so much choice now. You have to be grateful for everyone who makes the decision to come and watch your thing.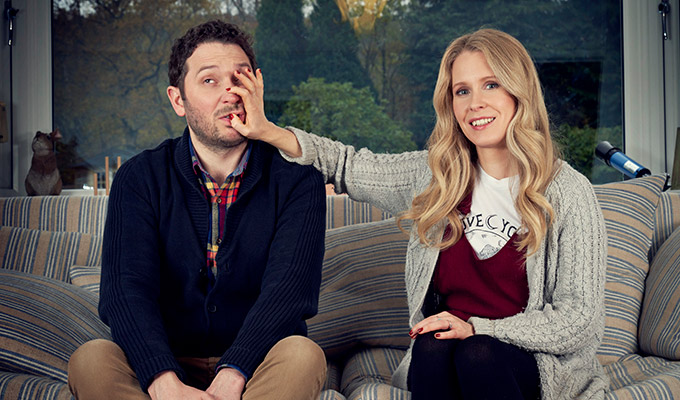 Can you tell me anything about the cameos and storylines in the next series?
Well, it's evolving now. I would love to but, not for any reasons of discretion or keeping secrets, I don't know. Lucy and Tim [Reid] come up with scenarios and the rest of it is just us sitting down on the couch and arguing.
Series two, we didn't intend to go to Bridlington and have a tennis match. But we sat down for the couch scenes, had a massive argument where Lucy, out of nowhere, said she thought she was a better tennis player than me, even though she'd never played. So we went to Bridlington and filmed a scene. So that will happen again.
We're filming the couch scenes at the moment and we're very lucky that with our crew we're able to react a bit. So the show feels natural, it's planned as loosely as possible and then tweaked according to what we're saying. I'm hoping not to get set on fire this series.
But are you leaving Hebden Bridge?
Well, at the end of series two, we do pack up the car and move away. I think I'm able to say that. People can make their own decisions. You've only got to check Twitter now to know where we are, it's ludicrous to pretend. Hebden Bridge will be coming with us, shall I say that?
What can you tell me about your 'interruptions' in Lucy's forthcoming 'mumoir', Drinking Custard?
Because it's so much Lucy's journey, it's her book and she's written it, it would be ludicrous for me to put some sort of pompous foreword in where I speak about it. And I was on tour a lot in the first year, there's a lot of it that I am reading for the first time.
I read through a final draft. Wherever I had a note, rather than as would happen in a sensible marriage, discuss it with Lucy and come to an agreement, I just put a footnote on the page for her editor and said: 'That's not my recollection of that event'.
Sometimes I correct grammatical errors. I've put to the editor: 'Don't correct this because I think it's funnier the way she's written it but I think she means this'.
A lot of it I couldn't chip in on though, because it's so in her voice. Like all of her writing, she's able to create her own world and it's written very much in her speech pattern. Just now and then I can add something passive-aggressive.
You've postponed your Knitwit tour till next year. Are you trepidatious about returning to live shows, do you want to run the material in properly?
Exactly that. I haven't performed, I couldn't get into online shows. I've been a comic for nearly 20 years now, all that time learning how to perform live. I couldn't make the transition to online.
It's such a big thing for people to pay the ticket price this year, to book babysitters and go for a meal, it's such a big undertaking. I couldn't realistically say in September that 'I can guarantee that I will be on the form I was on for the last tour'. I finish a tour, then I'll start writing new bits, then I'll bed the show in for a year. I just couldn't guarantee the show would be as good as I want it to be.
Plus, we're still in slightly uncertain times where I can't guarantee that those winter dates will be at full capacity without masks. And that's what I want the tour to be, I want everyone there and I want the theatres to get the full revenue. It was a hard decision but I just need to really get back and get funny again. Because all I've done is telly. I don't want to get to dates and still be thinking, 'Oh, that routine could do with a tweak.'
Besides, I haven't done anything! For the last 18 months. The mainstay of a comedian is the 'I was on a train' or 'I did that bit a gig and someone said …' I can't even do that. I haven't been on a train for a year and a half. Even if I were to cobble together some anecdotes, I don't want to sit there and say I've got a routine about having bad breath in a facemask and shouting at my daughter too much because we've been together too long. Hopefully, that will be replaced by genuine life experiences.
• Channel Hopping With Jon Richardson is on Comedy Central at 9pm tonight.
Published: 2 Aug 2021
What do you think?