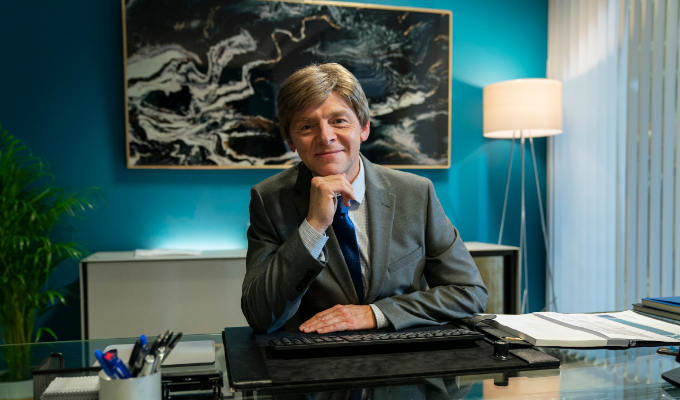 The supernatural? I'm quite sceptical... it's just physics
Truth Seekers, the new comedy-horror from Nick Frost and Simon Pegg about a team of part-time paranormal investigators, lands on Amazon Prime Video on October 30. Here Pegg talks about the show they co-created with writers James Serafinowicz and Nat Saunders, and which co-stars Emma D'Arcy, Samson Kayo, Malcolm McDowell, Susie Wokoma and Julian Barratt.
Truth Seekers was something Nick Frost and James Serafinowicz were working on a long time ago. It was based on mine and Nick's adventures loosely ghost hunting, which we did a couple of times when we were young. We would drive out to an abbey and walk around pretending to believe in ghosts.
Nick and I had always been huge fans of the X-Files. We bonded on that in the early 1990s when we first started hanging out. We used to have boxsets of the first and second season and we lived in a house where there was nothing but a television and a heater. I don't think it even received proper television but X-Files was a big influence on us.
We'd always enjoy shows that were very character led, like Northern Exposure, and so we really drew on those influences for Truth Seekers to create a show that was genre based, led by its characters, funny, heart-warming yet scary as well.
Both Nick and I are fans of horror and I've always had this theory that horror and comedy are actually quite unlikely bedfellows, in that they both structurally exist with similar criteria. It's like a ghost story and a joke, if you look at them structurally they're both the same. They're a build-up to an emotional payoff. Horror and comedy can sometimes feel slightly at odds with each other. But but if you get it right, it really works.
I think the trick is never have the comedy come at the horror's expense or vice-versa. You treat the genre aspect of the film or the show with utter reverence and you do it properly. It's very easy to make fun of the fantastic because you can just choose not to suspend your disbelief and then be a little bit sort of judgemental or distasteful about it. Whereas, if you commit to it fully and passionately and have faith in the genre, you can strike that balance. It's all about taking the right parts of it seriously and allowing the humour to exist in its own space.
An American Werewolf in London is one of the set texts. It… never makes fun of the horror. Even in the funny moments with Jack, gradually rotting away and coming back as this sort of conscious for Mike. Even though that's funny it's still horrific.
[Director Jim Field-Smith] has a really good, eye, ear and nose when it comes to directing. His instincts are really good, particularly for this sort of genre mash-up of comedy and horror. He knows when to pull back on the comedy and when to ramp up the horror. Jim's a great presence on set, full of ideas and I feel very much in safe hands.
It's very important to get the right person for the job when it comes to direction, particularly if you've written something and have the opportunity like we do as producers to select our director. You need to get someone who's going to do right by the words and convey the same feel that we had intended in the writing.
Writing was the most challenging aspect of it… It was great to be writing with Nick, James and Nat because they're all fine writers but it was also challenging sometimes to write with four of us. Sometimes it's easier with just two, with four that's three more voices other than you in the room. We were all fighting for own points of view.
Have you had any paranormal experiences?
Fairly limited. I'm quite sceptical. One time when Nick and I were sharing a bedroom in Kentish Town there was a wind chime hanging from my window, and it started ringing – I pulled the curtain or something – but it didn't stop. We were laughing at the fact it hadn't stopped, then it became slightly worrying. We were terrified for a moment but then, you know, it's just physics.
• Nick Frost: 'We were trying to make a British Stranger Things'
Trailer
Published: 20 Oct 2020
What do you think?