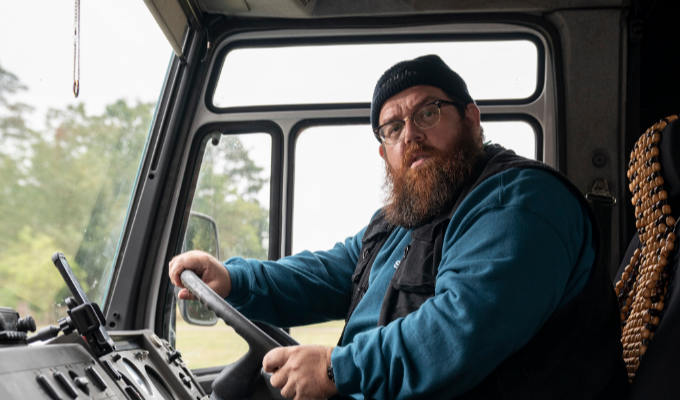 'We were trying to make a British Stranger Things'
Truth Seekers, the new comedy-horror from Nick Frost and Simon Pegg about a team of part-time paranormal investigators, lands on Amazon Prime Video on October 30. Here Frost talks about the show they co-created with writers James Serafinowicz and Nat Saunders, and which co-stars Emma D'Arcy, Samson Kayo, Malcolm McDowell, Susie Wokoma and Julian Barratt.
Simon and I used to be ghost-hunters, I would say children, but we were like 30. And it wasn't ghost-hunting, it was just getting in his car and driving to High Bean in Essex where there's an old Saxon church and just frightening one another, walking around the cemetery at night on our own.
I'd always get quite badly injured, I think I suffered two really bad injuries, including knocking myself unconscious and Simon left me because he thought I was mucking about.
I think that was partly where it came from. Just normal people, you know, wanting to experience something super-unnormal.
Then, the actual nuts and bolts of the show itself came when James Serafinowicz and I had an idea of: what if this guy, Gus Roberts, was, as well as being a satellite field engineer and cable installation expert, someone who tapped into the world of the supernatural.
I didn't want Truth Seekers to be a kind of 'set them up, knock them down, sitcom', which I think in hindsight would have been a lot easier. I think Martin Clunes in a car with a ghost is a lot easier than trying to craft some British Stranger Things. I think that's what I wanted it to be.
I think that this is changing but I don't think we in Britain do that thing very well where we think, "let's do something big; let's do something which starts small but becomes really big".
I wanted to do something which was, in terms of scale, scary and funny, and to not step over the line... It was difficult. I think we bit off so much. There were times in the writing process where we would just sit and look at one another, and then we'd go home. Or none of us would come in.
It was really difficult because when you want to write something complex and it involves science fiction, you have to have an answer for questions people might have. That answer can be shit but as long as you have it and you believe in that then the viewers are comforted by that.
Truth Seekers is similar to old-fashioned 1970s/1980s British horror. A lot of it is shot in the daytime, relying on jumps and things being creepy, houses being creepy and that innate sense of 'I feel that there's something weird about this'.
There were different types of horror we wanted to go for, some gory, some of it was that weird horror including jumps, old women, a passageway and old hospitals.
It was a real job trying to get scares into every episode and to make them work. It's important for us to not step on them by undercutting them with a punchline. I think it's allowed to be scary and it stands alone as something which is frightening as long as there is comedy in there in some way.
How would you react with your best mate if you saw a ghost? It would be terrifying but your sense of humour wouldn't leave you. I think that's what our ambition was for Truth Seekers but at the same time trying to make something super ambitious and fun.
I would hope viewers to enjoy a show about friends, a show about misplaced individuals looking for a truth and enjoy searing comedy and some real scares.
Have you ever experienced anything unexplained or paranormal?
Trailer
Published: 20 Oct 2020
What do you think?