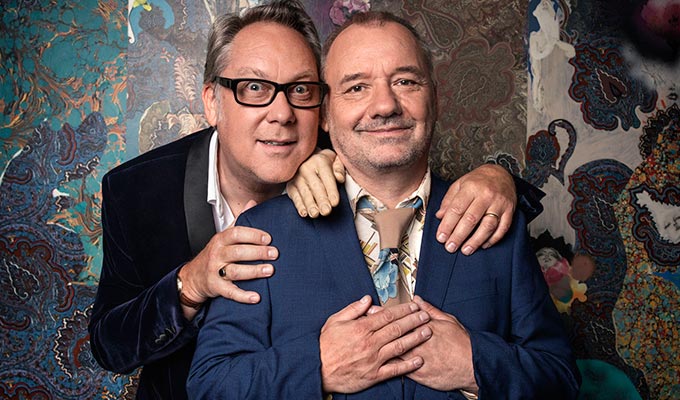 'When we're writing it's like we're 15 again'
They've been called surreal, anarchic and Dadaist. But Bob Mortimer has a better phrase to describe his work with Vic Reeves. 'It's fucking nonsense,' he says.
The pair were together on the stage of the BFI in London last night to preview the forthcoming return of Vic & Bob's Big Night Out to BBC Four, 30 years after the original started in a South London pub.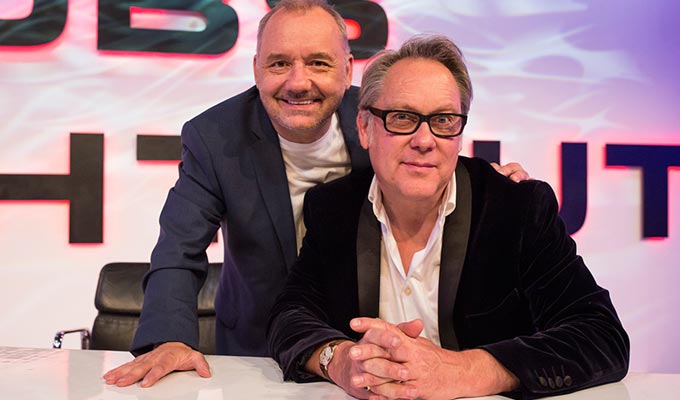 And it's clear that unlike many double acts, the partnership – and friendship – that made them successful is as strong as ever.
'The best part of our lives is every day when we're writing,' Bob says. 'We could be 15 again. We're just having a laugh together and that's what keeps us together. It's a very precious thing. Nothing gets on my nerves about Jim whatsoever. We've never fallen out.'
'You can have a mate for 30 years, it's easy.'
Jim – Reeves's real name is Jim Moir, of course – was equally stumped when asked if there was anything about Bob that wound him up. 'I'm trying to think of something…'
Suddenly something occurs to Bob. 'You used to eat some very specialist food. There was a period when everything fucking stank.
Vic: 'He's talking about the kimchi.'
After some lies about Bob selling 'trinkets to gentlemen of notes' and of Vic being a hairdresser known as The Whiffler with his three-pronged scissors, the pair went on to recall the real story of their fateful first meeting.
As is now enshrined in comedy history, Bob first met Jim when he was doing Big Night Out in the Goldsmiths Tavern. 'He was the funniest bloke I saw in my life,' he says now. 'And continues to be.'
Vic recalls the night well, not least because he had to move to the smaller upstairs room as Lily Savage was doing a show in his normal spot.
'I think I put on the funniest thing I'd ever done,' he says. 'It was Tappy Lappy.
'The cardboard faces you see everywhere now – they ripped us off – I had two of those of Bryan Ferry with just the right look, and me and my mate Johnny Irvine had planks on our feet and the sound of kettles being smashed and we did a tap dance.
'That was the first thing Bob saw and he thought, "I want to be mates with the guy who created that"
'We sat down afterwards and I said, "Did you enjoy that?" and he said, "Yes, very much thank you." And I said, "Would you be prepared to do something equally inventive next week?"
'That's the truth!' Bob says. 'To walk into that room was quite extraordinary.'
To this day they try to capture the spirit of the original Big Nights Out. The new shows were filmed in front of an intimate studio audience and are proudly rough around the edges.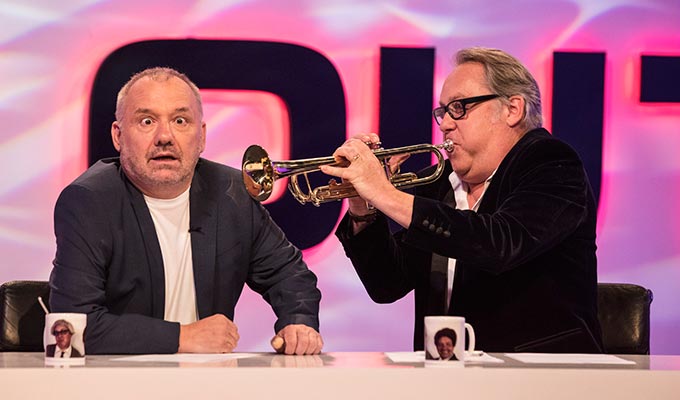 'We wanted to do it in half an hour and film it in real time,' Vic says. 'Just do it quick and make it exciting. We just went and did it. If anything happens and we get it on camera and keep it.'
A low-tech feel pervades the props and occasional animation, too.
'There's a bit of animation where David Walliams had a fight with Warwick Davies, I filmed that on my kitchen table with my iPhone,' Vic says, 'I Sellotaped it on to a broomstick.' Quite how true that is we'll never know.
'I made the props at home. Every prop on there I made I've had so many Turin Shrouds I can't count them… '
Bob explains that there's a rationale to that. 'In TV. one of the hardest things if you care about your comedy is if you ask, "can we have a bucket?" or a tea towel or a wooden spoon… you get a brand new bucket or a brand new spoon and they are no use to use to you.. The best thing is to bring in your own bucket, it feels used, and worn in – it's authentic.'
When asked if they write their own songs, an incredulous Vic goes: 'Of course we do! Who are you going to get to write them?! We did send message to Elton John… he said, "do you know what lads, I think I'll leave it"
The same cheerfully amateur ethos applies to the idiosyncratic co-stars they recruit as sidekicks, usually with little prior experience. In this series, it's Vaun Earl Norman.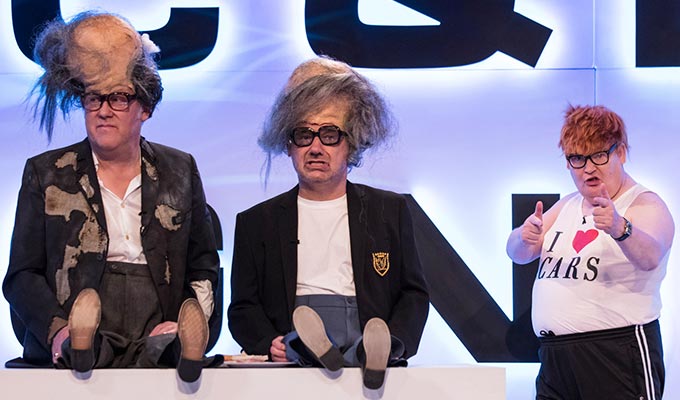 Bob told a story of how he realised Vaun would be perfect for the show when he got involved in one of Mortimer's own wind-ups.
'I phoned into a late-night radio show and said my son was the fastest sprinter in the world, that he could do the 100 metres in 19 seconds,' he said. 'Vaun phoned in a couple of days later and said, "I know that kid and he's shit".
'It was just the way he did it, a miracle down the phone line. He was great in the show, we've been so lucky with Charlie Chuck, Matt Lucas and Angelos. They've all go that same spirit of of fuckaboutary.'
'We don't want to involve professionals,' Vic noted flippantly. 'We want things cheap.'
'There's a lot of truth in that,' Bob expanded. 'We try not to use people who are staid or who have seen it all before. So from wardrobe to director we want to use people who have still got a bit of excitement about it all.'
Vaun admitted he was 'terrified… literally lost" when just asked to 'do his thing' on the show. ' I went on and did a Teeside character and they said, "Brilliant on to the next thing.",' he recalled.
Vic and Bob also spoke of how they've been allowed to make the sort of comedy they wanted, free of executive interference, since the early days. 'We're lucky no one has said, "No you can't" and if they did, we would go and do it privately,' Vic says. 'We're very lucky no one seems to bother with us,'
Bob adds: 'When the show went on telly 30 years ago it was just our stage show. So that meant no one interfered and that's stuck with us really, no one's supervising it.'
He then suddenly adds: 'I've just bought an orange carpet. Fucker.'
It's apropos of nothing, just a random interjection to make his old pal laugh. Later he'll pipe up with: 'I had a vasectomy because I didn't want to have any kids. But I when I got home they were still there.'
As they reminisced over their career, they remembered their first tour, when they were 'rock and roll comedians' – when they spotted a woman in the front row of their Ipswich gig fiddling with herself.
They recalled guests who never understood the premise of Shooting Stars: Larry Hagman and Chris Rea 'dealt with it as if it was an authentic quiz that was shit",' Bob says.
And Bob remembered the shock of filming Caterrick and seeing Vic in character for the first time . 'Jim emerged and and we said, "What the fuck has he have done?"' Turning to his pal, he added: 'You walked out looking like Peter Sutcliffe, the murderer.'
Speaking of their favourite of each other's performances, Bob says he loved Vic's character Kinky John, with Reeves explaining how he got his distinctive mumble: 'I used to put toilet paper in there [the roof of his mouth] then Daniel Day Lewis nicked it for Gangs Of New York. He told me!'
And Vic: 'My favourite character that Bob's ever done was when we did Tom Fun and he was Derek. I was always jealous of not playing Derek.'
Bob explained the genesis of their creations, too, explaining: 'Our characters aren't born from the words, it's not like there's a funny script. We start with an unusual character or stance or look. The words come later.'
Finally, they were asked about The Glove – their feature film debut now in production from London production firm Studio POW in which they play two junk shop owners on the quest for Michael Jackson's white glove.
'We wrote that eight years ago and it went hither and thither,' Vic revealed. 'At one point it was going to be commissioned y and paid for by Damien Hirst, it was going to be done by Film 4. Anyway, now it's actually going to happen.
'It's a good solid story. It's the Holy Grail, but the Holy Grail in these days is Michael Jackson's training glove. It's the mystery of celebrity paraphernalia'
Vic goes on to explain one character: 'He was in the war, his legs were blown off, but his feet were OK. This fella got his feet put on there [he indicates the feet were grafted straight onto his torso]. He's called the Finch.He stands on the bar of this pub and tells war stories
'It ends up with a proper shootout with Matt Berry,' Bob adds.
'And Dusty Bin's in it,' Vic says.
That's probably not true.
• Vic & Bob's Big Night Out returns to BBC Four at 10pm on Wednesday November 28.
• They were appearing as part of the BFI's Comedy Genius season. Click here for all their activities in London (including an interview with Jo Brand on November 27 for which you can get two-for-one tickets by quoting Genius 2-for-1) online and across the UK.
Published: 21 Nov 2018
What do you think?