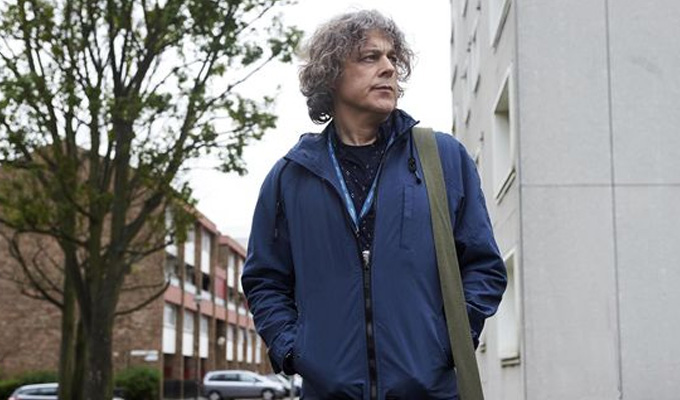 'It's two sides of the same coin, whether something's funny or sad.'
Jo Brand's social worker comedy Damned is set to return to Channel 4 soon, with Alan Davies's character Al becoming especially jaded about his job. Here he speaks about the show's return:
So Al is going through something of a crisis?
Yes, he is, he is suffering from burnout, I suppose you'd call it. He's really starting to become disillusioned with the department being under-resourced and underfunded, not being able to deliver the service that he wants to.
It reflects the reality of children's social services. Quite a lot of people leave because they find it so demanding and difficult, and there's quite a lot of sick days, they get quite stressed, and there's quite a lot of work that you'd like to do but the caseload's too heavy… it's an ongoing, underreported scandal, really, how children aren't prioritised in public services in the way that you would assume they would be, given that they're innocent victims of so much.
There's also a new face in the office. Can you explain a little bit about who Mimi is?
She's a really funny character. She is very determined to do the right thing. She's quite forthright but has little or no practical experience so she's finding out that, once you're at the coal face on the job that you're principles sometimes have to be compromised. Lolly Adefope plays her and she's a hilarious comic so she's been a good addition to an already very strong cast.
And Kevin Eldon's character Martin has been promoted. Can that lead to anything other than disaster?
He unexpectedly becomes quite bossy and difficult, which Kevin Eldon does brilliantly. There are a couple of moments of physical comedy with Kevin Eldon. He is so fun, though, I had to go off set because I was going to laugh.
Is it easier coming back for a second series, because you already know your character, and the tone of the show is already established?
It's a sort of yes and no, really. You do know what you want to do, but it's also a matter of picking up from where you were and trying got get the rhythm and everything back.
But it's a very strong, experienced cast and I think the main thing is we're delighted to get another go because if you only have six episodes of something it's easy for the viewing audience to miss it.
For the writers especially, having spent time putting six episodes together for the first series, they can then see what happens on the set, see the relationships between the actors and characters. That can all feed into a second series. If they don't have the opportunity to go back and have another go there's so much that they've learnt that they can't implement.
So I think it's essential really, especially for a comedy, to get a second crack of the whip. And also you can accumulate and grow your audience and that's really what we want to do, because everyone is very serious about trying to throw some light on the work of children's social services and the plight of children's social services, for them to do it justice, as well as making a show that people will hopefully laugh at.
Do you see Damned as being quite political?
Yes, inevitably. I think choices that are made about public funding and public services, and how those things are prioritised; there are very different views, more so than ever now I think, between the political parties about what's the right thing to do in terms of the size of the state.
I think when it comes to the state of children's services there's only one right thing to do and that's increase the funding and make it better resourced because children are innocent.
I do feel that we're many of us parents on this show – Morwenna Banks has got children, Jo's got children, I've got children, Kevin's a father, Isy Suttie's a mother – and we're quite keen that children should be cared for much better when life doesn't go well for them.
You wouldn't think it's a controversial opinion, would you?
No you wouldn't think it would be a drum that needed banging but it does.
The show deals with some really sad stuff. Why do you think comedy and sadness go so well together?
I do feel it's often two sides of the same coin, whether something's funny or sad.
I think with Damned it's a very difficult line to tread because you want to have some authenticity about the cases that they have to deal with and you're often dealing with very sad and difficult situations. So they might not apparently lend themselves to humour but the office politics and the interplay of the various points of view, whether they're liberals or conservatives, do.
But once our social workers are out in the field and meeting the cases, the actual children who are depicted in the show, we're quite keen to make sure those people aren't the butt of the humour that they are taken seriously. So the jokes normally fall on us.
What kind of a social worker do you think you would have made?
Oh goodness, that's really difficult. I mean I am quite empathetic towards children but perhaps because I've got children of my own… I think I would be as irate as my character is about the bureaucracy and the underfunding.
I don't know if I'd really be cut out for it at all. I really don't know how people who do the job cope. It's quite heroic in lots of ways. It's very difficult indeed, and often the work they do of course is not highlighted until a mistake's made or something terrible happens to a child and then the world falls on them.
Jo's one of your really close friends. Does that make it easier to work together or more difficult?
It's both easy and difficult to work with Jo. It's easy because we get on well and we're good friends, and it's difficult because she quite often is passing you notes with jokes on during scenes or mucking about so much in rehearsal you can't remember what you're supposed to be doing.
She feels responsible for how everybody is, what everyone's experience of going to work on Damned is, so she takes on a bit of a burden for everyone's wellbeing. She likes to have people around her that she knows and she trusts and she gets on with so it's quite a close-knit little group.
There's some great comic talent in this show. Does that make for a lot of laughter on set or is it all too professional for that?
Oh there's quite a lot of laughter on set but you're still at work, and if you to repeat the same action 25 times, it's going to wear you out! But that is the nature of being an actor.
Do you have a degree of creative input into Al? If you think something doesn't sound right coming out of his mouth, is that something you'll raise?
I would if I thought there was a problem, but that hasn't arisen. I just try to learn my lines and play it right. The characters are all pretty well drawn. They're good scripts so there aren't many beats where you think 'what's happening here?' It's all pretty clear.
And there's normally someone around to ask anyway, one of the writers like Morwenna, or Will, or Jo or somebody will be nearby in case you think, 'what's happening?'
Looking at Jo creating the series, is that a route that you are tempted to go down? Writing your own series?
I have done a few times over the years, it never quite came off for me in any of my stuff. I had a sitcom on the radio a few years ago which I love doing. But it's very difficult to get stuff on. I'm full of admiration for Jo because this series works really well… she's producing more than ever as she gets older.
You've kind of carved out a varied niche for yourself. You've got the acting, you do QI, you write, you do stand-up… which one makes you happiest?
All the time in between! I think of myself as a stand-up comic so if everything else goes that's what I'd fall back on if I were skint. That's what I think of myself as. And I write all my own material and all I have done, so all my DVDs I've done for better or for worse I feel 'Oh, I made that. That's me.' I'm quite proud of those.
• Interview courtesy of Channel 4 Press. Read an interview with Jo Brand here.
Published: 30 Jan 2018
What do you think?