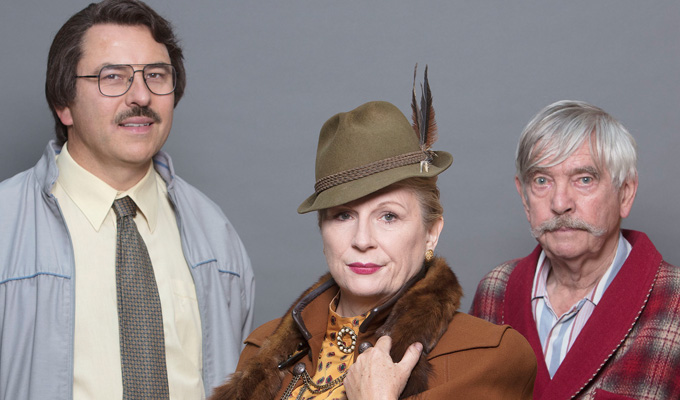 'I hope this will make people more sympathetic to those with Alzheimer's'
A TV adaptation of David Walliams' children's book Grandpa's Great Escape will be coming BBC One on New Year's Day. Here the comic, who also stars in the film alongside Tom Courtenay and Jennifer Saunders, talks about how the idea came about…
What was the inspiration behind Grandpa's Great Escape? Are any of the characters based on people you know in real life?
I heard about a real story a few years ago about a man called Bernard who escaped from an old people's home so he could re-join his soldier comrades in a reunion.
He has since passed away but I found myself thinking, 'I wonder if there could be a Great Escape type version of that story?' because I love that movie.
Also, I was presenting Comic Relief and I kept seeing this film about an old lady who was living with Alzheimer's, and she kept talking about how she thought her husband was alive, when it reality he had passed several years prior. I saw that film about ten times and it made me cry every single time.
So I had these two ideas that I was trying to piece into one, and I wasn't sure if I'd be able to mould them together as one story is quite comic, but the other is ultimately very sad. But I think it strikes a good balance.
This is your fifth children's book to be adapted for a Christmas special. Do you write your books with potential TV adaptations in mind?
I do tend to think visually – so, I'd say so. But they do need to work as books in the first instance, so there's a fair bit of work that goes into adapting the story.
Given that I come from writing television, it is often at the back of his mind. I think about the characters and how they could be acted out when I write it. My main objective is to make the story very exciting and visual – I'm trying to make them as entertaining as possible for children. I want to encourage kids to read and give them something exciting and funny and moving. And I try and make sure the stories have a lot of pace, which means they adapt a bit more naturally for TV.
But this story is quite ambitious – it's about the stealing of a Spitfire from a war museum. This is quite difficult to do on television given that we don't have the multi-million dollar budget of a movie. But there will be a lot of special effects in this one, and I'm really excited to see how it all comes together.
How involved are you in adapting the books into screenplays? Do you find it an interesting, difficult or rewarding process?
I work with a great comedy writer called Kevin Cecil. We've been working together for a few years on my book adaptations, and have worked together on other projects too. And he tends to do the first draft and then I come in later and we start working together on it. Because he's adapting my book, I tell him not to be slavish to it – he can change things and bring in new characters if they are needed.
But Kevin does the first draft, which I personally think is the hardest part – that's the real heavy-lifting when you're writing a script. And then I come in and co-write the subsequent drafts. It's pretty harmonious.
How would you sum up Grandpa's Great Escape in a few sentences?
It's an adventure story about a daring escape from an old people's home, and it's also a story about a special connection between a grandson and a grandfather - because Jack is the only one who understands Grandpa. I often feel there's a special connection that skips a generation.
What do you hope audiences will take away from the show?
I hope that people might be more sympathetic to those with Alzherimer's or similar conditions. I hope they might think a little more about the incredible sacrifice people made during the Second World War. I grew up somewhat under the spectre of it – I was born in 1971, but my parents both lived through it and my dad can certainly remember it and I think we need to continually learn from history.
And overall, I hope they're entertained, I hope they're moved and I hope they ultimately treasure their grandparents a little bit more, because I think time spent with your grandparents is a very precious time. I can remember very special times spent with my grandparents, which I will always treasure.
• Grandpa's Great Escape is on BBC One on New Year's Day at 6:55pm. Another of Walliams's books, Ratburger, will be on Sky One on Christmas Eve. Click here to read a Q&A about that.
Published: 19 Dec 2017
What do you think?