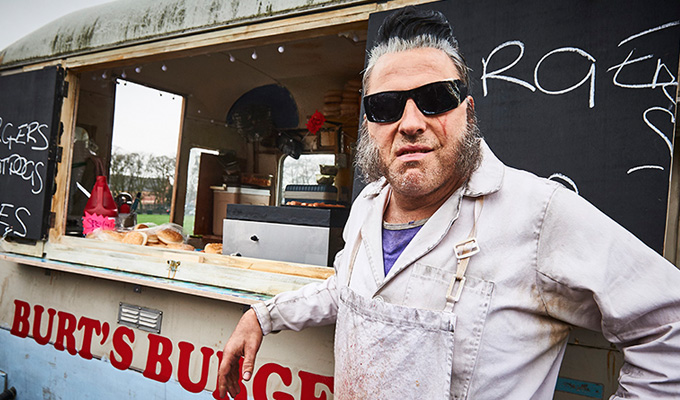 'Children like gruesomeness'
What was the inspiration behind Ratburger?
The character of Burt is partly based on a guy we met on Britain's Got Talent. This
man came on, and he had dark glasses, greasy black hair and false teeth rattling in his mouth. His first line was, "I know what you're thinking – 'they've dug up Roy Orbison!'" You knew the line was meant to get people on side, but it was such an odd opener.
We asked, "What's your act?" He replied, "I'm going to eat live cockroaches." Then he got out a brown paper bag and proceeded to start eating these cockroaches. As you can imagine, he immediately got buzzed off!
What happened next?
In a way, I was slightly disappointed that he didn't go through to the next round because he was such an amazing character. But he got me thinking. I created this whole imaginary life for him. I imagined that he had a burger van, used his cockroaches to make special sauce and turned rats into burgers.
I had so much fun with the idea. It was a seed of truth that grew into the tree of this story!And it's a terrific story.
Why is the idea of turning rats into burgers so appealing?
Because food is on children's radar. They're interested in what's in their food. You have to keep your eyes and ears open for stories and remember urban myths.
At Scout camp, we would tell each other spooky stories around the campfire. My friend told me that he went to a fried chicken shop, and it wasn't actually chicken he was eating – it was rat. When you're young, you want to believe these stories.
Children like gruesomeness and they like yuckiness. I remember first hearing in history lessons at primary school about people being hung, drawn and quartered. It was really gruesome, but also really fascinating.
That's one reason why Horrible Histories is so huge. It's a great way for children to learn about history through stories of disease and torture. It's frightening, but we like to be frightened!
Tell us about your character…
Burt is simply evil – some people are just like that. He realises it's cheaper to turn rats into burgers than cows. But then he starts to get discovered and has to protect himself.
The first person he kills is a health inspector. He has to kill to cover up his misdemeanours.
He's blind, but that doesn't stop him driving. In his defence, he says, "In 27 years of driving. I've only run over 59 people".
But this is the heightened world of children's stories. It's not the real world. It's not meant to be a documentary.
How have you found it working with rats?
It's great, although I have to admit one was pooing over me during a scene today! I gave it lots of love and attention, but of course it doesn't know what's happening.
We have a rat expert on set the whole time, who has trained them. You don't want to do anything that might hurt them. You want to make sure that they are OK. They are beautiful creatures.
Why do you think Ratburger will find an audience at Christmas?
At that time of year, you're stuck together in the living room, and by Boxing Day you're starting to think, "This is long". You're looking for something to entertain you and to watch together. So it's great to have something like this none of you have watched before that will appeal to all the family.
What inspired the gruesome side to your writing?
I've tried to learn from Roald Dahl – he is a master of creating villains. He makes them truly evil, but funny at the same time.
Look at Miss Trunchbull in Matilda. She swings children around by their ponytails and throws them out of the window. If she simply pushed them, that wouldn't be so funny.
If there is no buffoonery, those characters are just pure evil and it starts to become disturbing. That's a good lesson – you always want to learn from the best.
Burt wants to turn people into burgers. Obviously, that's completely evil – in fact, it's murder – but I think it works because it's a funny idea.
What is the moral of the story?
Don't judge a book by its cover. People are disgusted by rats, but Zoe is constantly trying to remind people they are beautiful animals. She finds a loving one called Armitage.
It's a really fun, exciting story. But remember, I'm not saying that all children should befriend rats. I don't want parents to write in saying, "Thanks to your story, my daughter now has bubonic plague!"
• Ratburger, which also stars Sheridan Smith and Ben Bailey Smith (aka Doc Brown) will air at 6pm on Christmas Eve on Sky One, then be available on demand on Now TV
Published: 6 Dec 2017
What do you think?