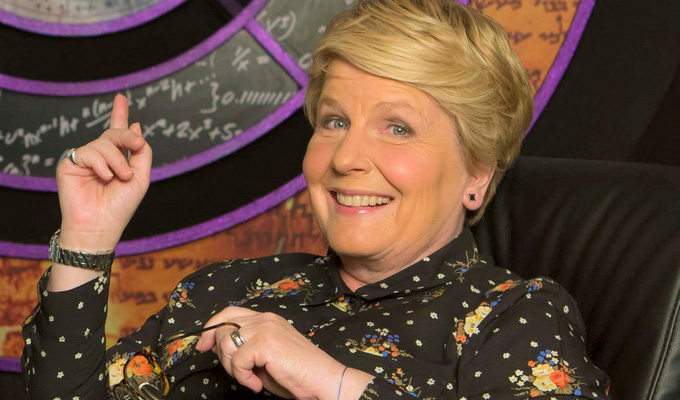 Now I've got my own chair!
The new O series of QI is your second at the helm. Does it feel more comfortable now you've got one series under your belt?
I've loved it from the beginning. It's a dream job and I had been a panellist many times so I have to confess I've always felt comfortable but that is mainly down to the QI team. The only difference this time is my actual seating comfort. Last time, I had 'somebody else's' chair on a box and now I've got my own chair and that's a little better! We did chair testing, there were a lot of chair discussions.
Was the previous chair precarious?
Not really. I felt really hemmed in and high because I had to climb up onto a wooden box. Quite often, there are a lot of props either side of the desk and behind so once you were in it was like a little cockpit. If you can't sit and relax it's not so easy to then have a laugh, so possibly I'm laughing more this series.
Was it a completely different mindset going from being a regular guest to becoming the host?
Yes and its happened to me before when I did The News Quiz on Radio 4.
What happens is you can't be quite so naughty. There are actual facts that need to be presented so it's lovely to be a panellist on something else occasionally and behave appallingly because you can.
It's my job to be Nanny or Professor or whatever it is on QI. There's some fabulous stuff, there's amazing facts. In fact in every show I go, 'That's amazing!' and I want the audience at home to do that about whatever it is.
Whether it's science, the world of nature or literature. We discovered this brilliant letter from Herman Melville's publisher on Moby Dick. He said he 'really liked the book but he wasn't sure about the whale. Maybe the whale could be replaced by voluptuous maidens?' I love that piece of trivia. So you want everybody to know that and take the pleasure you've taken when you discovered it. So I can't always be naughty. I'm endlessly bringing us back to the point which is 'anyway, let's get back to oceans…'
Was there pressure taking over an iconic show like QI?
I'm not a person who thinks like that. I've been doing this a long time, I've been in the business 36 years and you have to be yourself. I suppose you go through patches where that self is not what everybody wants and patches where it is something people do want. You can't try and be somebody else.
The pressure that you feel is that the show, quite rightly, is beloved by the audience, the people who work on it love it and you don't want to let any of them down. I try and work hard, be a team player and have a laugh. That's the best that you can do and then you have to go home and shut the door.
What response did you have from QI viewers?
I feel like an old lady when I say: 'Everyone has been so very kind.'
Fortunately more people than ever are watching the show. What I love is the range of viewers. From kids in school to older people in every walk of life. I love that and I like to think we are providing information and entertainment.
I take such pleasure in providing a clear explanation about something. I was explaining the other day the science of why you can't send nuclear waste to the sun. We have nuclear waste, why don't we just send it in a rocket to the sun? Oh my goodness I spent the whole weekend understanding the science and then I sat down and I explained it in front of the audience and I had several people come up to say, 'I really thought I couldn't do science and I totally understood what you were saying.'
My father was a very famous journalist, he was a live broadcaster on Danish television and he was passionate about never patronising your audience, make sure that even while you're explaining something complicated you're making it accessible. That's my ambition.
QI has been described as the brainy comedy quiz. How you would describe it?
Education by stealth. People laugh which is fantastic but I also think you can almost hear the audience going 'I didn't know that!' and they want to go and tell somebody else. That's the best kind of information. In fact I had somebody quote me, a gentleman was doing some building work for us and he said 'did you know…' and he quoted me something that has been on QI that I'd said myself!
There are still very few shows that are chaired by women. What are your thoughts?
There was a brief period when all panel show producers were instructed to make sure they had at least one woman on the panel. The real question is why such an edict was needed in the first place.
Being in charge on panel shows does seem to have been a boys' domain but here's the secret, don't tell anybody - when you're the host they tell you the questions beforehand and also give you the answers. AND the cards you have to hold with the script on are not that heavy. There are dozens of great women contributors and there is no reason women couldn't chair more shows.
I like to think soon having a woman chairing won't be such an unusual thing. There are some great examples at the moment - Vicky Coren Mitchell on Only Connect and other great hosts like Jo Brand on Extra Slice.
Who would be your dream guest on QI that you haven't had on yet?
Grayson Perry (who features in Episode 4 of the O series) was just fantastic, funny and fascinating and full of extraordinary thought. I loved having him on. I'm not adverse to having a dream guest and then asking them, whoever it is I'm happy to ask and see if they'll come on, we've had a nice response.
If you could have any guest, living or dead on QI, who would you choose?
I'd have to start with some of the writers: Shakespeare, of course, Jane Austen, Edith Wharton, Emily Dickinson - there are a million wonderful writers I'd have on. My dad. My dad was the most brilliant person I ever met in my whole life. He was a brilliant broadcaster, erudite and charming. I'd give anything for another five minutes with him.
SANDI'S TOP 'O' FACTS
Optical: The unfortunately-named Cockeyed Squid has one regular-sized eye and one giant eye. The bigger eye looks upwards and can see shadows approaching while the smaller looks down and is searching for bioluminescence.
50 percent of the Earth's crust is made from oxygen.
According to oceangraphers, there is only one ocean on Earth.
The otter was held sacred by the Zoroastrian people. If you killed one, you were forced to atone by killing 10,000 corpse-flies, 10,000 frogs, 10,000 Snakes and 10,000 worms.
There is no official definition of what an organ is in your body.
Billy Ocean has 3 lungs
'Objection!' is never heard in British courts
The Hippocratic oath has been replaced in America with the Oath of Lasagne.
The order of animals that is the world's most successful hunter is odonata (dragonflies). They have a 95 per cent success rate.
Ostrich feathers are used to clean cars before they are painted. Female feathers are best.
• QI returns to BBC Two next Friday (October 20) at 10pm. Here is an episode guide to the O series.
Published: 10 Oct 2017
What do you think?