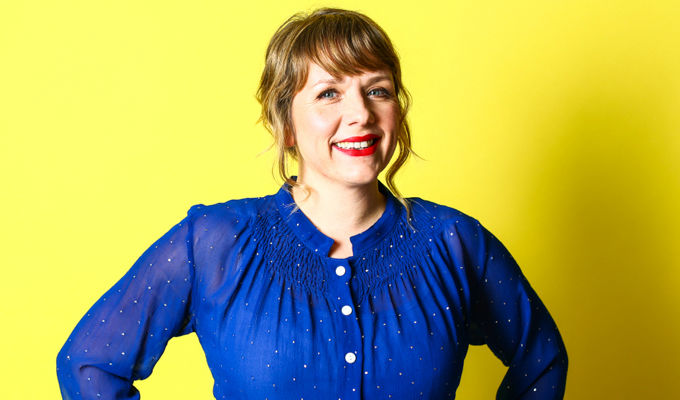 'It's the spirit of you Christopher Guest wants... That sounds really wanky.
A veteran stand-up, Kerry Godliman broke through into the wider public consciousness with Ricky Gervais's care home sitcom Derek. Currently touring the UK, she also stars in Mascots, the new mockumentary from Spinal Tap and Waiting for Guffman creator Christopher Guest, set at a contest for sport mascots, and due to launch on Netflix on Thursday. Here she talks to JAY RICHARDSON about her acting, writing and stand-up work…
I understand that you didn't audition or interview for Mascots, so presumably Ricky Gervais put in a good word for you with Christopher Guest.
I never asked him outright because that seemed a bit clunky. But it can only have been that. Ricky intimated to me early on that Chris Guest had seen Derek and was complimentary about my performance. He confesses to not watching much stuff, but I think he saw Derek because he's mates with Ricky.
There was a bit of improv in Derek but not much made it to screen. Was Mascots a completely new way of working for you?
Yes. People often compare [Guest] to Mike Leigh, that improvising technique. But he's written a very thorough script. It's a script without dialogue, that's the best way I can describe it. The storyline was all mapped out, the order of the scenes, the characters all had biographies, with very specific storylines. Everything was written and devised. Everything but the dialogue. So when it comes to your scene, it's up to you how you say what you're supposed to say, if that makes sense.
Also, you're given quite a few goes to improvise. You do one massive run and then Chris will give you notes and say: 'keep that, I like that … don't bother about that'. You do it about four or five times and he'll refine it as you go.
Michael McKean has likened Guest's directing style to conducting. Do you agree?
Yes. As with Ricky, a lot of the work is done in the casting. He's seen something that he wants you to bring. He's not asking you to change, he's trusting and it's the spirit of you he wants. That sounds really wanky when I say it out loud.
Most mockumentaries are quite arch and cynical. But there's a humanising tone to Guest's humour. Do you find this a more natural style of acting than say, playing a monster like Becky in Home Time or in a gag-driven sitcom like the Stop/Start pilot?
Yeah, totally. It's the subtlety, that naturalism in the looks and the reactions. It's funny watching the trailer. Obviously, trailers pick up on the bits that sell the film but they're such subtle moments in the actual film. The one at the end where Jennifer Coolidge talks about preferring to be with her husband than a bloke that defecates on her head. What you think of as an afterthought or throwaway ends up making the trailer. You just can't pre-write or contrive that.
Stop/Start was adapted from Radio 4 for television. Have you thought about doing the same with your own radio series, Kerry's List?
Yes. It's on desks and being read by humans that have influence. It's been optioned. Fingers crossed someone will have a crack at it because I'd love that.
We did two series of [Start/Stop] on the radio and after the TV pilot, I thought that might be the end of it. But then we did another series on the radio. People really like the formula, it works well.
It's so funny, because watching Fleabag the other day I thought , 'oh, that's coming back', the direct-to-camera address. I know Miranda did it. But Fleabag is expounding a lot more, a lot more intimate and pulling out, not just glances but actual speech. With Stop/Start probably not getting picked up, it seems to have gone quiet, maybe it's a timing thing.
Kerry's List is obviously that kind of style as well. Trying to make stand-up work on screen is quite a tricky thing. The obvious way to do it is direct to camera, but I don't know. I'm hoping there's a trend and Kerry's List will shimmy in on the back of it.
I guess Seinfeld looms large when writing a sitcom where the main character is a comic.
I loved Maria Bamford's series on Netflix. It really does mash form up. It's a trad sitcom narrative, then it'll break the fourth wall, then it'll go into sketch. That's ideally what I'd want Kerry's List to be. It's meant to be a bit of a montage of ideas and some of that direct to camera.
What was it like having your real-life husband Ben Abell play your husband in Kerry's List?
It was brilliant, I loved working with Ben. There's a shorthand there. He's a brilliant actor, he's funny, he gets our relationship. And he'd be pissed off if I cast someone else.
Also, if you're playing someone who's a bit of an irritating, maniacal arsehole, it's better to have someone who knows you well, that softens that. The first series was a bit manic and Ben played a significant role in calming it down for series two.
Can you tell me about your character Liz in Sky's forthcoming sitcom Carters Get Rich?
It's a really nice part because traditionally in families it's the mum that's the eye-rolling, sensible one. But actually in this, it's the other way round - the dad's the sensible one and the mum's got slightly more mischievous energy, she's a bit more childlike and playful.
You had a period where you were concerned your stand-up was too parenting-based didn't you?
I was worried that I was just a woman talking about her kids. But then Zoe Lyons put me on to Louis CK. The moment you see someone [talking about his children] and putting it in such a non-twee sort of way, it made me realise that I needn't worry. Also, you have to be honest. And that is quite a significant part of my life, so to edit or censor it would just be stupid. It wouldn't be authentic.
There's a tricky balance in conveying how much your children frustrate you without suggesting that you don't love them.
Yeah, I think it is a tightrope and Romesh [Ranganathan] is a good comparison. It's a bit of a relief for audiences to hear someone say it.
 The bottom line is that you love and adore them and of course, everybody implicitly knows that. But being a parent is really, really fucking hard and frustrating sometimes. If you just explore those frustrations, audiences get a sense of relief, they're like 'ah shit, we're all in this together'. As long as you make it clear that you're a good parent fundamentally or you're doing your best, that gives you a licence to sound off. Sometimes its like confession, a relief to share.
That's why the family sitcom is the holy grail, especially since Outnumbered's gone. Tonally, they're always changing and it seems like at the moment, with Motherland, Catastrophe and The Coopers vs The Rest, there's a projection of parents being far from perfect.
Does Carters Get Rich fit into that?
That's different because it's pre-watershed. That's so hard to get right, to be funny and yet still suitable for kids. Those writers [Claire Downes, Stuart Lane and Ian Jarvis], they're extraordinarily good at capturing that warmth. I liked that script from the first read, it had that baseline of affection I was talking about. Once you've established that, you can be playful around it.
Everyone wants a UK version of Modern Family.
That's what [Sky] would love. I think they're probably going to put it out with Modern Family in the new year.
As a stand-up and actor who's dabbled with sketch, have you ever thought about a character act?
It's weird, I've never tried it or gone towards it, I've never had any specific ideas. It's a 'never the twain' thing for me, stand-up is stand-up and acting is acting. And they just don't overlap creatively.
I really love stand-up as an artform, it's such a pure thing - just having an idea, getting a funny twist and choosing a turn of phrase, then executing it in front of an audience. I don't want to muddy that with a character. Or have to get her a hat and shoes, I can't be bothered.
• Kerry Godliman is currently on tour with Stick or Twist, dates here. Mascots airs on Netflix from Thursday.
Published: 10 Oct 2016
What do you think?