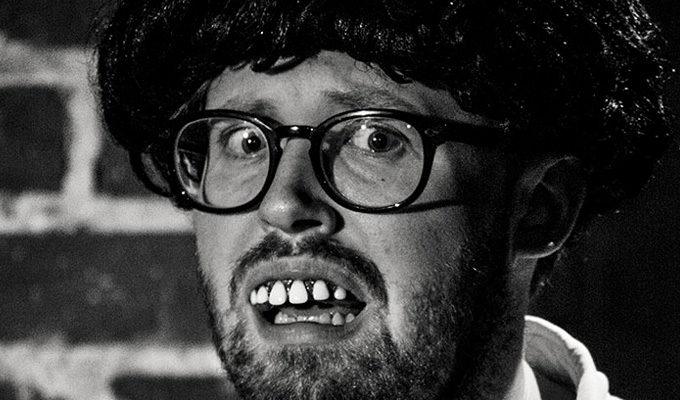 'I can't believe someone is paying me to act like a tit'
For John Kearns, the transition from day job to comedian was an abrupt one; one that he's used as fodder in his acclaimed live shows and one which he admits he hasn't been the best at dealing with.
A lifelong, self-confessed comedy geek, he was famously a tour guide at the Houses of Parliament until he went to Edinburgh in 2013 and scooped the best newcomer award, and suddenly comedy became his job. Twelve months later he landed the main Foster's Edinburgh Comedy Award – an unprecedented double in successive years.
His Fringe debut was a huge gamble – since he hadn't been authorised to take the full month off his day job. He recalls taking a fraught 'where the hell are you?' call from his bosses in London while in the Pleasance Courtyard.
'I remember thinking I might lose my job when I get back,' he said. 'That if this doesn't work, I'm in trouble. And that was in me while I was doing the show. It was frightening…
'If that 2013 show hadn't taken off, I would have applied for a teaching job, maybe pissed about with Weirdos [the loose alternative comedy collective] at Christmas. I was genuinely at a point when I thought I needed to take some time off from comedy.'
He says that he enjoyed the 'safety net' and 'comfort' of working in an institution, but that after dabbling in comedy since university – he is a former Chortle Student Award entrant – winning the newcomer award meant 'my bluff was called,' and he had to take the plunge.
'Then what happened the next year, I didn't see that coming,' he adds. 'I felt the pressure was off for 90 seconds after Alex Edelman won the newcomer award, when the spotlight was off me, I thought there would be no expectation again. Then boom! Here we go again.
'After you win the award you have the best gigs of your life and then the worst, as people come to see what all the fuss is about. So to have had that for two years, it has genuinely taken its toll on me. When I got back from Melbourne last month I had a bit of a tough time, really. The pressure is…' he trails off. 'I haven't been very good at handling it.'
But lest you think he's getting too sombre, he break the tension with a sarcastic joke: 'So a national radio show is really going to help the anxiety!'
It's that we're having a coffee to talk about, a series of four quarter-hour vignettes for Radio 4, starting at 11pm tonight.
'They are about moments of aspiration,' he explains. 'So the first episode is me buying a scratch card and not scratching it, but believing I've won and going into a flight of fancy, then picking which coin to scratch it with, and where I'm going to do it in the house, so it's a great story that I can tell the press, and who am I going to leave money to. And then I don't win anything.'
'Another one's about half time at a football match, another about a day off at work. That was inspired by a live reading of a lost Hancock script I saw four years ago at the BFI and called The Day Off. When I was writing this, I was thinking what would my days off be at Parliament. I remember thinking I could do anything. If my day off was midweek, I never told anyone. It was like my little secret. Everyone thought I was at work, so I was free to do whatever I wanted.'
'And did you?' I ask.
'No! You end up doing nothing. So that one's almost farcical. So it's the idea of these small moments all taken from my life where I feel as though everything's possible, but the limitations are ridiculous.
'The last one is set in a lunch break in a museum staff room, about the nuances of working with other people and those precious minutes. All those tiny details that, I hope, blossom over the 15 minutes. They all descend into absurdity really.'
In his radio shows, inconsequential, unlikely concerns are magnified – which is an echo of his own life. He says that the prospect of performing on the Channel 4 Comedy Gala at the O2 terrified him. 'I didn't realise you were on that,' I say. 'Oh, I'm not,' he replies.
'That genuinely is a big problem with me, I spend so much time worrying about things that aren't going to happen.'
He says that he's 'always wanted to do something on radio', not least because that was his first introduction to comedy. 'I've learned how to do comedy by listening to comedy,' he says. 'I heard Richard Pryor before I saw him, I heard Blackadder Goes Forth before I saw it. Fawlty Towers, Dad's Army; these are all things I'd created in my head before I'd watched them.'
He also says he likes the 'intimacy' and the discipline in requires to create images from words. 'I think I've succeeded in writing a good show for radio,' he says – with sincerity, not boastfulness.
'With radio, you're sharing a very intimate space with someone You want to make it a welcoming place which, if I'm honest, sometimes Radio 4 comedies feel weirdly cold. So I was obsessed with making it warm. If you think of my favourite sitcoms, Only Fools and Horses, Cheers, they re all warm. But the last question is "Is It Funny?" I had that at the top of every page I wrote.'
Kearns has also roped in some friends to help him with the show, comics Gaby Best and Pat Cahill, Jon Brittan who directed his Edinburgh shows, 'and this guy called Chris' – a university friend and now fitness instructor.
'I just thought I'd get him involved,' he confesses. 'His performance is so hammy it's unbelievable. When I listened to it back I thought, "Christ this is big! But then I thought about old Hancocks, Kenneth Williams is the biggest character and I almost quite like that. It's not Ibsen,' he starts chuckling in his machine-gun way. 'It's two people squawking at each other on a football terrace. It's quite stupid. '
The Radio 4 show is just one of the new opportunities offered to Kearns, thanks to his elevated profile on the back of his Edinburgh triumphs. They include a starring role in the forthcoming BBC Three comedy Top Coppers, a Broad Comedy alongside Steen Raskopoulos – which he had just seen for the first time at a BBC screening the previous day.
'Yesterday was tense,' he admitted. 'Wondering if this is going be any good– and in the end I was very proud of it.
'It's going out later in the year now, because BBC Three thought they were closing down and they are not commissioning anything, so they have to spread out what they've got. By December BBC Three will be like the Wild West – I reckon anyone will be able get on. It's going to be insane - I can't wait.'
Other new experiences include writing a sketch for Psychobitches ('I'd never written a sketch properly before') and spending two months on the writing team of Harry Hill's Stars In Their Eyes, which he says was 'extraordinary'.
'What I found amazing about him is that he told me he's done Letterman seven times. What other UK comedian has done that? He told me this great story about the way he got his first Letterman when the show came over to the UK. Avalon [Hill's agents] got a call from the producers saying, "We're coming over to the UK. We want someone to do the comedy spot and we hear Tommy Cooper's quite good." And they were like, "He died years ago. But someone like him is Harry Hill" and that's how he got the gig. Which is amazing.
'His work ethic is extraordinary and the risks he still takes. He's 50 and he's gigging around clubs in London and he still divides a room. He makes half of the Room piss themselves laughing and the other half think "This isn't TV Burp Harry Hill". He's still a rebel.'
It's examples like Hill that mean Kearns is in no rush to be the next big thing. 'I don't want to do panel shows, I don't want to go on Live At The Apollo,' he says. 'When I think of people like Steve Coogan or Ricky Gervais, I don't remember people like them doing things like that. And I know I'll be a better comedian in 20 years, there's no rush.'
'It's also knowing your limitations. If you don't to panel shows people will think you can't do them – and the answer is no, no I can't!'
For the moment Kearns is both happy about earning a living as a comedian – and anxious that it doesn't seem to be a real job with security. 'If you'd told me two years ago I'd be in this position, I wouldn't have believed you. I wasn't paid to do comedy then.
'But you also can't believe that someone is paying you to act like a tit. I don't think you ever get over that. I think that's what drives anxieties and fear because what you're doing it's so intangible. It exists in that moment, then everyone goes home. It doesn't exist, except in other people's memories, but then you get paid for it, so it feels like you are conning the audience.
'It's frightening; I'm petrified. But I try to think of it like when someone has a job, their worst case scenario is losing that job. My worst case scenario is getting a job. So it's not that bad.
'And there's so many other things to worry about. Tax was the one thing I said "I don't want to fuck this up" about. Then I met my accountant and he genuinely had a framed picture of Jimmy Carr and I've no idea if that was a joke or if he was a client. It was the only picture in the office.'
Still, he is aware that he's has to manage his anxieties and says that: 'I need to look after myself, which I haven't done well with over the last year and a half.'
To that end, he won't be going back to Edinburgh for a solo show this August, saying: 'I will go back one year, but I'm in the very lucky position that I don't have to go back to prove anything, unless I have a show I'm really proud of. The award buys you time. I now know I'm going to be all right.'
• John Kearns: The Ticket is in Radio 4 at 11pm tonight.
• And here is Kearns in the 2008 Chortle Student Comedy Awards heat. He's better than this now…

Interview by Steve Bennett
Published: 20 May 2015
What do you think?