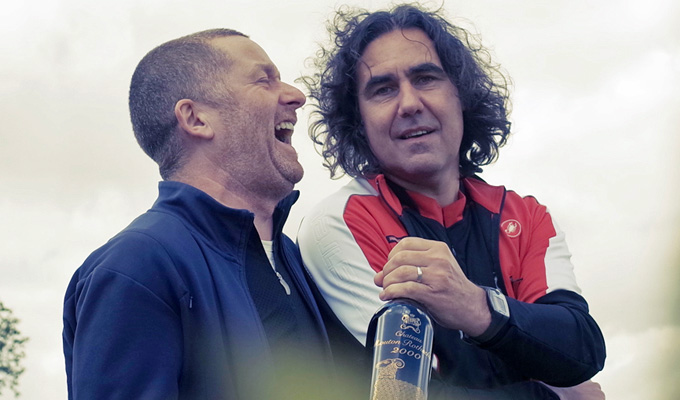 'Travel is a pain in the arse'
Comedians making travelogues have been in vogue ever since Michael Palin collected his first air mile. And now, just a couple of months after BBC One showed John Bishop pedalling around Australia, Sky 1 is following Micky Flanagan as he gets on his bike around France
It's perhaps an odd choice for a show, as Flanagan is no cyclist; and no traveller. 'I hate living out of a bag and don't get a buzz out of being in airports,' he says. 'I want my own bed. Travel is a pain in the arse'.
Indeed, in our interview he admits there 'aren't many' places he'd like to go – and one of the reasons he chose France was because 'we could get there quickly'.
There were other considerations. 'It's a massive country with so many areas to explore,' he says. 'And here's a bit of friction there, which I like. They are not too keen on the British. I wanted to see how they really were.The overriding impression is that they are arrogant and dismissive and feel that the UK should be a French island where they could go to sleep with each other.'
The trailers assert that Detour De France would not be some emotionally charged personal journey or a revelatory experience, but a 'jolly' with his bricklayer pal Noel Lynch pure and simple. Yet despite his protestations, the show did change Flanagan's opinion of the French.
'I was left with nothing but admiration,' he says. 'They have things I think we've lost in Britain; a sense of enjoying the pleasures of life, of working to live and having no guilt, with long holidays and short hours. And they still have a militancy. The whole post office will go on strike just because one postman in Marseille is asked to clock on an hour early. You've got to admire that… well, as long as you're not waiting for a heart monitor in the post.'
In the first episode Flanagan is seen communicating with a bike-race veteran in loud, slow English and lots of hand movements – and the comic admits he's no linguist.
'I'm kidding myself that I'm going to learn a language. I've been trying since 15 and it's not happened yet. And when it does, it's not going to be French - it's so hard,' he says.
'I tried to get a phrase book; I tried to listen and learn; but they speak so fast. But I tried to say my bonjours and au revoirs. I was so pleased when I went into a chemist and said "bonjour" - you have to say "bonjour" - "un brosse à dents s'il vous plait", and actually came out with a toothbrush'
Despite saying he's no ambitions to travel much further, Flanagan concedes that if he were to do a follow-up it would be to the Netherlands. 'They are always supposed to be the happiest people in the world, but I'd want to know if it was really that good. That's what interests me, not seeing the landmarks or the mountains.'
I politely point out that few travellers visit the Netherlands for the mountains…
Like most comedians who become good at stand-up, Flanagan now finds himself up doing less of it than when he was a fresh-faced rookie, embarking on TV shows like this instead.
'When you start out in stand-up doing gigs above pubs, there is no question of ever not doing a gig for £7.50. But at the other end of that journey, you have to ask, "What will make you go out on the road and do that again". You have to have a new show with something different to say.'
It's been ten months since the end of his last tour, Back In The Game, and only now is he starting to consider what might be in the next show. But he insists he'll work at his own pace, only hitting the road when he's good and ready. 'There's a voracious desire for new material, he says. 'I'm not the Rolling Stones, I can't keep going on stage and doing the "out out" routine. Though there were a couple of gigs on the last tour where they basically held me hostage and made me do it.'
In the meantime, there is plenty to occupy him.
'One of the issues of being a stand-up is what you do when you're not doing stand-up,' he says. 'TV is always asking what can we do with these people who just stand up on stage? They try to find other ways to use them. Thats why there are so many panel shows.
'And I always said that if I found success I'd take the chance to have a go at everything. That's why I did I Love My Country with Frank Skinner. We wanted to reclaim Saturday night TV from the reality shows.'
He admits that the short-lived and critically panned show had its flaws but says: 'I think it worked to an extent.There has to be a market for Saturday night TV that isn't about baking cakes or celebrities dancing or people being wheeled out and told that if you sing well you won't have to go back to the chip shop. There must be something else.'
Would he try that holy grail for many comedians, the sitcom? He admits he's considered it but 'it's a lot of hard work and you really, really have to want to do it.
'I might if the right script was put in front of me. But I don't want to say I'd do one and have someone go away and write it and find out later that I'm a postman who's divorced and turned to cross-dressing. It has to be be true to you – so then you conclude that have to write it, and that's a lot of work.'
It has also been suggested that Flanagan was writing his memoirs, like so many of his peers, especially in the wake of a cash-in cuttings job released last year.
'An autobiography's certainly on the cards,' he says. 'I started one then put it back on the shelf. Again it takes a lot of time and energy. I can't just say I'll write one then nine months later its done.
'Also it's hard reading back what you say about people, too. I'd find it difficult to talk about my early life… if you know where I've come from – eggshells is not the word! – but on the the other hand I'd want to do it properly.'
In the meantime, he'll keep 'having a go at everything'.
• Micky Flanagan: Detour De France starts on Sky 1 at 9pm on Monday.
Published: 28 Oct 2014
What do you think?