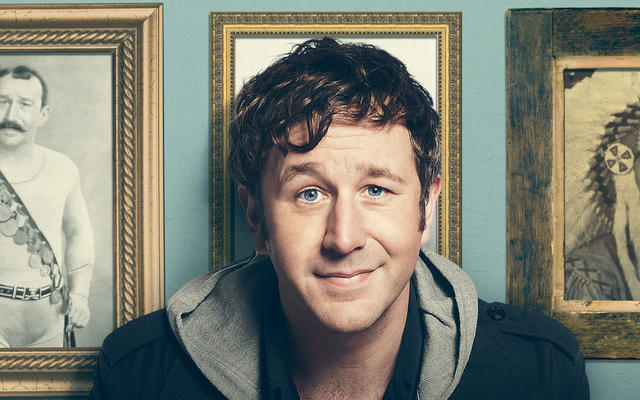 He's warm and lovely... but terrifying
It's the press junket to launch his latest show, Family Tree, but Christopher Guest has cried off sick, leaving journalists and cast to speak about him in the third person, trying to explain his methods, or second-guessing his motives. You might think we'd notice his absence; but all this only adds to his mystique, emphasising his status as a God of comedy.
And the Holy Guest certainly moves in mysterious ways. He pioneered the improvised style long before Larry David took it to primetime. Family Tree was, like Spinal Tap and Best In Show, semi-improvised, with the cast working from only the barest of outlines for each scene.
'There's no dialogue written,' explains its star Chris O'Dowd. 'The story is plotted and the script consists of a paragraph for each scene, written in prose.
'We do two or three takes. What normally happens is that the first one is long, and we try lots of things, the second one is a pared-down version of that, and the third take removes even more air. It all looks very natural, not too forced, like nothing else on TV.'
PhoneShop star Tom Bennett, who plays Pete, the childish best friend of O'Dowd's character Tom, adds: 'We knew we had to go from A to E but didn't know how we were going to hit B, C and D.
'After we'd done a scene, Christopher would go "Wow.. like wow." What the fuck does "wow" mean? He does nothing to put you at your ease.'
That even extended to the casting process, Bennett explains. 'Rather than audition, we just sat in a room for half an hour and chatted as blokes about Facebook and my stag do, that's all really.'
It was the same for O'Dowd: 'We made small talk about construction... which I have a lot of strong feelings about! I was intimidated. I was a big fan - not any more! He's so warm and lovely... but terrifying.'
The creator of Moone Boy said he would prepare jokes for scenes, but Guest was having none of it. 'You don't want to do gaggy jokes as that's not going to fly,' he said. 'I started by having some half-prepared jokes but Christopher would go, "That's really funny Chris – but not for this show."
'Improv is difficult. I'm used to doing it at the end of scenes to see if we can get some extra gags out of it. But doing it this way, sometimes it works great, sometimes it doesn't. And it's fine for that to be the process.'
He also found it hard to stifle laughs at what her fellow actors were doing, especially in the dating scenes when he was faced with some peculiar characters, including one bone-obsessed woman memorably played by Ellie Taylor: 'Corpsing might seem fun,' he said. 'But actually you've messed up somebody else's really funny bit, then it's fucked.'
Ventriloquist Nina Conti – who plays Tom's sister Bea, complete with her Monkey sidekick permanently on her arm – said Guest's reputation made it hard to relax into the scenes – and felt that cost her screen time.
'I'm so in awe of him,' she says. 'I'll never be normal in his presence. And I always felt, "I bet he could think of a much funnier line that I could".
'In one scene at the dinner table, I just ate. At the end of the scene Chris [Guest] came up and said, "I don't think you spoke" and I was like, I don't know how." I was just thinking, well Chris O'Dowd is talking and Michael McKean [who plays their father Keith] is talking, I'll just wait. Then I thought oh shit, I'm going to write myself out of the show.'
Not quite every scene was improvised. Guest also has his characters watching 'show within a show' programmes on TV such as Tudors spoof The Plantagenets, Sherlock Holmes: The New Frontier. and fictional Seventies sitcoms There Goes The Neighbourhood and the police-based Move Along, Please!
Bennett said: 'He has a massive, massive love for those old-fashioned, probably racist, Seventies sitcoms that we all grew up on.' 'In an ironic way,' Conti quickly adds.
'I think he's trying to show what the antithesis of this show is,' O'Dowd continues.
'It's not "wham, bam, thank you ma'am," Bennett agrees. 'We're not bashing you over the head with it.'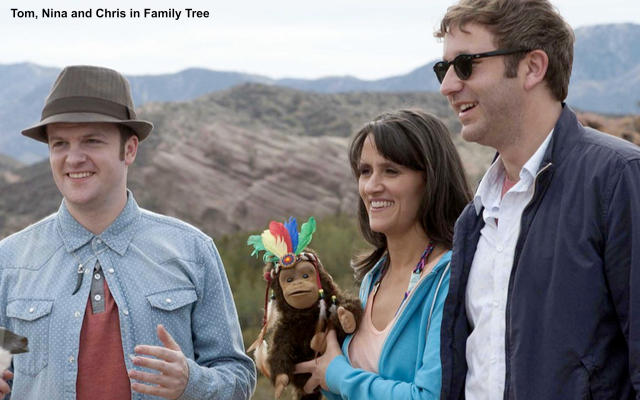 The cast agree that the family tree theme of the show taps into a renewed interest in genealogy, inspired by shows like Who Do You Think You Are?, the easy availability of historic records online, and an idea that people are increasingly seeking to define their place in the world.
'There's something about social media that's good at bringing us together, but the downside is we forget who we are,' O'Dowd says... and that's certainly true of his character.
'His quest is to find what his identity is,' he says. 'It doesn't really matter what it is: he's happy to be anything. He wants someone to put a flag in him. Whatever he learns about his ancestors – whether they are military, performers, or sportsmen – he goes "ah yes, that makes sense!"
And the actor also reveals that his family has been traced back to the 15th Century... but found no exciting revelations 'The very first O'Dowds, they are from 15 minutes from where we live now,' he said. 'They are not big travellers.'
He also found a castle which his ancestors owned in the 17th Century – and put in a sealed bid with his wife Dawn Porter.
'But "castle" is really pushing it,' he said. 'It's a big pile of bricks – basically a two-up, two-down, not that fancy. Irish castles aren't all that ornate.'
'Does it come with a title?' Bennett asked him. 'No,' O'Dowd replied, before declaring: 'The title would be Mr Cool.'
However O'Dowd's co-stars can claim a more illustrious lineage. 'I'm distantly, distantly related to the Duke Of Wellington,' Bennett says. 'At least that's what my dad told me.' Meanwhile Conti is related to Napoleon – as she discovered after the academic Scotland's DNA project traced her dad Tom's genetic markers.
Guest himself used the opportunity of filming to skulk around graveyards, researching his own family tree. After all, he is the5th Baron Haden-Guest – although the title only dates from 1950, when it was created for the Labour politician Leslie Haden-Guest.
And Conti thinks Guest's past might have helped with her casting: 'His great-grandfather was a ventriloquist who performed for royalty. I suppose he likes perverse things.'
• Family Tree starts on BBC Two at 10pm tonight. Click here for an interview with Christopher Guest. Here is one of Tom's date scenes:

Published: 16 Jul 2013
What do you think?