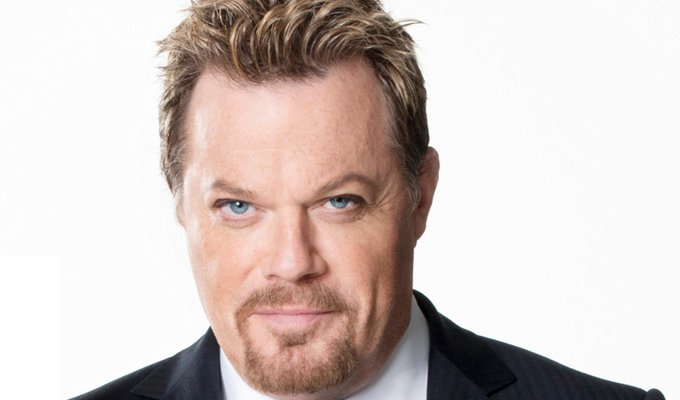 Why should rock 'n' roll get all the stadium glitz?!
In the second part of his Chortle interview to coincide with his global Force Majeure interview, Eddie Izzard tells Jay Richardson about his ambitions in acting, politics... and America.... Click here to read the first part, published yesterday.
You've been very careful about limiting your television appearances. By performing so widely across the world, are you trying to diffuse yourself still further, reducing the risk of over-exposure? And extending your career?
Well, it's wrong to think that was kind of clever, not putting my material out there, because that wasn't actually the idea. It was more so I could do drama. It's been 20 years since I got a dramatic agent separate from my comedy agent and now I'm getting things like the Hannibal Lecter TV series and films like Lost Christmas and Treasure Island.
It felt necessary to not be Captain Comedy. If you are, there's resistance from people saying 'you can't cast this guy, I've seen him do stand-up!' Bill Murray had to almost kill his comedy audience. He was huge after Ghostbusters, with everyone just wanting him to do one liners and say, 'look, back off man, I'm a scientist', in that louche style. I fucking loved what he did but I love what he does now. You just have to live with the fact that he's not just going to be wisecracking.
The place he's at is the place I'm trying to get to. And I keep pushing. So that's my main reason for staying off television. I had this problem in America where, as soon as things took off with the Dress To Kill show, they said, 'come and do this comedy, come and do that comedy'. I've resisted, which kind of pisses everyone off. It pisses off agents and it pisses off broadcasters. They think it's an easy sell. But I'm playing a long game and a lot of people don't understand that.'
You've said that if you had to pick one, you'd choose films over stand-up.
That's slightly cheeky that answer because I don't have to choose. If I did, I could do comedy films. Choosing between drama and comedy, that would be a harder question. I've tried to do both but it causes problems. Bill Murray's chosen to do drama but that film he did recently, Moonrise Kingdom, I fucking loved that. Whimsical but dramatic and heartfelt, and you can still say things which are kind of bonkers. If I had to choose, that's what I'd do. Though I like to dig around and do really dark stuff too.
But I love doing stand-up. I think I'm going to play all 50 US states next year.
Being an 'arena' comic has never seemed to trouble you, and you followed Monty Python in playing the 17,000-seater Hollywood Bowl. But many purists argue that such enormous venues are less satisfying for stand-up than a cramped, low-ceilinged pub basement. What do you think?
The Hollywood Bowl is a good fit for comedy. The 'aircraft hangers' of the arenas, like rock 'n' roll in a stadium, is it like watching television in a field? I would argue with that.
I've done some great arena gigs, at Wembley particularly. But they have to get the sound right because these venues were built more for ice hockey and ice skating. The new ones they're building now, this is somewhere stand-up's really going to happen, where you can do 'big intimacy'. It might sound stupid but I believe that the seats at the back of the Hollywood Bowl were the best, you got the whole event.
Even so, I do ask that the cameras only shoot me head to toe or at least head to waist, and I would encourage others to do that. Because if you have a vision mixer focusing on your head, then coming into a wide shot, then coming back, you're telling the audience what to see. And that's even worse than in rock 'n' roll when you cut to the guitarist, cut to their strings, cut to a balloon or something, that's like watching television in a big field. Leave it to the audience to choose what they look at.
And the amphitheatres the Greeks invented are fucking great, the comedy just rolls down the hill at the Hollywood Bowl.
Intimacy, small, dingy room, 100-seater, yes, do those. And I do do those. I want to do both. Why the fuck should rock 'n' roll be able to play stadiums, and we in comedy aren't?!
Obama was playing to 100,000 people when he was doing his campaigning and I'm sure those speeches were electrifying. I think the only way for comedy to get good at playing the bigger places is if a lot of us are doing it, so they change the buildings or change the way we deal with the spoken word. It's only if we all get into it that it's going to happen. And us getting the experience of doing it, we need to put the time in.
Some people think it's not going to last, that comedy's popularity is going to fall back. Until then though, play both, the small ones and the big ones. We are in a crazy place in the UK. London is like Hamburg was for The Beatles, at least for stand-up comedy. It certainly was for me. The Beatles were doing eight-hour shows and became so hardened and battle tough. I was doing four gigs a night, sometimes five a night on weekends, which was adding up to an hour and half on stage over eight hours, still a very sharp and punchy experience. They don't have that in America.
And we do way more touring than anyone else. We have South Africans coming here, Canadians, Americans, Australians, New Zealanders, now the Europeans. There's such a hub in the UK, we're accidentally in this golden era. I think it's great for us.
Most comedians want to be liked and you personally command a tremendous amount of affection. But even living idols like Nelson Mandela and Aung San Suu Kyi have found goodwill towards them compromised by the divisive realities of political office. Are you prepared to get your hands dirty in your political career [Izzard wants to run for London Mayor on the Labour ticket in 2020] and be actively disliked by a large proportion of the population?
Yeah, I have to go with it because the right-wing are prepared to go and tell people what to do and drag people over to their side and say, 'hate people, hate your immigrants and if you don't hate them, can you please dislike them and not trust them and blame them for stuff that they haven't done?' They just line up to do that.
A lot of us in the centre, centre-left, centre-right, we're 'live and let live' people. But if we don't stand up and be counted, then this economic crisis - which came from the capitalists, it's the sub-prime market that got us into this, and that was the greed of people who were basically thinking in a capitalist type way - then the blame will just keep shooting over our way instead.
So I'm prepared. But let's not forget I walked out the door wearing a dress and make-up when I was 23. I had a hell of lot of hate thrown at me. So I don't think anything in politics can quite match up to that to be honest. I have had someone say, 'what the fuck is that?' To my face! So if I can deal with that, then I'm sure some right-wingers shouting at me isn't going to put me off.
A recurring criticism of Force Majeure is that you take too many gratuitous swipes at right-wingers. Is that justified?
No, I think it's probably right and I have dialled that back. When I initially started talking about politics and started campaigning, people said you're too woolly, get specific. So I got specific. But I've gone back to stand-up and they're kind of similar. They're both talking and you're trying to formulate a sentence based on ideas that aren't written down, it hasn't been scripted because it's just coming out of your head and how you feel emotionally. And I can end up being too on the nose.
Sarah Townsend [who directed the 2009 documentary Believe: The Eddie Izzard Story] said I had to take it out because it's not what I do and it sounds like preaching. So I have pulled it back, though I have characters that say things. And I do mention that the country appears to be drifting to the right but that just seems to happen in a time of financial crisis.
It is what it is. I'm trying to keep the comedy and politics separate but they're going to bleed into each other. It's difficult but at least I'm trying to do both. Some people just keep quiet, say get on with it and everyone goes right-wing. But I'm having a go.
What's your next challenge? Will you complete your 27 marathons for Mandela?
There is a saying that failure is not an option. I think final failure is not an option but I did a lot of failing before I got anywhere. Nelson Mandela said: 'Do not judge me by my successes, judge me by how many times I fell down and got back up again'.
I'm going back in March to re-do all 27, so I'm training now for that. And I'm now plugged into very good trainers and doctors, which I wasn't doing before, I was sort of just going for it. Now I've got all the best advice in the world. So that's great.
And I'm going to Avignon to do five shows in the French equivalent of the Edinburgh Festival, then Montreal, and Force Majeure will continue. I've got Kathmandu, South Africa and Russia still to do. Then we'll wait to see what happens with Hannibal, if that goes on I'll be more involved in series two. So yes, there's a tonne more stuff to do. I've got six years to do as much as I can before I really go political.
Force Majeure continues its UK run of dates till mid June before shows in Russia and South Africa. Episode two of Eddie Izzard's Mandela Marathons airs at 9pm tonight (May 30) on Sky 1. eddieizzard.com.
Tweet
Follow @chortle
Published: 30 May 2013