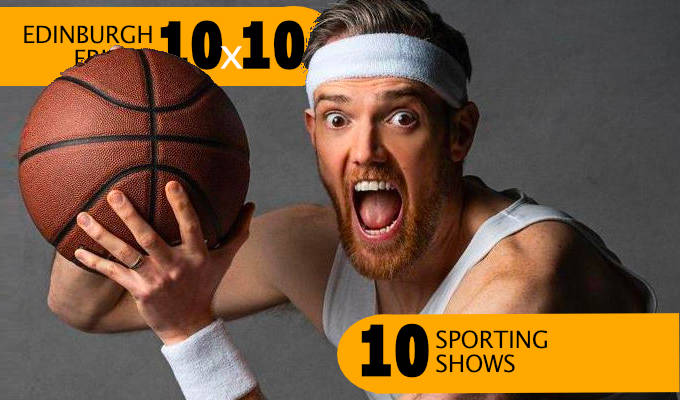 Edinburgh Fringe 10x10: Ten shows about sport
There doesn't seem to be much of a crossover between sport and art at the Edinburgh Fringe. Of more than 1,300 comedy shows we could only just find ten with any sort of sporting theme. Here goes…
1. Football: Millwall Jew
Stand-up Ivor Dembina got so tired of people assuming that as a Jewish man he must support Tottenham Hotspur, he decided to swear allegiance to his local club instead – Millwall FC, a club whose hooligans have been known put up antisemitic posters in London. This is his story of fandom…
Laughing Horse @ Bar 50, 14:15
2. Showjumping: The Shit Kid
For this one-woman comedy play from New Zealander Sarah Harpur, was initially inspired by the elitism of equestrian sports, inaccessible to anyone without substantial means. But she was widened it out after starting to ponder if 'the Olympic dream is a flawed concept', often ruinous for the mental health of those pursuing it, and leaving them lost when it's over.
Just The Tonic at The Caves, 12:10
3. Basketball: Chris Forbes: Court Jester
As a skinny 16-year-old, Scottish comic Chris Forbes – who played PC Charlie MacIntosh in Scot Squad – moved to America with dreams of becoming a professional basketball player. This is the story of his time at high school in Portland, Oregon, among the jocks and cheerleaders.
Monkey Barrel Comedy (The Hive), August 2 to 13 only
4. Tennis: The Duncan and Judy Murray Show
Forbes has also had success as the 'less talented third son' of tennis coach Judy Murray, after Andy and Jamie. The character became an online hit, with Judy getting in on the joke, first on a viral video and then live, in this show which has been at last year's Fringe and at the King's Theatre as part of the Glasgow International Comedy Festival. Des Clarke hosts the two shows at this year's Fringe.
The Stand's New Town Theatre, 21:20, August 19 and 20 only
5. Running: Bryan Berlin: Running Scared
After 10 years of being a runner, Brooklyn-based comedian Bryan Berlin looks back at the love/hate relationship he's had with the sport and tries to figure out why he's still doing it.
Just the Tonic at The Mash House, 19:15, August 3 to 13 only.
6. Wrestling: Wrestling with The Champ: Smiledriver
Wrestling with The Champ is a podcast from Damien St John and Ant McGinley, a scripted show, featuring guest stand-ups, that documents life in the fictional Pub Wrestling Federation. In their Fringe show, it's the end of the line for the champion – who now has to figure out what to do next.
PBH's Free Fringe @ Burrito 'n' Shake, 17:00, August 5 to 11 only
7. American Football: Jacob Hatton: Touchdown!
Jacob Hatton is a dyspraxic, 30something, London-based stand-up (and graduate of the Soho Theatre Young Company) with one dream – to score the winning touchdown in the dying seconds of an American football movie.
Laughing Horse @ 32 Below, 14:00, August 3 to 15 only
8. Cycling: Lunch With A Cyclopath
Dion Owen is a Canadian stand-up, whose biography always describes him as a 'professional comedian and an avid cyclist'. So guess what he's going to talk about in Edinburgh…
Laughing Horse @ The Counting House, 12:00
9. Football: Bob Doolally – Still Alive
The sozzled ex-footballer and pundit is a stalwart of the Fringe of more than 25 years's standing. The alter-ego if Paul Sneddon, who also performs stand-up as Vladimir McTavish, returns with more 'ugly musings on the beautiful game' in a one-off show.
The Stand's New Town Theatre, August 15 only
10. Table Tennis: King of the Table
Forget talking about sport… lets see some action! Australian comedian Ray Badran is putting on a table tennis tournament featuring some of the best comedians of the Fringe. Whether that's best at comedy or best at table tennis, only these two late-night events – both running to nearly three hours – will decide.
Monkey Barrel Comedy, 23:55, August 18 and 25 only
Thanks for reading. If you find Chortle's coverage of the comedy scene useful or interesting, please consider supporting us with a monthly or one-off ko-fi donation.
Any money you contribute will directly fund more reviews, interviews and features – the sort of in-depth coverage that is increasingly difficult to fund from ever-squeezed advertising income, but which we think the UK's vibrant comedy scene deserves.
Published: 22 Jul 2023