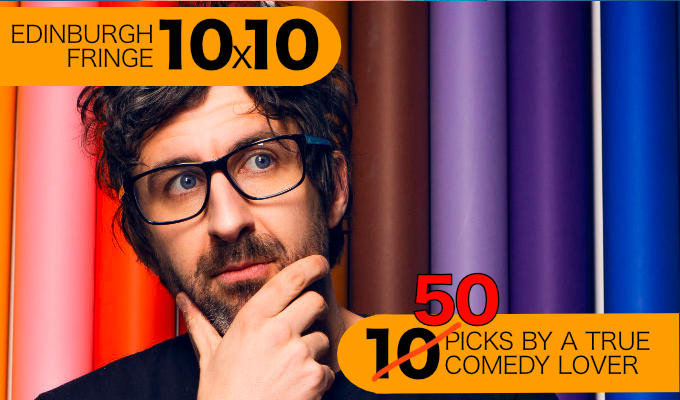 50 Edinburgh shows picked by a true comedy lover
A bit of a change for our Edinburgh preview feature today. Rather than based on any theme, these are 50 shows chosen by comedy connoisseur Corry Shaw.
In a long career in the industry, she worked for Chortle, tour promoters and agents Gag Reflex, and the Stand and Komedia comedy clubs – and was one of the organisational powerhouses behind Mark Watson's marathon shows.
However, illness forced her to retire from the business she loved a few years ago, and has left her unable to attend the Fringe this year. Yesterday she posted this list of 50 shows on Twitter as what she would have seen, were she able to make it Edinburgh.
'This list isn't exhaustive and I've almost definitely missed people off,' she said. 'Blame it on my damaged brain, not on the quality of their show. Please go and see as many shows as you can of people you've never heard of. Support live comedy.'
Watson then took up the baton and asked his fans to fill this schedule – and vowed that for the first ticket bought to each show on the list he and his partner Lianne Coop would match the price with a donation to a new fund to help build a fairer, more widely accessible Fringe.
Most of the shows have now been claimed but a few have not. If you want to help complete the list, check tinyurl.com/corry50 and buy a ticket for one of the unclaimed shows. Put your name down and tweet @watsoncomedian a picture with your confirmation.
Watson tweeted: 'The emotional side of this for me is: Corry are I are famously like THIS (closeness gesture), met at Fringe, it was our playground, and comedy is her oxygen (not literally).
'For her to be too sick to go is heartbreaking. This is a way of her Fringing vicariously and in the process starting to build a financial bedrock which will help the two things she cares about most (other than cheese): access/equality, and the health of the comedy ecosystem in general. The fund will soon have its own proper donations page. But this is a "loosener".
'So, please get involved and also share this, if you are comedy-involved-or-adjacent. It's easy (and fair) to complain about the Fringe but it's on people like me, who have been treated so well by it, to start building drawbridges for the next lot. This is a start. Thank you!
'Is drawbridges what I meant, is that a good analogy? Well. You get the idea. OK, as I say: THANKS, OFF YOU GO.)
Here is Corry's list:
Adam Kay: This is Going to Hurt... More (Work in Progress)
Alfie Brown: Sensitive Man
Ali Brice: I Tried To Be Funny, But You Weren't Looking
Amy Gledhill: The Girl Before The Girl You Marry
Angela Barnes: Hot Mess
Catherine Bohart: This Isn't For You
Dalia Malek: Another Castle
Daniel Sloss: New Work in Progress
Delightful Sausage: Nowt but Sea
Disabled Cants
Ed Gamble: Electric
Fast Fringe
Fin Taylor: Daddy Self-Care
Garrett Millerick: Just Trying to Help
Grace Petrie: Butch Ado About Nothing
Heidi Regan Gives Birth Live on Stage Every Night or Your Money Back
Helen Bauer: Madam Good Tit
Ivo Graham: My Future My Clutter
Jamali Maddix: King Crud
John Kearns: Varnishing Days (WIP)
John-Luke Roberts: A World Just Like Our Own, But...
JoJo Sutherland: Growing Old Disgracefully
Josie Long: Re-Enchantment
Josh Pugh: Sausage, Egg, Josh Pugh, Chips and Beans
Kwame Asante: Living in Sin
Lauren Pattison: It Is What It Is
Lou Sanders: One Word: Wow
Marcel Lucont Etc – A Chat Show
Mat Ewins: Danger Money
Matt Winning: Hot Mess
Nick Helm: What Have We Become?
Nish Kumar: Your Power, Your Control
Olaf Falafel: STOAT
Pat Cahill: Work in Progress
Paul Currie: The Chorus of Ghosts Living in My Skull Keep Telling Me to Take a Shit in the Fruit Salad
Paul Sinha: One Sinha Lifetime
Phil Ellis: Hedgehog
Phil Wang: The Real Hero in All This
Possibly the Last Chance to See Susan Morrison
Raul Kohli: Russian Weapon of Mass Destruction
Rich Wilson: You Could Have It So Much Better
Rob Auton: The Crowd Show
Rob Rouse: No Refunds
Sarah Keyworth: Lost Boy
Seymour Mace Presents Captain Winky's F*ck Off Olympics
Sheeps: Ten Years, Ten Laughs
Tim Key: Mulberry
Tom Rosenthal: Manhood
Tom Stade: The High Road
Tony Law: A Now Begin In Again
Published: 28 Jul 2022
What do you think?