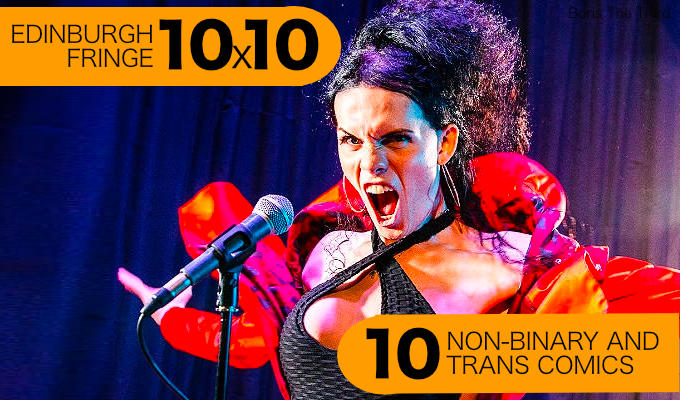 Ten trans and non-binary comedians at this year's Fringe
Humanising the often fiery discussion around gender issues – or maybe not mentioning it at all – here are ten transgender and non-binary comics performing at this year's Edinburgh Fringe...
---
Jordan Gray: Is It A Bird?
Top marks for the punny title as Essex comic Jordan Gray promises to tackle 'babies, boobies, bigots and Batman' in her Fringe debut. She previously spent ten years in the music business, including a memorable run on The Voice, and in 2020 made a Comedy Central digital series based on her experiences, Transaction. Assembly George Square, 10.25pm
Jen Ives
Jen Ives made headlines earlier this year when video emerged of her being verbally abused and branded a 'pervert' while attending a conference by the LGB Alliance – a group that believes gender is binary – in London. No wonder she believes the discourse on trans people becomes more toxic in the UK. But in her debut, Ives says she's here to sort it all out… asking if such questions as, 'Is JK Rowling the devil?' and 'Can a man love a trans woman and still truly be straight?' Gilded Balloon Patter Hoose 9pm.
How to Be a Girl (In Three Easy Steps)
Gara Lonning only came out as trans and non-binary a couple of years ago, and in this show they bid farewell to girlhood through drag, comedy and dancing while telling what it means to grow up as a closeted trans person in the middle-of-nowhere Iowa. Lonning also hosts the EN(BA)BY podcast about gender, its name coming from 'enby', a shorthand for non-binary: NB. TheSpace On The Mile, 11pm, to August 13 only
Wil Hodgson: Barbicidal Tendencies
Cult storyteller Wil Hodgson won the Perrier Award for best newcomer at the 2004 Fringe, although he hasn't been back for eight years, instead concentrating on his alternative career as a barber in Chippenham. He declared himself non-binary last year, saying he didn't like the term 'coming out' as it 'implies revealing something you've kept secret' – just that he now found the right term for how he always felt. Just the Tonic at The Caves, 2.10, 22 to 28 only
Cerys Bradley: Sportsperson
Non-binary comic Cerys Bradley says, 'I feel the rules of gender most keenly when playing sport' – with every competition divided into men's and women's leagues. That, they feel, is because sport has been designed to enforce gender norms and enforce the idea of a 'weaker sex'. Expect these ideas, as well as first-hand stories of not fitting in elsewhere, in this show. (Bradley also wrote an article for Chortle about their experiences of being non-binary on the comedy circuit here) Gilded Balloon Teviot. 4.40pm
Rob Kemp: Agenda
The creator of cult Fringe hit The Elvis Dead offers a more personal show about identity, gender expectations and crossdressing — though not without on-brand pop culture references to the likes of Big Trouble In Little China. Alternative Fringe @ The Hive 7.35pm
Jeena Bloom: The Homecoming Queen
American transgender comic and host of the podcast Shweet! A Ladies Guide to Bro Culture promises 'a funny and sad story' of how she spent most of her life running from the person she knew she really was, until she risked everything for a normal life. Gilded Balloon Teviot, 3.15pm
Andrew O'Neill: We Are Not In the Least Afraid of Ruins; We Carry a New World in Our Hearts
O'Neill just created Damned Andrew, the first Radio 4 comedy based around a non-binary character. Although the title character's gender in Damned Andrew was slightly less significant than the fact they had opened a portal to another dimension in their bathroom. Here the surreal metalhead performs their latest stand-up show, probably with a bit of politics mixed into the madness… Liquid Room Annex, 5.30pm
Alok
Alok Vaid-Menon is an American non-binary writer, performer, poet, mixed-media artist and public speaker who has amassed more than 1 million followers on Instagram. They were profiled by the Washington Post just this week, with the paper described the show heading to Edinburgh as 'oscillat(ing) seamlessly between heart-wrenching verses on trauma and loss, and witty quips about studying heterosexual behaviour'. Traverse Theatre, 9pm, August 9 to 21 only
Abby Wambaugh
When this Copenhagen-based American comedian appeared in the Funny Women final last year we praised their 'enjoyably dry sense of humour, reminiscent of Hannah Gadsby' as they talked about sensitive subjects, such as being a non-binary parent. They share a bill with fellow up-and-coming comic Bronwyn Sweeney this Fringe. The Stand's New Town Theatre, 8.35pm from August 22.
Published: 21 Jul 2022
What do you think?