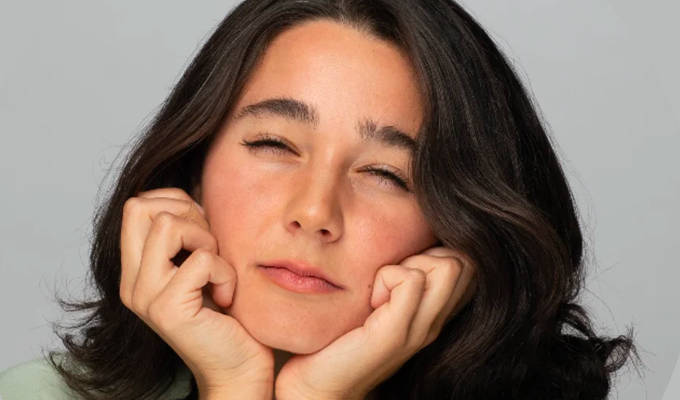 Funny Women 2021 final
What a difference a year makes! Twelve months ago, the Funny Women final took place in a near-empty Comedy Store, with the comedians performing to a smattering of gig-hardened industry folk and an unresponsive camera lens for the audience at home. The class of 2021, by contrast, have the benefit of a packed Bloomsbury Theatre, expertly mobilised by host Jayde Adams.
Meanwhile, there's a challenge to the gender binary on which the competition is based. With the first two competitors identifying as non-binary, there's a real prospect that a future Funny Women winner won't call themselves a woman at all.
Amid tough competition, the first of them, Abby Wambaugh, was unlucky not to win a place. Their delivery is low-key, a suitable vehicle for their enjoyably dry sense of humour, reminiscent of Hannah Gadsby or Tig Notaro. And what could have been a thorny, complex subject of identity was tackled with grace, underplayed charm and a few great jokes.
Amelia Stubberfield also brought plenty of gags to bear on their discussion of anxiety and the health issues that mean they look like a sickly Dickensian child (their words!). The payoffs aren't quite distinctive enough to stand out, but they are frequent enough and funny enough to entertain and delivered with casual confidence.
Beau Holland created a captivating, offbeat universe of her own that her Irish lilt can only amplify to English ears. She says her homeschooling set her apart from normal society – an isolation that led to her dreaming, at the age of 11, that life as an alcoholic would be romantic. And as an adult, she has a great take on what happens when Catholicism and Tinder collide. There are not, perhaps, so many big guffaws in her set, but the picture she paints is uniquely engaging, and she's undoubtedly a strong writer.
Bronwyn Sweeney secured second place with her caustic dismissal of the online advertising she creates in her day job, a charming discussion of her American upbringing, and takedown of the absurdity of defining' 18-35' as a single demographic. Hers is a fluid set, buoyed by a natural charisma and full of gags. For a relative stand-up novice, she seems like the finished package.
In contrast, Caitlin Powell's writing felt a little more superficial as she discussed the bad choices she was forced to make when dating in a small town, moving over to Tinder-like apps, and the stupidity of horoscopes. It's relatively low-hanging fruit, which she picked efficiently but left the potentially more interesting personal backstory only to be hinted at.
One word for Lara Ricote: Wow! The Mexican-born, Dutch-based comic exploded onto the vast stage with several megawatts of vibrant energy – an electric presence for funny, sparkly, self-deprecating stories of her sexual inexperience. Her funny bones are apparent, and she has a well-used knack for physical comedy, too. It was instantly obvious she would be the one to beat… but no one could. Her victory was surely a runaway one.
If Ricote's comedy was all from the heart, Louisa Keight's was from the mind. She's a smart operator, with a posh, high-status position, proud of losing her Liverpudlian accent. But don't think that necessarily means her material is erudite: she was the second comic tonight to make reference to the 'gooch', in a dependably amusing set that encompassed a few styles, from storytelling to non-sequiturs.
Unfortunately, Natalie Bellingham's odd obsessions with tiny birds, shape-shifting frogs and lychees felt too contrived, and she never quite brought the audience on board with her quasi-surreal trains of thought. Though she has presence, she tripped over the line between quirkiness and reality – but kudos for trying something a little different.
Though still relatively new, Ola Labib already has a secure foothold on the comedy circuit, thanks to some sharp, savvy takes on the prejudices she's faced as a hijab-wearing Sudanese woman, including a strong establishing gag. Her set's slick and well-polished – with the exception of the gear-crunching segue 'talking of Sex Bombs, I wasn't one when…' – and offers a witty commentary from her unusual perspective. With an endearing mix of self-effacement and pointed sass, she's got the personality to go far, and secured third place tonight.
Rounding off the competitors was Sharon Wanjohi, gracing this stage for the second time this week after making the final of the Chortle Student Comedy Award on Monday. And again she impressed with a set with plenty to say about race and gender, laced with sarcasm but delivered with a relaxed smile. As well as a handful of solid gags, silly impressions and cod-boastfulness prove she has several strings to her comedy bow, and place her firmly on the 'one to Watch List – alongside so many of tonight's finalists.
Review date: 24 Sep 2021
Reviewed by: Steve Bennett
Reviewed at: Bloomsbury Theatre