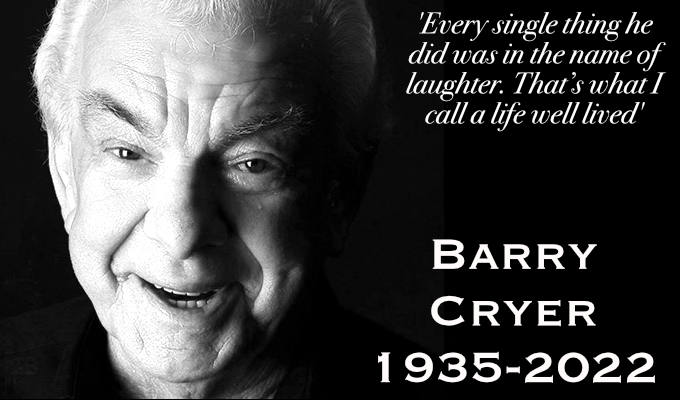 Barry Cryer dies at 86
Tributes have been flooding in after Barry Cryer, the clubbable king of the comedy anecdote and master of the pub joke, died at the age of 86.
He died at Northwick Park Hospital near his home in Harrow, north London, with his family at his side, they said in a statement, revealing that he was cracking jokes with the nurses to the end.
'He leaves behind him a life of fun joy love and silliness and will be doing our best to maintain that legacy,' the family said. 'He made many people laugh. A lot. Over many years.'
Cryer wrote for almost every big name in comedy including The Two Ronnies, Kenny Everett, Tommy Cooper and Morecambe and Wise, and was probably best known for his appearances on Radio 4's I'm Sorry I Haven't A Clue.
Paying tribute on Twitter Stephen Fry said: 'Such sad news, one of the absolute greats of British comedy, Barry Cryer, is no more. A glorious, gorgeous, hilarious and gifted writer and performer who straddled all the comic traditions. Universally beloved … farewell, Baz.'
The League Of Gentleman's Mark Gatiss added: 'Barry Cryer was the real deal. An incredibly funny man who worked with - and wrote for - the giants of comedy. Yet he remained forever curious and delighted by whatever was fresh and original. Kind, encouraging, generous and a one off. Goodbye, Cheeky.'
Rebecca Front said: 'Heartbreaking news about Barry Cryer.He was an utter genius, endlessly intrigued by and supportive of everyone who worked in comedy.He made us all feel special. There's a Baz-shaped hole in the world now that nobody will be able to fill.'
Writer Jonathan Coe said: 'Every single thing he did was in the name of laughter, and lifting our spirits. That's what I call a life well lived.'
And Richard Herring added: 'Losing Barry Cryer is like losing a member of the family... He was one of my absolute comedy heroes and kept working right to the fucking end. A life well lived and a connection to every great comedian of the last 60 years. RIP'
Born in Leeds in 1935, Cryer started performing in his university revue in the city. While there, he was offered a week's work at the famous City Varieties Theatre, where he was spotted by a London agent.
His variety work led him to the Windmill Theatre in London, a nursery for some of the biggest names in post-war comedy, and then started writing for Danny La Rue's hugely successful nightclub act. While doing this, he met David Frost who invited him to join the writing roster on The Frost Report, which also included which also included John Cleese, Graham Chapman and Marty Feldman,
He wrote gags for some of the biggest legends of comedy, including Morecambe and Wise, Tommy Cooper, Stanley Baxter, Dick Emery, Dave Allen, Les Dawson, Bob Hope, George Burns, the Two Ronnies, Sir Harry Secombe, Billy Connolly, Jasper Carrott and Richard Pryor. He wrote most extensively for Kenny Everett, alongside Ray Cameron, Michael McIntyre's father.
On screen, Cryer had a role in the 1957 film Expresso Bongo – for which he recorded the track Purple People Eater which became a No1 in Finland – and he hosted the ITV comedy panel game Jokers Wild from 1969 to 1974.
Cryer was a panellist on I'm Sorry I Haven't A Clue for more than four decades, and toured with the team, and with the show's put-upon pianist Colin Sell, sharing jokes and stories with the audience.
He became known as a master of the showbiz anecdote - and hosted a series about Comedy Legends for Sky Arts – yet always maintained an interest in latter generations of comedy, too. This Christmas he launched his first podcast, Now, Where Were We? with his son, Bob.
Cryer, who was made an OBE for services to comedy drama in 2001, had been married to Terry, since 1962. They had two others sons - Tony and Dave – a daughter, Jack, and seven grandchildren.
In his later years, he used to joke about his age: 'I don't know how long I've got left, I don't even buy green bananas any more.'
BBC director-general Tim Davie said today: 'Barry Cryer was a uniquely funny, talented and generous person. He was an incredible comedian and writer. If you heard or saw a great sketch there was always a good chance Barry was behind it.
'He worked with every major showbiz legend because everyone wanted to work with him. Barry will be hugely missed by his many friends at the BBC and the wider public.'
Here he is doing what he loved best – cracking a joke. This one in support of Edinburgh venue the Gilded Balloon in Christmas 2020:
And here are some more of Barry's greatest gags.
Published: 27 Jan 2022
What do you think?