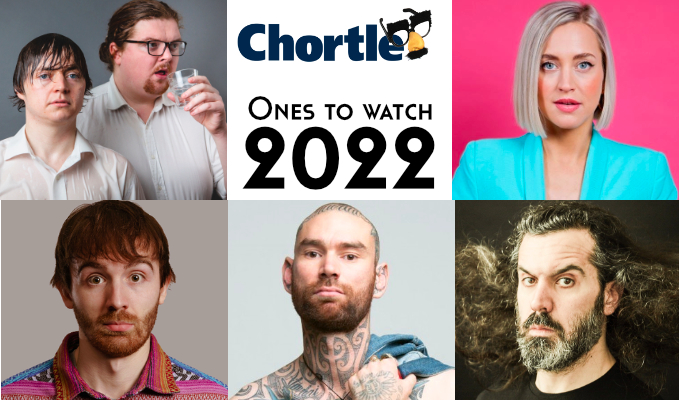 Comedy's ones to watch for 2022
Here is Chortle's annual list of comedians tipped to do big things in the next 12 months - as nominated by those in the know.
Every year, we ask some of the UK's leading live comedy promoters to name the acts they believe are on the verge of big things .
We didn't run the list last year because Covid had so decimated the live scene, but our ones to watch for the previous year were Rachel Fairburn, who made her Live At The Apollo debut last series; Janine Harouni, whose debut special is now on Amazon Prime; Morgan Rees, Conor Burns and Wil Hodgson.
For 2019, the list comprised Eleanor Tiernan, Scott Bennett, Josh Jones, Laura Davis, Carl Hutchinson and Nigel Ng; and in 2018 it was Sindhu Vee, Lauren Pattison, Scott Bennett (again), Richard Todd, Christopher McArthur Boyd, and Andrew White
Here are the acts tipped for the top in 2022:
Good Kids
Nominated by Toby Hadoke of XS Malarkey, Manchester
I don't think I had as much fun in a comedy club last year as I did watching Good Kids. Both Kieran Ahern and Tom Dowling are extremely able performers and the song they closed their set with piled joke upon joke and comedic flourish upon comedic flourish and was delivered with great skill. When they finished the audiences exploded with applause and I am excited about seeing them again.
Honourable mention to idiosyncratic and funny Eryn Tett, as well.
Lily Phillips
Nominated by Liam Pape at The West End Comedy Club, London
When we opened our doors back in August, Lily was top of our list to book. As well as her iconic Chapelle-ian jumpsuits, she shares the American comic's ability to be excellently engaging and has a masterful tact for turning crowds to hysterics. The only thing she's missing is a weirdly cultish fanbase… and controversy (she's got time).
Lily's distinct feminist brand of comedy has been delighting live audiences for a few years, and she's already garnered some mainstream success with bits on Comedy Central, ITV and Channel 4. Last year she was also a BBC New Comedy Awards Finalist.
In 2022, we're confident she'll become a staple of the comedy circuit up and down the country, and a comic widely adored by audiences and fellow comedians alike - hopefully with some more big-name TV appearances too.
This year she's also doing her debut hour in Edinburgh at The Pleasance, appropriately titled Smut as well as continuing the Ghastly Women podcast with Esther Manito.
In the Chinese calendar, 2022 may be the year of the Tiger - but in the comedy sphere, it's going to be the year of Lily Philips.
Ian Smith
Nominated by David Hardcastle of the Museum Of Comedy and Leicester Square Theatre, London
Ian Smith has been one to watch for as long as I can remember – and why he's not a regular on every comedy panel show out there is one of life's great mysteries.
Our Monday Club new material night is always pretty high on quality but he's a stand-out every time whether he's doing actual material, ad libbing or just messing about. I genuinely can't remember the last time I saw him not be the best on the bill, any bill.
Hopefully someone with some influence in TV will finally cotton on this year and he can achieve the world domination he deserves.
One thing that's struck me since the return of comedy is the number of really good up and coming acts out there. Ideally I'd be hedging my bets and name shitloads of them. But of the newer acts I see regularly, John Meagher, Lily Philips, Ali Woods and Cloe Petts all have something unique about them and continue to get better at an impressive rate.
Rudy Lee Taurua
Nominated by Alan Anderson of Rotunda comedy club, Glasgow, and producer of Scottish Comedian Of The Year
In the past three years the head-tattooed half-Maori / half Aussie Rudes has exploded onto the Australian comedy circuit where he now headlines some of the best and toughest gigs. He was a finalist in the Melbourne International Comedy Festival's Raw Comedy competition last year (by far the audience favourite) and winner of Best Newcomer and People's Choice at the Adelaide Comedy Awards 2019.
Rudes is a stereotype buster, what you see is definitely not what you get. He plays heavily on the juxtaposition of his Indigenous heritage, his typically white Bogan day job of driving monster trucks around the world's largest mine and guess what… his sexuality. His debut solo show sold out both its entire runs at Perth FringeWorld and Adelaide Fringe, extra shows were added for both.
Currently stuck moving Earth in the outback due to Covids restrictions, Rudes is heading to the UK after the Melbourne Comedy Festival to make his Edinburgh debut then smash the club circuit.
For an honourable mention, I'd also tip Scottish Comedian Of The Year winner Liam Farrelly, who is building up a loyal fan base. Still only 21, from a working class background and with that nasal Paisley accent, there are the obvious comparisons to Kevin Bridges. But thanks to his unusual family dynamics which feature two nuns and a new baby, Liam has developed into a comic with his own story to tell.
Sami Abu Wardeh
Nominated by Martin Willis of Objectively Funny Comedy, London
With a full-powered Edinburgh Fringe having been on hiatus since 2019, the newcomer pool is thrice the size as normal, with newbies queuing up to present their hour-long wares. To name just a few, Chloe Petts, Jen Ives and Celya AB all look ready for the big time, they've each become mainstay circuit smashers and I expect they'll make a mark in clubs, at the fringe and on TV in 2022.
If I have to pick just one though, someone that I've seen destroy gigs in 2021 that has a really exciting year on their hands, it's Sami Abu Wardeh.
A magnetic performer; his jokes are daft and exuberantly executed, songs are delivered with the gusto turned up to 11, and sheer playful ebullience make his clownish characters radiate with a luminescent glow. And if it wasn't enough to be a whirlwind of charisma onstage, Sami's also got a pretty impressive day job as an NHS doctor.
Looks like it's going to be a pretty big year for him, whatever happens in the world of comedy.
Published: 6 Jan 2022