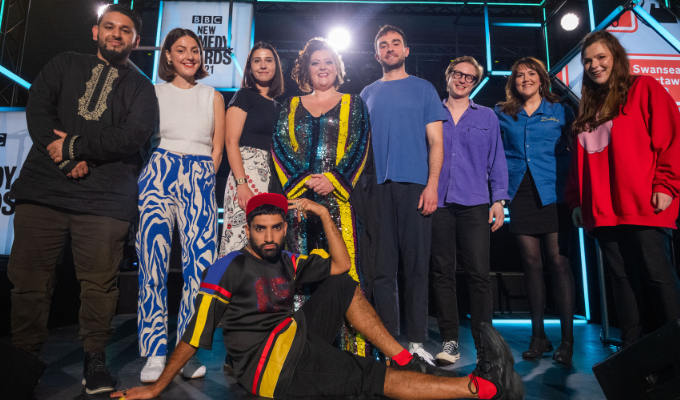 Who's in the running for the BBC New Comedy Award 2021?
The BBC's New Comedy Award hits screens tomorrow – the first time they have been on television since 2005, when Tom Allen took the crown.
Heat one was recorded in Cardiff and airs on BBC One at 11:40pm, with all episodes available on the BBC Three iPlayer channel from 6am.
In each show, five comedians performing roughly five minutes of material. Here is Chortle's episode guide to who is appearing in each heat.
Heat one: West and Wales
Tuesday October 19, 11:40pm
Anna Thomas
Eddy Hare
Jamie Finn
Priya Hall
Tamsyn Kelly
Host: Kiri Pritchard-McLean
Judges: Mawaan Rizwan, Ali Shahalom and Katy Wix
Recorded in: Cardiff
Heat two: Midlands
Wednesday October 20, 11:40pm
Ricky Balshaw
Finlay Christie
Andy Watts
Daman Bamrah
Celya AB
Host: Darren Harriott
Judges:Mawaan Rizwan, Sikisa and Sarah Keyworth
Recorded in: Wolverhampton
Heat three: North
Tuesday October 26, 11:35pm
Eva Bindeman
Harry Wright
Molly McGuinness
Seeta Wrightson
Izzy Askwith
Host: Amy Gledhill
Judges: Mawaan Rizwan, Rosie Jones and Josh Jones.
Recorded in: Halifax
Heat 4: The South
Wednesday October 26, 11:35pm
Daniel Foxx
James Ellis
Lily Phillips
Michael Akadiri
Raj Poojara
Host: Dane Baptiste
Judges: Mawaan Rizwan, Thanyia Moore and Helen Bauer
Recorded in: Croydon
Heat 5: Scotland
TBC, expected November 2
Liam Farrelly
Eddy MacKenzie
Jessie Nixon
Henry Whaley
Sergi Polo
Host: Larry Dean
Judges: Mawaan Rizwan, Fern Brady and Stephen Buchanan
Recorded in: Dundee
Northern Ireland
TBC, expected November 3
Vittorio Angelone
Roger O'Sullivan
William Thompson
Diona Doherty
Kathryn Higgins
Host: Shane Todd
Judges: Mawaan Rizwan, Catherine Bohart and Micky Bartlett
Recorded in: Portrush
Final
To be recorded in Newcastle, the BBC's 2021 'city of comedy' on November 3, and broadcast on BBC One on November 5.
The BBC New Comedy Award has been running since 1995 with a break from 2005 to 2011. Other previous finalists and winners have included Lee Mack, Alan Carr, Peter Kay, Rhod Gilbert, Nina Conti, Joe Lycett and Lucy Beaumont.
Published: 18 Oct 2021
What do you think?