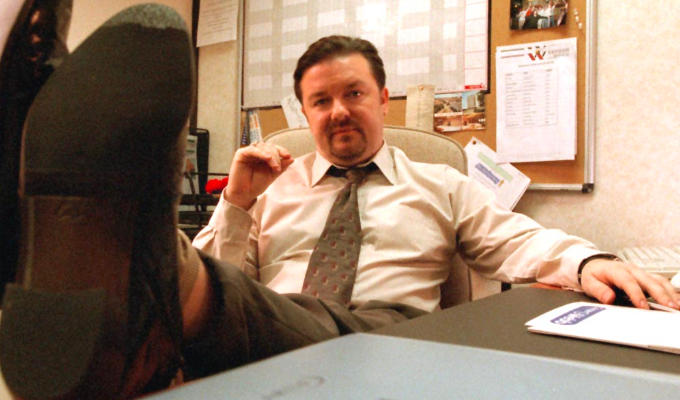 The Office: 20 facts to mark 20 years
It has been 20 years to the day since The Office first hit BBC screens - here are 20 facts about the groundbreaking sitcom to mark the occasion….
---
1. Ricky Gervais conceived a character called Seedy Boss while working at XFM with Stephen Merchant. Merchant subsequently went on a BBC course that required him to shoot a short film – and they decided to revisit the creation. Some of the footage was put on to The Office DVD and inevitably to YouTube.
2. The scene above took many lines from an actual job interview Gervais attended with a temp agency when he was 17. 'He was in his mid 30s wearing a bad suit,' he later wrote on Facebook. 'His opening sentence was, "I don't give shitty jobs"; I just looked at him and nodded…. He phoned his friend and at one point said, 'Yes of course he's 18"; then he winked at me and did the Pinocchio nose mime. I never saw him again, but I used to do impressions of him as I told the anecdote over the years. He was the very first Brent I can remember. There have been many since.'
3. The teaser tape circulated around the BBC and led to a pilot episode, which had a budget of £90,000. After it was picked up they were given a 'good, standard budget at the time' of £140,000 an episode.
4. Martin Freeman originally auditioned for the role of Gareth, which went to Mackenzie Crook. 'It was only as I was leaving [the audition] that Ricky asked me to read for Tim,' he said in an Evening Standard interview. He added: 'It's funny because until I became the nicest man in Britain I tended to be cast as villains, drug dealers, rent boys, and bare-knuckle fighters.'
5. It was not universally loved on its debut. Writing in the London Evening Standard, Victor Lewis-Smith slammed the show as a bore and said: 'How this dross ever got beyond the pilot stage is a mystery.' Gervais posted the full review online to mark The Office's 10th anniversary.
6. Gervais also once said: 'The first series got the lowest ever BBC focus group score — joint bottom alongside women's bowls'. 'Audiences were rotten too,' producer Jon Plowman has recalled. 'But he BBC repeated it within a couple of months and it doubled its figures.'
7. Despite its loose feel, not much of the show was improvised, One exception was Brent's now-infamous dance: 'I just went berserk for 30 seconds,' Gervais has said. 'Then had to have a sit down for 30 minutes.
8. David Brent never said: 'You just have to accept that some days you are the pigeon, and some days you are the statue' even if the internet - even IMDB – thinks he did. It might be from French New Wave film-maker Claude Chabrol, deflecting the critical response to his 1972 film Docteur Popaul, but even then, it's only attributed – there appears to be no first-hand source.
9. Gordon, the janitor who pops up in a few episodes and silently stares into the camera for an uncomfortable amount of time, is played by Stephen Merchant's dad Ron. 'We put him in because we thought he had a funny face,' Stephen said.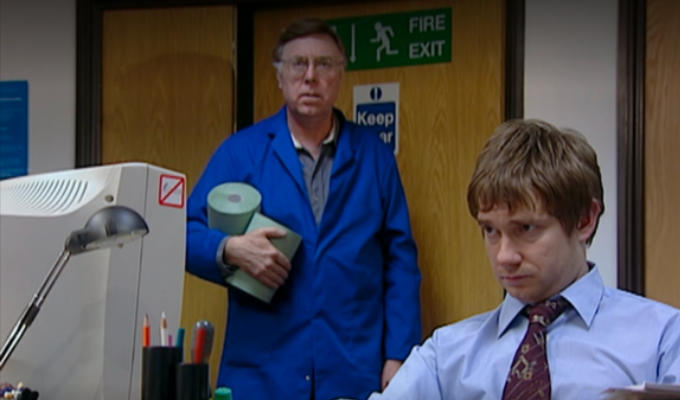 10. Gervais said the scene in which Brent gives Tim an appraisal required 74 takes as he and Freeman kept laughing too much. 'I changed the way that I did it for every take and Martin just couldn't cope with it,' he told Shortlist magazine. 'He is such an "actor", too — he loves his craft. He was probably sat there thinking, "Who's this fucking fat buffoon who's never acted before? Why is he in charge?"'
11. Stephen Merchant wanted the theme tune to be Sitting, by Cat Stevens, but he said on one of the XFM shows he made with Gervais: 'I still feel we should have used that one but we couldn't because Cat Stevens' people wouldn't let us. Or it was too expensive or something.'
12. The song they eventually went with, Handbags and Gladrags, most associated with Stereophonics, who has a No4 hit with it in 2001. But actually it was written by Mike d'Abo in 1967 when he was the lead singer of Manfred Mann, with Chris Farlowe releasing it that year – and Rod Stewart having a minor US hit with his version (featuring 'plaintive oboe phrasing') in 1972. The version used on TV is sung by Scottish rocker, Fin Muir, of heavy metal band Waysted.
13. The show was filmed at Teddington Studios in South West London. Not in the actual studios but in what was once the production offices of Today With Des and Mel
14. Gervais and Merchant took the Microsoft dollar in 2004 to shoot some internal training videos featuring Brent, with Merchant playing an employee of the software giant:
15. As well as the acclaimed US version, The Office has been remade in India (where the Brent character is called Wilkins Chawla), Canada (David Gervais), Chile (Manuel Cerda), the Czech Republic (Marek Chvala), Finland (Pentti Markkanen), France (Gilles Triquet), Israel (Avi Meshulam) and Sweden (Ove Sundberg). And yesterday a new Polish version was unveiled, set in a a bottled water company called Kropliczanka. It has also been syndicated in more than 80 countries.
16. In 2004, Germany made a comedy called Stromberg, set in an insurance company, which the BBC thought was so similar to The Office they threatened legal action. In the end a deal was struck, which involved giving Gervais and Merchant an 'inspired by' credit. 'I was very surprised,' Gervais joked. 'It's not like the Germans to just march in and take something that isn't theirs.'
17. Gervais hasn't seen many of the US episodes starring Steve Carell. 'It wasn't my baby,' he told GQ magazine. 'It was my rights, so I cashed the cheques. I think it was good, but I didn't have the same emotional attachment to it…I don't think I've seen much of it.'
18. The scripts for the Christmas special were accidentally sent to a woman in Essex, who sold them to The Mail on Sunday. At the time, Gervais said: 'Good luck to her - if she sells it and they print it, all it will do is ruin it a bit for some people. She can do what she wants with it, but I think she has to remember she shouldn't really have opened it. If she wants to know what she should do with it, she should either keep it as a souvenir or throw it away or give it back to the BBC What she shouldn't do is sell it to a newspaper to publish the plot of a TV programme that is fun to watch when you don't know the outcome.'
19: The voice of the BBC interviewer in the Christmas specials is that of Ashley Jensen, who went on to co-star with Gervais in Extras. While Olivia Colman's role as a trade journalist was one of her first TV appearances outside sketch shows.
20. Gervais says he was inspired by Laurel and Hardy, saying 'The Office is basically a room full of Laurels and one Hardy, which is Tim'. He added: 'Tim's character is common in comedy — that person who thinks they're better than everyone else, but it doesn't get them anywhere. Lisa Simpson, Woody Allen, Bob Hope — they're all Tims.'
• The Office is currently available on Britbox and to buy on Amazon Prime Video. A repeat run starts on Gold at 10pm tonight.
Published: 9 Jul 2021
What do you think?