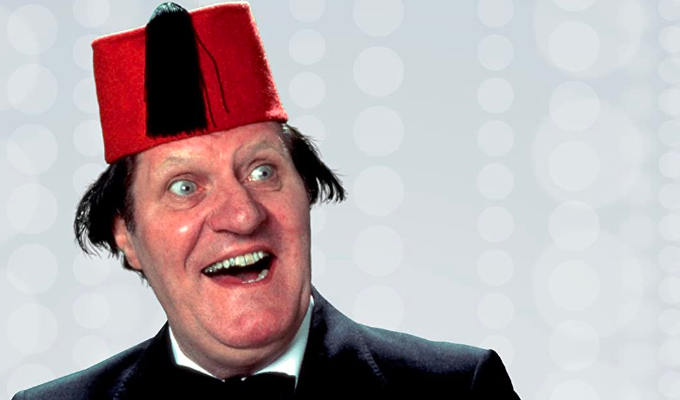 Tommy Cooper's best jokes and tricks
In commemoration of Tommy Cooper, who was born 100 years ago today, here are some of his most-loved jokes and routines.
Many gags attributed to the fez-wearing comic online are not from him at all – a lot are from his spiritual heir Tim Vine. To get the best of the jokes Cooper actually told, his biographer John Fisher has compiled them in several volumes, including the Tommy Cooper All In One Joke Book and Tommy Cooper Jus' Like That! A Life in Jokes and Pictures, which also contains reproductions of rare cuttings, playbills and more.
These are, of course, best read in Cooper's distinctive voice. And if you have his timing, all the better!
'I want you to take a card. Now tear it into halves. Tear it into quarters. Tear it into eighths, and throw the pieces up in the air. Instant confetti!'
I swam the English Channel once. 'But a lot of people have swum the Channel.' Lengthwise?
'One birthday my father bought me a bat. When I went to play with it, it flew away.'
'I said, "It's serious, doctor, I've broken my arm in 20 places." He said, 'Well stop going to those places.'
'I've used saccharine for ages and my doctor told me I had artificial diabetes'
'I had a brass band at our wedding… I put it on my wife's finger.'
The minute I got off the plane in New York, 15,000 people started crowding around me. If you don't believe me, ask Marlon Brando. He was standing right next to me.'
'You've heard of the lone ranger? I'm his brother hydrangea!'
'I slept like a log last night. I woke up in the fireplace.'
'A friend of mine said you want to go to Margate, it's good for rheumatism. I went.. and I got it.'
'She was so beautiful, when I took her home in a taxi, I could hardly keep my eyes on the meter'
My wife does her own decorating, but she overdoes it. The other day I opened the fridge and there was a lampshade on the lightbulb.
'I'll never forget when I was playing the Palladium. I drew a line a mile long… but the manager made me go out and erase it.'
'I backed a horse today - 20 to 1. It came in at 20 past 4.'
'My dog is harmless, really. I say to him, "attack" and he has one.' 'I met my wife at a dance - I thought she was home with the kids'
'My wife always serves me food that melts in the mouth… but how many ice cubes can one man swallow?'
'The meals she cooks put colour in your face - purple' 'My wife just phoned me. She said, "I've got water in the carburettor." I said, "Where's the car?'" She said, 'In the river."'
'I said, "Doctor, doctor, there's something wrong with my foot what should I do?" He said, "Limp"'
I'm recovering from a cold. I'm so full of penicillin that, if I sneeze, I'll cure someone
(As Sherlock Holmes) I say, Watson, this is a most serious case — the window is broken on both sides.
And here's some footage of the master in action...
Glass, bottle, bottle, glass…
One of his most famous tricks...
Blindfolded duck…
Brigadier and Fritz
He's a man of many parts (well, two)…
The hats routine
'Twas New Years Eve in Joe's bar, a happy mob was there. The bar was crowded lots of noise filled the air…'
The picture at the top of the page is the cover of the 80-minute compilation DVD Tommy Cooper: The Very Best Of
Published: 19 Mar 2021
What do you think?