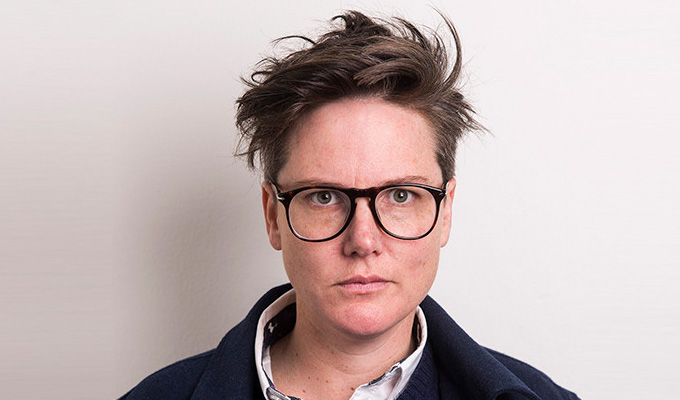 Hannah Gadsby's Nanette: 'An absolutely fascinating and profound hour'
2017 saw the Edinburgh Comedy Awards panel at their most indecisive, with a record nine nominations (a figure matched in 2019) and splitting the big prize between Hannah Gadsby's boundary-breaking Nanette and John Robins' heartfelt The Darkness Of Robins. The newcomer field was almost as crowded, with Natalie Palamides coming top of a shortlist of eight. And no panel prize was awarded at all. Here are some of Chortle editor Steve Bennett's reviews from that year:
Hannah Gadsby: Nanette
(Actually reviewed at the Melbourne International Comedy Festival in April, before its Edinburgh run)
Stand-ups will always argue that nothing is off-limits for comedy, no subject too big that it can't be addressed with wit and humour.
But in her latest show, Hannah Gadsby offers a different opinion: that some issues are so pernicious that they don't DESERVE to be treated by comedy; that there are hard facts that need to be confronted without the cathartic tension relief of a punchline.
Don't worry, Nanette – with its Trojan Horse of a benign title – can often be very funny. But at the crucial points, Gadsby lets her emotions rise, confronting the audience with the enormity of the issues raised with the full force of her invective and so creating powerful, poignant moments that she lets hang, pregnant, in the air.
She says she is 'not a good enough comedian' to break the tension that the depressingly serious points make – and indeed a rant can be easier to write than a joke. But it demonstrates great skill and assurance to hold an uncomfortable atmosphere for as long as she does, to let the points sink in
In fact, it's fascinating how she describes her transition in comedy, starting out full of deadpan self-deprecation, but now this compelling, quietly charismatic orator. She now sees that original position as too apologetic, giving people permission to belittle her by firing the first shot.
But she took that stance back then as she didn't really know herself well enough at the time. And who could blame her? Homosexuality was only made legal in her native Tasmania until 1997 (and even then by just one vote), so she grew up marginalised, confused and ashamed – and she says it took ten years to 'deprogramme' herself from those toxic feelings.
It is these damaging personal experiences that she wants to be brought out into the open, especially as Australia's gay marriage debate reopens old wounds. Yes, it's easy to make silly jokes about the bigotry of the anti- campaigners, but what she wants to get across is not the abstract clash of liberal progressives and conservative reactionaries, but the very real, very damaging effects that policy can have on gay children made to feel less than human by the discourse of division. And the strength it gives those who'd wish to hate, or even attack, someone because of their sexuality.
So this nuanced section ends with the pulse-stopping moment of tension but starts with a delightful response to bullies who tell her not to be so sensitive to name-calling.
Gadsby repeats the technique in other parts of the show, though inevitably without the thunderous impact of the first time around, but always making deep and salient points. Especially impressive is the use of her art history degree to debunk the myth of the tortured ahead-of-his-time artist, with a creativity driven only by mental anguish, citing Van Gogh as her well-researched example.
It all makes Nanette an absolutely fascinating and profound hour, more complex than almost every other show at this festival, but not without its moments of levity, driven by Gadsby's sardonic outlook.
At the top of the show, she says the realisation that not everything can be tagged with a gag makes her ready to quit stand-up. Let's hope that's not one of the points that is to be taken seriously, as her absence, just when she's hitting this sort of form, would be a loss to the art of comedy.

---
John Robins: The Darkness of Robins
John Robins has been a fine comedian for many years, hitching his pettiness and love of a precisely ordered life to a self-conscious approximation of jovial mateyness – a persona that evoked Alan Partridge's lack of self-awareness, but made more knowing.
Yet, cult success on Radio X aside, he never seemed able to make a breakthrough. Well now he has, courtesy of his Edinburgh Comedy Award victory, and all it took was for his heart to be wrenched from his soul and crushed underfoot, leaving him an abject husk of a man, racked with loneliness and self-pity.
'So I just broke up with my girlfriend,' is a dependable staple of club comedy, a gambit for a male comedian to rag on his ex and evoke some of that old 'difference between men and women' material. And maybe increase his chances of scoring at the bar afterwards.
In Robins' case, though, it's the cue for an emotionally excoriating plunge into the sadness that has engulfed him. Men are supposed to shrug these things off, move on, sleep around, reconnect with mates the old ball-and-chain denied them. But the break-up has left Robins with nothing but anguish, self-loathing and tearful breakdowns in Ikea.
The comedy – and there is plenty, despite what that sounds like – comes mainly from the disconnect between him trying to be that chirpy, put-a-brave-face-on-it bloke and the emptiness he feels inside. Making a list of the pros and cons of his newly enforced singledom, he suggests that the 'loss of all feelings of hope and possibility' can be offset by knowing where the iPhone cable is.
He tries to find some happiness in being able to do petty things that his ex (fellow comic Sara Pascoe, as the world surely knows by now) frowned upon, but uttering 'she would have hated it!' to himself is the most Pyrrhic of victories.
More gags come from their clash of personalities. Him a rigid stick-in-the-mud who always reads the ts&cs, her a 'free spirit' – or frustratingly careless, from his perspective. But my, does he miss those quirks that once wound him up so much.
He tries to make tentative steps on the road to normality, but how can he with such pain and desperation? A one-night stand is a bleak prospect, and he becomes full of disproportionate rage at a smug friend, believing he ought to be full of shame for living a cosy life the comedian now feels he has been denied.
The climax is a long reimagining of a building society advert depicting domestic bliss, which becomes an increasingly tragic blow-by-blow account of the slow death of his relationship. It's a miserable sequence, as much a vehicle for Robins's torment as it is him playing the long game to release the considerable tension he's built up with a punchline. And it's a very long game indeed.
As with Hannah Gadsby's Nanette, with whom he's shared this year's Edinburgh Comedy Award, The Darkness Of Robins is a show that tests the limits of where you can go with comedy, willing to abandon the laughs for substantial periods of brave and honest soul-baring.
It is an emotional roller-coaster all right, but at least the audience can get off after an hour; Robins is still going around, leaving his insides in turmoil.

---
Jordan Brookes: Body of Work
If you go and see Jordan Brookes this Fringe, be sure to take lots of rugs… for he'll keep pulling them out from under you.
There's surely not a more inventive show at this festival. From an inspired corruption of the 'Ladies and gentlemen please welcome…' voiceover to the moment he reluctantly leaves the stage, cracking a few final quips, this is a twisty, turny ride full of playful misdirection.
There's a flick of Bob Odenkirk and David Cross's cult classic Mr Show as he begins by doing his vocal warm-ups on stage, then he engineers a brilliant slapdown of an audience member as part of some peculiar banter, and we're still nowhere near starting.
When he gets to the meat of the hour, it turns out to be a savvy and savage parody of those now-clichéd stand-up shows that wring emotional response from their audiences from the death of a relative. In this case, it's Brooke's nan who popped her clogs, and he can't even bring himself to begin to tell it, needing to be placed into his storytelling pose by brute force. And when he finally gets going, he proves that his warning of being 'easily distracted' was no idle disclaimer.
A few metaphors sustain the loosest of stories, from the notion of 'bad thought marbles' that can make their way from the back of your head to your mouth, and of listening to other parts of your body, not just your head or your heart. Turns out Brookes has an erudite arsehole. And any comic who wants 'erudite arsehole' as a show title next year can have it for free.
His fine, peculiar brain doesn't work like anyone else's – which leads to bleak and appallingly inappropriate thoughts, some of which, it turns out, have their roots in something diagnosable, as well as wildly funny ones.
And, wow, look at his physically, fearlessly wild when it needs to be – outrageously extravagant mimes of any number of sex acts come to mind (or rather can't be erased from memory) – or perfectly controlled at others. He has similar control over all aspects of his mesmerising performance: noisy and aggressive one moment, silent and still the next. Brookes has an exceptional command of pace and tone, and keeps that as varied as his writing, ensuring there's never a dull moment.
His intimate unpredictability carries a level of danger – not a terrifying Red Bastard-style risk, but just enough to heighten the reaction to his comic surprises. Meanwhile, audience interactions show he's not wedded to a tight script; he's nimble enough to blend often surreal ad-libs with the main thrust of a show that keeps its audience on their toes, even once it settles into a groove.
Compelling, mercurial, unconventional and smart, Brookes has produced one of the must-see shows of the Fringe.

---
Lauren Pattison: Lady Muck
It's a contradiction shared by many comedians. On stage, Lauren Pattison is a picture of happy, engaging confidence, yet her stand-up speaks of crippling self-doubt. She portrays herself as a young woman not happy with who she is and how she appears, getting self-conscious whenever people look at her outside of the stage context.
Her debut hour is one long, perfectly formed, story about how that fragile self-worth took a substantial blow when her boyfriend of four years, from 18 and 22, dumped her. Not in the traditional way, but by 'ghosting' her, suddenly blanking all contact. A proper dick move, which left her devastated.
It came after she moved to London to follow her comedy dreams, which meant living in a shoebox and working in a hated job in retail, and prompted Pattison to re-evaluate whether she had made the right decisions. After all, most of her schoolmates had already settled down and started making families, even at such a young age. Well, she is from Newcastle.
Many of her jokes have a self-deprecating edge, as she depicts herself as 'unladylike' – a term she despises for its inherently chauvinistic judgment. But she was certainly something of a drunken mess gambling on this grimy, poverty-stricken lifestyle of a new comedian – which has given her plenty of ribald stories of sloppy nights out and their awful consequences, which we can enjoy either vicariously or with a sense of superiority.
Her idea to elevate the Edinburgh show beyond well trodden coming-of-age fodder was to track down her errant ex to try to get some closure on the relationship. This only led to more setbacks, but then this absorbing story starts to take a different, more powerful, turn.
Without going into too much detail, just know that Pattison starts to tackle her anxieties head-on, making Lady Muck into a joyous, life-affirming, empowering yarn that will send you out with an elated heart. For there's potency to some of her material, as she starts to challenge those forces that would keep her down, and the sexism that's usually behind them.
Yet even when packing a punch, her demeanour is breezy, frank and friendly, making her wickedly engaging company. You can certainly tell how Pattison got her Masters in drama, for she has the storytelling skills to draw the audience into her life and take us on an emotional journey with her.
Some of the anecdotes, even the jokes, appear long and winding, but we are always spellbound, which means the punchlines have a weighty impact when they do land. The hour is beautifully packaged with its light and shade, slow-dawning epiphany and no-nonsense take-me-as-I-am attitude – so much more than the initially simple initial premise suggests.
Edinburgh newcomers are often spoken about for the potential they display, but Pattison – a previous finalist in the BBC New Comedy and Chortle Student awards – has produced a thoroughly assured debut that proves her to a fully-equipped comedian already.

---
Sophie Willan: Branded
The comedy industry got excited by Sophie Willans' stand-up debut last year, which covered her time in care as a child. Not only was she funny, she was a woman, working-class and Northern. Boxes ticked!
But she's not entirely happy with any of those adjectives, accurate as they are, for they are labels that come with baggage, inherently defining her in a way she doesn't necessarily see herself. People see the labels, or branding, more than the see the individual.
Northernness, for example, she believes is associated with a romanticised nostalgia used to hold the vast region back. As an example, she hilariously cites the terrible poetry that emerged following the murders at the Ariane Grande concert.
There's more on the misleading nature of labels when she again plunders her extraordinary back story as the daughter of a teenage heroin addict in the Breightmet area of Bolton. It may sound bleak, but there's a rich vein of honest, unexpected humour here. Yes her mum was a junkie, but she also had traits utterly at odds with the picture you have in mind – and precisely why the image is so funny.
Willans' astute social observations also plug into the politics of her disenchanted generation. She's soon to turn 30 and was brought up under New Labour hopefulness for a bold future in which anyone could be what you they wanted to be. As long as it's not homeowner, it turned out: no wonder there's resentment for the ruling class, which she expresses with force but charm. She skewers Iain Duncan Smith for his policies that targeted the poor and the disabled.
The final label that she addresses comes in the shape of a big reveal for the third act – and if you want to keep the surprise, look away now.
For as a way to escape the poverty trap, Willan turned to escort work, a euphemistic label for a sex worker, and a section of her past had been reluctant to talk about. But my, does she own the topic now, confidently explaining why it's nothing to be ashamed of, the money she earned giving her a financial power that funded her theatrical work, among other things, – and spring-boarded her to where she is now.
It's a big topic, still shrouded in taboo, but she talks about it with a matter-of-fact positivity as unselfconsciously as if she was doing observational comedy about the nutter on the bus. This is a powerful section that doesn't wear its heart on its sleeve, nor does it pussyfoot around what she wants to say about the topic from a perspective that's rarely shared.
For Willans' bubbly personality shrouds a determination of steel. She's full of attitude, but delivers it with warmth – and even a 'tit wiggle' on her entrance. You're too engrossed in listening and laughing to realise she's pushing at boundaries. If we're going to start attaching labels to her, 'frank, fearless and funny' would seem to be the most apt.

---
Desiree Burch: Unf*ckable
The top deck of a bus is a very confined space for the massive character that is Desiree Burch. She's bold, loud and domineering as she barrels through a set that's frequently filthy and always powerful. Sometimes being a loudmouth American is a good thing.
'I'm gonna tell you this about you,' she asserts upfront, imposing her personality and opinions on us in a way that will brook no argument. She starts off with spot-on observations about us Brits before moving on to cats, stereotypically one of the big hack topics of comedy, especially when contrasted with dogs.
But she evokes strong imagery, both in imagining how humans ever thought to domesticate them in the first place – and how that's not quite worked out as we had hoped. Owners are now in an abusive relationship with their pets.
That segues into material about her unusual former job, of being a dominatrix. Told you she was domineering, and she's got some eye-popping anecdotes from her time there; the sort of material you're not sure to hear anywhere else told with a refreshing candor and lack of judgment. 'There's no political correctness in a sex dungeon,' she informs us, and the peek into the bizarre fantasies of her clients is hilarious.
Her time there surely gave her a skewed impression of men. Because – and here's the most surprising fact of the night – she was a virgin when she was a sex worker. And that confusing state of affairs feeds into a self-analysis that lies beneath the raunchy anecdotes.
Meanwhile, you shouldn't confuse her authority on stage with being a 'strong black woman', though, for that's an archetype she hates, her exploration of the expectations that come with it offering a fresh look at race relations.
And after sex and race, she turns her attention to power, courtesy of the most bizarre encounter she had with her boss, whom she was trying to persuade to underwrite her performance career. Business plan and spreadsheets prepared, he treated he with a flagrant lack of respect that says so much about entitlement – while also being another raucously funny sex tale.
Her pace is relentless and pounding, which will leave that'll leave your sides aching and your lungs gasping. That could almost be a review of her old job – which also required the use of gags – but she's an unstoppable force in her current one.

---
• Click here to read all our Edinburgh Fringe reviews from 2017
Published: 25 Aug 2020
What do you think?