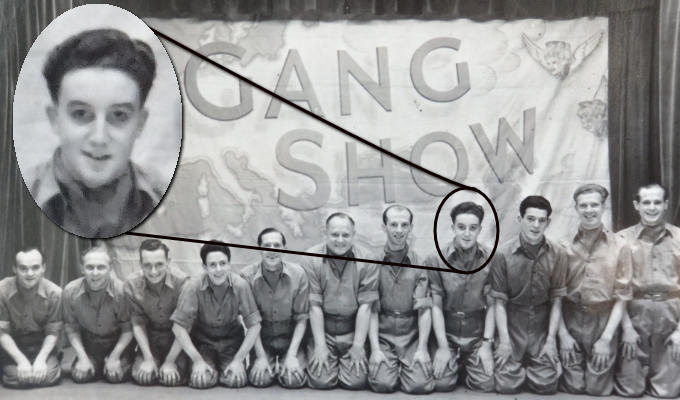 How Peter Sellers discovered his talent for comedy
From the Goons to Pink Panther and much more besides, Peter Sellers was one of the biggest comedy stars of the 1960s and 1970s. But before he found fame he served in the Royal Air Force Entertainment Units, known as gang shows, for more than three years. A new book published today, Bluebottle Goes To War, tells this story about how he found and honed his talents during the Second World War with the aid of previously unknown film footage, photos, performances, broadcasts and recordings. In this exclusive extract, author PJ Browsword sets out the background to his book, and to Sellers' remarkable career...
---
In the archives of the Imperial War Museum in London are kept two reels of 35mm film catalogued as 'RAF Gang Show, Akyab Island, Burma'.
The footage, of excellent quality, shows a group of men in khaki air force uniforms, arriving at their latest stopover, unloading baskets of gear and then taking to the stage that has been improvised for them – a haphazard construction of war-damaged Timber and corrugated iron.
Among them is a rather skinny young man, with a confident air, taking the lead in some staged hi-jinks for the camera, and later, playing the drums as part of a jazz quintet and acting in a two-handed sketch.
His face is instantly recognisable now, though at the time the film was made, he was just nineteen years old and quite unknown. He is Aircraftman (2nd Class) 2223033 Richard Henry Sellers, and the world remembers him as Peter Sellers. (He was always called Peter, from a young age; this had been the name of his elder brother, who died in infancy).
Sellers served in the Royal Air Force for over three years; however, this period of his life has been largely overlooked in the wealth of material written about his later career. Now, for the first time, the story can be told, with the help of RAF records in the National Archive, as well as newly discovered films, photographs and contemporary reports.
The Sellers family, who came from the world of variety and vaudeville, had left London on the outbreak of war in 1939, moving to Ilfracombe in Devon. This also coincided with the end of Peter's formal education: the legal age for school-leaving at the time was 14. He spent the next four years doing odd jobs in local theatres, learning to play the drums and ukulele, and later touring with various Entertainments National Service Association (ENSA) companies and bands, until soon after his 18th birthday in September 1943, when he was called up for military service. As he spent much of his childhood touring the country with his parents, he had few roots, but his RAF posting was the first time he had been separated from his family.
When the time came to report for medical assessment, his eyesight was found to be too poor for him to become a pilot and he seemed condemned to the tedium of ground duties, until he saw a poster inviting recruits with theatrical skills to audition for an RAF concert party known as the 'Gang Show'. It was a chance encounter that was to be decisive. He found himself in the company of a generation of men, many of whom went on to perform with distinction in all fields of showbusiness, and it was his good fortune that his life spanned an age of rapid development in the media of radio, TV, recording and film, in all of which he contributed work of the highest calibre.
The schoolboy hero Bluebottle, from the BBC radio comedy The Goon Show, was just one of many characters he brought vividly to life. The role of the RAF gang shows as a catalyst for the growth of British light entertainment in the second half of the 20th century can be deduced from the names of some of those who took part: Tony Hancock, Dick Emery, Graham Stark, Frank Thornton, David Lodge and Douglas 'Cardew' Robinson, among others.
Peter Sellers may have been the most talented of them all, but it seems that this was not particularly apparent at the start of his RAF career. He is reported to have been rather shy and self-effacing, but he soon came to realise that he could overcome this by taking on the voices and mannerisms of other people, both real and imagined. This gift for shape-shifting would come to define his whole life.
After auditioning to the RAF's impresario, Ralph Reader, he was absorbed into the gang show family and began by touring air force bases around Britain, before being posted to South-East Asia. This must have been like taking a gap year and going to university all at once – leaving home and travelling to the far side of the world, while at the same time receiving a thorough grounding in the practicalities of show business under extreme conditions, in the midst of a global conflict.
Far from being daunting, the war represented, for Sellers, a life-changing opportunity. This new book reveals previously unknown film footage, recordings and radio broadcasts, as well as records of more than 100 performances across two continents. It charts his progress from raw recruit to gang show veteran, a journey full of colour and inspiration – a formative experience indeed...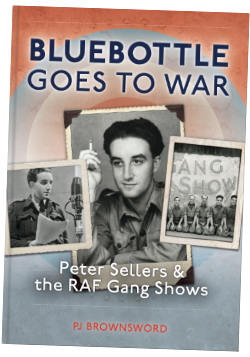 • Extract and images taken from Bluebottle Goes To War: Peter Sellers & The RAF Gang Shows by PJ Brownsword, published today by Uniform. Click here to buy for £15.99
Published: 13 Aug 2020
What do you think?