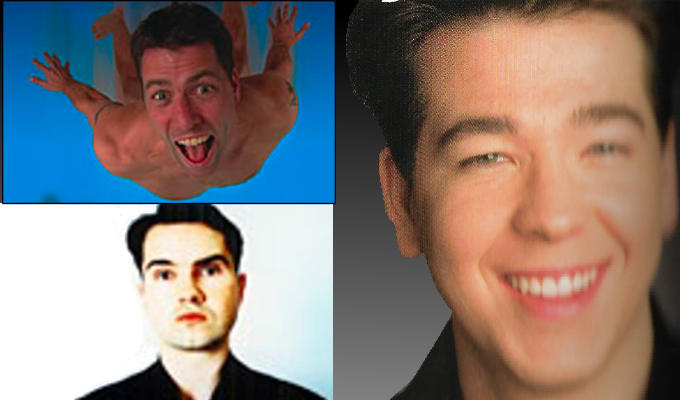 Michael McIntyre makes his Fringe debut... and we gave him 2 stars!
Today we travel to 2003 to look at some of Chortle's reviews from the Edinburgh Fringe - the year in which Demetri Martin took the Perrier and Gary Le Strange – the new-age alter ego of Waen Shepherd - beat Alex Horne, Miles Jupp and Michael McInytre to the best newcomer award. Though our critic, Margaret Ishola, bucked the trend by being none-too impressed with McIntrye's debut. The rest of these reviews were written by Chortle editor Steve Bennett...
Alex Horne: Making Fish Laugh
The title of Alex Horne's delightful Fringe debut isn't quite as surreal as it first seems.
Fish, it turns out, is a scientifically coined term for those people who fall between 'genial' and 'prudent' on a scale of personality types devised for a 1976 symposium about laughter.
Horne has somehow got hold of the findings from that obscure get-together, thus providing him with a series of tests he can apply to his audience.
Where most comics leave the stage with the line: "You've been a great audience", Horne can say precisely how great. I'm proud to report that we scored a more than respectable 6.3 out of ten.
As a comic, Horne would score much higher. He's interesting, quirky and bristling with ideas, plus he's written at least half a dozen cracking puns which get an airing here.
But first impressions weren't that encouraging, as he initially seems a little awkward and uncertain of himself. Once he relaxes into the show, though, he reveals a quick wit for off-the-cuff banter, giving the audience vital confidence in his abilities.
Horne's joined on stage throughout by Tim, a Statto-like sidekick, who helps conduct this least scientific of experiments to see how we react to such laughter stimuli as the mild discomfort of others, repetition and tickling.
These tests are full of off-the-wall invention and form a solid framework on which Horne can hang his eccentricities. His approach to this research is initially tongue-in-cheek earnest, but that facade soon collapses under the weight of the situation's stupidity, paving the way for some lovingly bizarre comedy.
Making Fish Laugh is well deserving of its four stars, a number I only wish had been determined under the rigours of the scientific process.

---
Jeremy Lion's Happy Christmas
Whether there's room in comedy for two drunken entertainer characters remains to be seen, but if Johnny Vegas ever does fulfil his potential to self-destruct, then Jeremy Lion will be there to take his place.
Though there are plenty of similarities, Justin Edwards has also managed to do his own thing with the belching, bitter persona - most notably in making him a washed-up children's entertainer.
This gives him the excuse to dress up in tacky gingham hat, yellow shirt and ill-fitting red jacket, and provides the justification to have a lot of fun with props, songs and sketches.
One of the highlights of this Christmas show, for example, is Lord Sebastian The Aristocratic Turkey, a poor-quality ventriloquist's dummy - complete with a brilliantly unrealistic decoy arm.
Not quite everything works as the show degenerates slowly into booze-fuelled oblivion; a medley of carols seems especially pointless - and technical problems prevented us seeing the planned nativity slide show.
Two formidable set pieces raise the show well above expectations, though. The first is terrifyingly gruesome snowman's outfit that would permanently scar any child subjected to its horrors. Adults, too, may find it hard to wipe the hilariously inappropriate image from their minds
The second is the truly impressive, and perhaps inevitable, display of drinking, with Edwards necking a good half a bottle of wine during an increasingly slurred and incoherent version of The Twelve Days Of Christmas.
Edwards expertly extracts every last drop of comedy from such appalling behaviour, his grotesque creation always accurately, if exaggeratedly, observed and brilliantly brought to drunken life. At its best, this is a superb, if little-known, fringe gem.

---
Michael McIntyre
This self-proclaimed posh bloke has a confident and engaging manner, and a wealth of observational material about the clash of the sexes and life with his girlfriend.
Slightly condescending to women, he proceeded to impersonate his better half as a sort of Cockney Kenneth Williams - amusing, though probably unintentional.
McIntyre was extremely fortunate on this night to have a group of lads in the audience who he deemed even posher than himself, and subsequently the butt of his amusing banter.
He's actually a lot better outside of the prepared material, which is tightly scripted but weakly executed. He occasionally lost his way - at which point, he would throw himself to the floor in a bizarre attempt to distract the audience.
McIntyre is a natural comedian with some good stories to tell, but they tended to require poking fun at people different to himself in a superior, derisory manner he can't quite pull off.
But inside McIntrye there's a splendid raconteur waiting to burst out... as opposed to being thrown to the floor.

---
Jonh Bishop
I bet John Bishop is great at parties. He's the sort of bloke who can engage total strangers in friendly, ice-breaking small talk without ever venturing beyond shallow pleasantries.
But that's not much of a skill for an hour-long Edinburgh show.
"Did you see the football?" he asks. "What do you for a living?", "Seen any good shows?"
What? Seen any good shows? Anyone in Edinburgh hears and asks that questions dozens of times every day. Why pay £10.50 for the privilege of overhearing the same conversation between two strangers?
There's no denying he's a genuine, personable bloke, but there's just no substance behind it. His lines of questioning never lead to comedy gold; in fact they rarely even lead to comedy iron pyrites.
A couple of segments could possibly be identified as routines, very often involving him sitting on the toilet. He moans about the flyerers on the Royal Mile, and suggests a cunning, witty solution to avoid them: a headbutt. Still, he draws blood when he recreates the action with the microphone, so you cannot deny his dedication to his work.
Amid all this inconsequential nonsense, he casually drops in the line "I once rode a bike from Australia back to Liverpool" and leaves it at that. Now that's an Edinburgh show.
Elsewhere, there is evidence he may have something to say beneath the surface banter. When he talks honestly about his struggles after suddenly finding himself single again at 35 - and now a dad - the potential is obvious, if mostly unrealised.
The audience do warm to his friendly chit-chat, but in reality, he's a compere without a show.

---
Jimmy Carr; Charm Offensive
Last year, Jimmy Carr's show was called Bare Faced Ambition, an unusually honest admission of his reason for coming to the Fringe.
"I wanted to get on telly," he says at the start of this show, adding in typical supercilious manner: "Big tick me."
The bulk telly work, of course, is Channel 4's embarrassingly shallow Your Face Or Mine?, already winning him new fans. "June Sarpong," comes one heckle, referring to his fragrant co-host.
Carr's now as consummate at dealing with such interruptions as he is at writing supremely polished gags, all he does is heighten his superior air and sneer at the commonness of anyone with their head above the parapet. Rather than dismissing all random interruptions with a shrugged apology of not doing banter "on account of being a bit shit at it," Carr is now relaxed enough with his persona to take them on.
Yes, he's slicker than a dozen snakes in a vat of four-star - possibly even slicker than Bob Monkhouse - but there's just enough of a trace of irony to makes every evil comment seem somehow acceptable. "Now I don't want to sound cruel..." he starts one gag, and already the audience is laughing in anticipation of whatever politically incorrect thought is coming.
The arrogant stance is a very American style, and it's no wonder Carr's starting to make inroads across the pond. Combined with his stereotypical Englishness, the package is complete.
One-liners are his forte, of course, and this show has more laughs per pound than any other on the Fringe. An hour, though, is a long time to fill with his simple "feedline, punchline, laugh" formula, so a few diversionary tactics are employed to vary the pace.
Thus he tells us of the selection of bizarre adverts placed in newspapers around the country - even more hilarious when you consider most were placed through human operators oblivious to the content - and unveils this summer's collection of typically heartless Jimmy Carr merchandise.
The only section that doesn't really come off is a piece of audience participation, as Carr invited three punters to help him act out a World War One play he has written in a supposed attempt to add depth to his comedy. It's reasonably funny watching the amateurs mug away at the clunkingly incompetent script, but it has more than a touch of the Generation Game about it.
Carr's future may well be as the cold, arrogant and cynical host of more cruel game shows, he could well even be the next Angus Deayton, but in the meantime his live show remains a guilty pleasure. Try to indulge yourself

Published: 10 Aug 2020
What do you think?