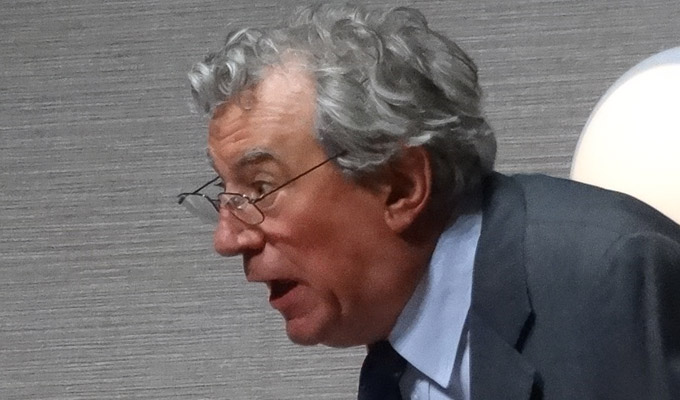 Terry Jones: Some favourite anecdotes
The death of Terry Jones at the age of 77, after succumbing to dementia, has inevitably revived some anecdotes and odd facts about his long career in comedy. Here are some of our favourites…
---
While Terry Jones was directing Life Of Brian, he realised that Graham Chapman didn't quite look the part of a man who could be mistaken for the messiah in one crucial detail. After filming the first take of scene in which a naked Brian addresses his followers, Jones pulled his colleague to one side and said: 'We can see that you are not Jewish.' It was corrected for the next take with a well-placed rubber band. (Hat-tip to The Times diary)
Playing the hermit in the film meant that for one day of the shoot at least, Jones was in the weird position of being a naked director of a film in which the entire cast was clothed.
Jones wrote for The Ken Dodd Show between 1965 and 1967.
The Mr Creosote scene in Meaning Of Life took four days for him to shoot, using gallons of Russian salad dressing as the fake vomit. In an interview with author Mike Sacks, Jones recalled. 'On the fifth day, a wedding took place in the ballroom where we shot it. That wasn't a set! By the fifth day you can imagine the smell. And the poor people getting married had to come into that stench. Not a good way to start off the married life.'
The 1963 show Jones and the rest of the Oxford Theatre Group took to Edinburgh was entitled ****. Whether to indicate a swear word or to look like it had been well-reviewed by critics
When Jones told his family he was making a comedy show for teh BBC entitled Monty Python's Flying Circus, his brother said: 'It'll never catch on.'
In a censorship argument with BBC executives, Jones was the most vociferous in trying to keep the word 'masturbating' in a sketch. In the 1972 skit The All-England Summarise Proust Competition, Jones argued t – unsuccessfully with the Corporation suits, telling them: 'What's wrong with masturbation? I masturbate, you masturbate, we all masturbate!' The edited line originally had Graham Chapman describing his hobbies as 'animal strangling, golf, and masturbation'. And here's another of his fights against the censor, from the Letters Of Note Twitter feed:
RIP Terry Jones. I'll never forget him turning up at the launch party for the Letters of Note book in 2013 & then reading aloud this letter about Monty Python & the Holy Grail. I could barely process it. He was the loveliest man. pic.twitter.com/lPF74uPHwQ

— Letters of Note (@LettersOfNote) January 22, 2020
Jones once opened new gent's toilets in Lambeth Walk, South London. As a local celebrity he was asked to be the first person to use them, so duly attended with Michael Palin and the Mayor of Lambeth.
Ever-fearful of being manipulated, took to wearing his watch on a belt around his waist rather than on his wrist as a mild protest against the 'dictatorship of time'.
Jones was always dismissive of Monty Python's legacy, suggesting they never changed anything beyond 'a slight change in behaviour of a few adolescent boys in the inner city over a brief span of time in the 1970s'.
Published: 23 Jan 2020
What do you think?