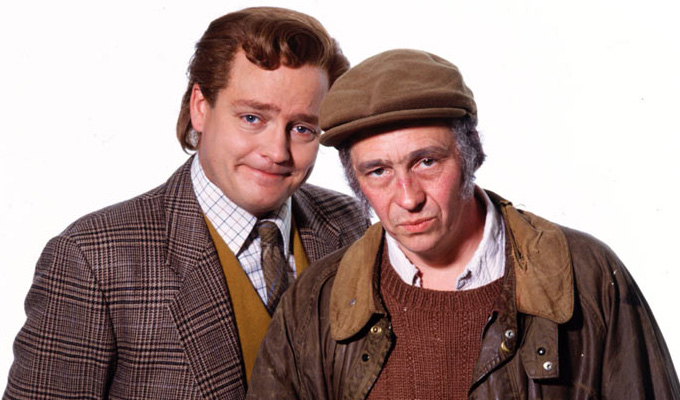 'The Fast Show is a terrible title...'
It was one of the most successful sketch shows on British TV, but as The Fast Show celebrates its 25th anniversary, its two leading lights have confessed to one nagging regret: its terrible name.
'Isn't it a crap title, The Fast Show?' Paul Whitehouse said at an event to mark the milestone last night.
'It was a stopgap thing,' Charlie Higson admitted. 'We were always thinking "this is a terrible title and we have to think of something better one day".'
But they never did.
The pair were speaking at the University Of East Anglia, where they first met as punk-loving students in 1977, originally forming a band together before turning to comedy.
In the course of their discussion they revealed:
That audiences hated the now-loved Ted and Ralph sketches when they first saw them
That Higson had to stop working with Harry Enfield as they clashed too often
That they 'nicked' the idea for fast-paced sketches from the late comedy producer Geoffrey Perkins
Their regret that there are no sketch shows any more – and their belief that political correctness ISN'T killing comedy.
The audience were also shown some sketches that never made it to broadcast, which were contained in the archive of material Higson donated to his alma mater. ('Or as I call it, a bunch of old boxes I was about to throw out')
These included Ponce In The Garden, a parody of Laurence Llewelyn Bowen-style makeover shows. Whitehouse said there was also a sister sketch, Prole In The Garden, with a 'designer' who wanted to concrete over everything.
The pair met at UEA while Higson was studying English and American literature with a minor in film, and Whitehouse was a development studies undergraduate – though he confessed that to this day he doesn't really know what that subject entailed.
As for why he chose the university, he recalled: 'I remember coming to Norwich on a school trip and doing a bit of nicking from some shops and I thought, "I like it here". I swear to you that was one of the reasons I came to UEA.'
Higson said he chose the institution because it was one of the few universities that offered the course he wanted.
But in a minor bombshell, the 1977 prospectus was produced – and did not include the course Higson took.
'You're a fraud, Charlie!' Whitehouse goaded in front of an amused audience.
Higson recalled that after bonding with Whitehall over a similar taste in music, 'we very quickly put a band together. We formed a student punk band…
'The most hated of all concepts!' Whitehouse interjected. 'Even I hated us.'
Admitting to taking prodigious quantities of drugs – Whitehouse joking that he took so much amphetamine that he didn't sleep for six months – Higson revealed the name of their band, proving that The Fast Show wasn't the only regrettable title he has been involved with.
'We were called the Right-Hand Lovers,' he confessed, before adding the punchline: 'We were seminal.'
'I basically had a standard but dull middle-class upbringing. I grew up in Sevenoaks and I wanted to break out into the big wide world. So I came here to Norwich,' he joked. 'It was like Lou Reed's Walk On The Wild Side.
'I thought, "I've never had a nickname", so I made one up. I chose Switch.'
After many of the band members dropped out of university – with Whitehouse heading back to London to become a plasterer – Higson formed another outfit called The Higsons, which was championed by John Peel. Their first single, I Don't Want To Live With Monkeys, became an indie hit and they toured the world.
'It was a fantastic thing to do as a young person but we made not a penny,' he recalled. 'So the bass player and myself, when we weren't touring we started doing decorating. There are a lot of houses in London and they all need painting.'
Higson and Whitehouse often worked together on such jobs and used their banter to develop Loadsamoney, the brash plasterer, for Harry Enfield, a friend of a friend. Vic Reeves was also in their wider circle.
Whitehouse said: 'We were fans that's how we got in with Vic and Bob, we used to watch them before they were on TV. I remember Charlie coming back [from one of their shows at the Goldsmiths Tavern in South London] saying "you've got to come and see these people there's this bloke he squashes some brie onto a carpet tile." I was hooked.'
However, Whitehouse admitted: 'I didn't have any sort of genuine desire or inclination to go into comedy myself.
'I think it's a weird thing to want to walk out on stage in front of a bunch of people you've never met and go "I'm gonna make me laugh tonight. Love me."
'It's a weird mindset to want to do that. But you need that drive to succeed and Harry did have that. He started with a double-act [called Dusty and Dick] with a guy called Bryan Elsley who went on to make Skins.'
Nevertheless, Higson recalled: 'Harry was encouraging Paul to write and Paul came to me and said "look, you've got word processor – an Amstrad – and I haven't. And you know how to write…"
'We started writing together and found that we really enjoyed it, because we were both coming such a different place, a different background. Though we laughed at the same things our brains worked in very different ways.
'So, the first thing we ever wrote TV really properly was Stavros and then Loadsamoney.'
Enfield soon tired of the attention Loadsamoney got – quoted in the Commons and yelled at him in the street. Whitehouse recalled: 'He killed him off quite quickly– probably rightly – but it left us in limbo. The door opened for us then it very quickly closed.'
But when he got his sketch show, Enfield took the pair on as writers – their first proper full-time writing job and Whitehouse's break as a performer.
Higson also credited Geoffrey Perkins 'one the greatest television company producers we've ever had' for teaching him how to make a comedy TV show, which allowed him to go on to produce The Fast Show with Whitehouse.
'Charlie had learned a lot, but I hadn't. I just pretended that I had,' Paul joked.
Higson also admitted 'nicking' something specific from Perkins for The Fast Show, as he was unsure of how to present the material the team had compiled.
For the press launch of the second series of Enfield's sketch show, rather than showing a full episode, as is normal, Perkins just edited together the funny bits for each of them into a montage.
'We thought, "That's not really going to work – surely you're going to need the set-up, the context?"' Higson recalled. 'And we watched this highlights thing and we thought, "Hmmm, we'll nick that!".'
The Fast Show became known for its plethora of catchphrases, but Higson was keen to explain that the show was more than that.
'The good thing about a catchphrase is it's a fantastic way of nailing a character, and fantastic way of making it easy for a kid who wants to do the sketch the next day,' he said.
'But it wasn't like we came in and said, "Right here are six catchphrases what characters can we put around them?" It would come out of the writing process as you're developing a character. After a while, you think there are certain things that define that character. A catchphrase in itself is not funny.'
Whitehouse said that his character of Arthur Atkinson, the music hall comedian who'd entertain with cries of "where's me washboard?!" was an acknowledgement of the fact.
He said: 'It was a little bit of self-parody as he does a lot of catchphrases that have absolutely no relevance. A bit of self-mockery there!.'
Higson added that the character was also inspired by Tommy Handley radio comedy It's That Man Again, the biggest radio comedy of the 1940s. 'If you try to listen to it now, it is rather incomprehensible,' he said.
The pair said The Fast Show's own longevity is in part down to a reluctance to include too much that was 'off its time' . Higson said: 'There were no TV parodies – apart from Channel 9 – because if you parody a show that isn't on any more, it doesn't make any sense.'
He also said another strength of the show 'was the breadth of it. There seven writer-performers all coming from different directions. We wanted to get texture into the show.
'So there was stuff like Ted and Ralph shot beautifully on film alongside stuff in the studio, like Suit You, which is a classic multi-camera TV shot. That's one of the strengths, that The Fast Show is not just one thing.'
However, the pair admitted to having had concerns about how the slow-burn style of Ted and Ralph – created by Father Ted writers Arthur Mathews and Graham Linehan – would sit alongside the rest of the show, and said that at one point they considered cutting it altogether.
Whitehouse recalls playing the video to the studio audience who had come to watch the sketches being recorded to gauge the reaction. 'We played it to absolute silence,' he said. 'Except one laugh. And that was Caroline Aherne.
'There were two laughs,' Higson corrected him: 'The other was Graham Linehan.'
The pair also talked about working as a comedy duo, especially given that Whitehouse has been in three of them, with Higson, Enfield and now Bob Mortimer on their fishing show.
Reflecting on the different personalities, Whitehouse said: 'Harry is a lot more focussed, he didn't have the joy that Jim [Vic Reeves' real name] and Bob had, it was more thoughtful, He had a process.'
Higson said his partnership with Whitehouse worked while working with Enfield didn't 'because Paul and I are very different writers and very different characters.
'But Harry and I are too similar. So when we were working together, we were constantly banging up against each other, whereas Paul could fit in nicely. So in the end, Harry and I parted company and our relationship got a lot better after that.'
He also lamented the fact there aren't any big sketch shows on TV any more – while acknowledging the cult success of Famalam.
'I've banged on about this before,' he said. 'Really the last great sketches we had were Catherine Tate, Little Britain, and Horrible Histories, I suppose.
'It used to be that every generation had their sketch shows. For me and Paul, it was Monty Python. The next generation had Not The Nine O'clock News.
'In the 1990s there was us, there was Goodness Gracious Me, there was the Real McCoy, there was The League Of Gentlemen, there was Smack the Pony. Then Catherine Tate…
'It is a real shame there aren't sketch shows being made any more. The problem is they are expensive to make. It's much easier to make a panel show – and they are very funny.'
One audience member at the UAE tried to suggest political correctness was to blame for a decline in sketch comedt, stifling what could be said.
But Higson poo-poohed the suggestion, noting: 'Frankie Boyle doesn't seem to be out of work.
'And really the way things have changed that should be an opportunity for a huge amount of new material,' he said.
'You address what's going on if you are intelligent and clever, as the best comedians are. I think there are opportunities - something is either funny or it is not. You can still be funny.
'It's a rich field, there's a huge amount of material to be had about the way things are, and that's how comedy can reinvent itself because society keeps changing. There's always something new that you can look at and dissect and laugh at.'
And he noted that while The Fast Show is still being repeated to no complaints, 'huge parts of Little Britain, which is much more recent, are taboo and you can't go there.'
Maybe that will help keep the Fast Show on screens for another 25 years...
- by Steve Bennett
Published: 6 Dec 2019
What do you think?