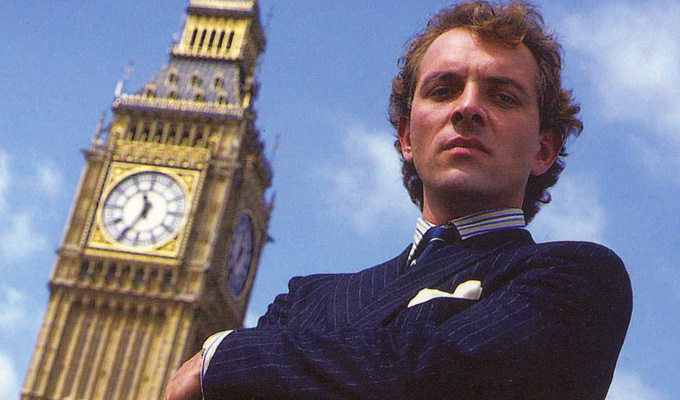 How Michael Portillo helped create Alan B'Stard
Mark Searby, the resident film critic on BBC Radios Northampton and Suffolk, has written a new biography about Rik Mayall, concentrating on his work and compiled from more than 30 interviews with the likes of Alexei Sayle, Nigel Planer, Laurence Marks & Maurice Gran and more. In this exclusive preview, he describes the genesis of Alan B'Stard, the anti-hero of The New Statesman.
---
The role of amoral MP Alan B'Stard was written specifically for Rik Mayall by TV writing duo Laurence Marks and Maurice Gran at the request of the actor.
Marks & Gran started their TV writing career by producing sketches and monologues for The Frankie Howard Variety Show. By the 1980s they had written hit TV shows such as Holding The Fort, Shine On Harvey Moon and Relative Strangers (a spin-off of Holding the Fort). Marks & Gran were invited to speak at a conference all about the future of TV comedy in the UK.
One of the people in that audience was Mayall who approached them about writing something for just him. But they dismissed his suggestions as simply an actor trying to find any old writer(s) to create a new vehicle for their talents. They also weren't too fond of Mayall's stylings: he was dressed in a homburg hat and a huge astrakhan coat indoors (it was a tribute to one of his comedy heroes – Tony Hancock).
Months later when Marks & Gran met with Mayall again on Terry Wogan's chat show, however, something started to sparkle between them. They arranged to have dinner and throw a few ideas around. Mayall said he wanted something that showcased his worst excesses – cowardice, cruelty, depravity and greed.
Marks & Gran instantly recognised those as words to describe backbenchers for the Conservative Party under Margaret Thatcher. The show was pitched to the head of comedy at Yorkshire Television, Vernon Lawrence, who just also happened to be a huge fan of Mayall's. As a result, he was sold on it immediately.
Marks & Gran set about writing and had a cunning plan on how to discover what it was like inside the Houses of Parliament. They exercised their constitutional right to request to be taken around the building by their local MP, none other than Michael Portillo. Making mental notes of the environment and the way MPs' acted, Marks & Gran set about writing The New Statesman. They did stay in touch with Portillo, and became friends with him – however some other MP's took against them writing a satirical show about politics starring an anti-establishment actor such as Mayall.
The New Statesman debuted on September 13, 1987 across the ITV network. It was met with critical and commercial acclaim. Even those that the show was satirising – The Conservative MPs - loved it and reports started to come out of the House of Commons that those inside were starting to act and dress like B'Stard.
The second series began in January 1989 and when the last episode aired on February 26, it left viewers with a cliff-hanger – who gunned down Alan B'Stard? The answer to the question was discovered when a one-off, hour-long special called Who Shot Alan B'stard was aired eleven months later on the January 14,
1990. That piece of television won Marks and Gran the Bafta award for Best British comedy
A huge political spanner was thrown into the works for the writing of series three. As Marks and Gran arrived back from a jaunt to America they were told that the Margaret Thatcher has resigned. All of their early drafts for series three had to be scrapped and completely re-written.
Fortunately, Mayall came to their aid as shortly before filming was due to begin, he fell down a flight of stairs and broke his arm. Which meant that as production had to be postponed until their star actor was completely healed, Marks and Gran had some breathing space.
Series three finally hit TV screens almost a year to the day since the last time B'Stard was on television – January 6, 1991. This too proved to be a hit. Consequently, one last series was commissioned for broadcast during November and December 1992. The show finished with Mayall's odious character taking control of the country, sneering that if The Queen wanted to meet him then, she must come to him.
Marks and Gran (and Mayall)'s creation was a huge shot in the arm for mainstream satirical comedy and without a doubt paved the way for Scottish writer/director Armando Iannucci's work such as The Thick Of It, Veep and The Death Of Stalin.
Nobody could have expected that the people who The New Statesman was ridiculing would find it appealing, and then try to become an Alan B'Stard.
The members of Parliament may have changed over the intervening years but the satire that The New Statesman delivers is still as relevant today, if not more so.
---
•
Rik Mayall: Comedy Genius by Mark Searsby will be available as an e-book from Amazon on January 24. Click here to order.
Published: 28 Oct 2019
What do you think?