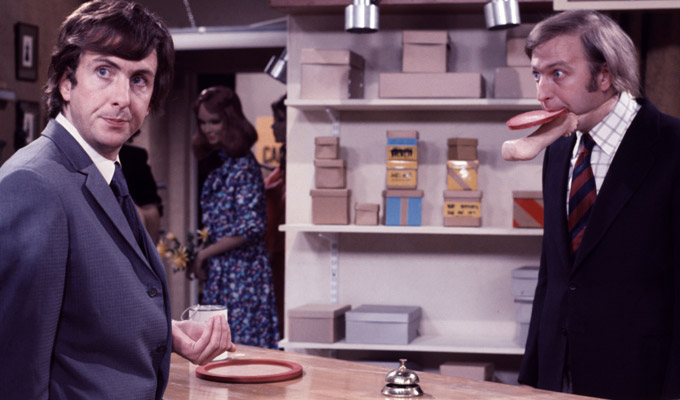 Rare Monty Python pictures released
A new archive of photos and documents has been uncovered from the making of Monty Python.
The find comes as the groundbreaking comedy troupe celebrates its 50th anniversary, with the first episode of Flying Circus having aired on October 5, 1969 on BBC One .
The images include behind-the-scenes photos of John Cleese, Terry Gilliam, Eric Idle, Terry Jones, Michael Palin, and the late Graham Chapman taken from 1969 to 1974.
The archive release also includes a 1969 audience research report revealing viewers' initial reaction to the series and its 'delicious sense of the ridiculous', as well as a memo from the then head of comedy John Howard Davis requesting the team stop using 'peculiar titles for their scripts before Monty Python's Flying Circus had been settled upon.
Another 1969 memo from Davis warns against broadcasting David Frost's address as the Postmaster General 'already had my balls' after his real phone number was aired.
Shane Allen, the BBC's controller of comedy commissioning, said: 'These archives are comedy history holy grails! They highlight that long-standing BBC reputation of being the vital place that champions pioneering new talents.
'The Pythons tore up the rule book of comedy grammar, conventions and traditions, but thankfully the support for creative freedom won the day and has certainly paid off in the long run as audiences continue to celebrate and revere their enormous impact on comedy.'
The troupe are also now being taught as history in schools
BBC History has also collaborated with Nick Hornby's non-profit outfit Ministry of Stories to introduce children aged 11 to 14 to the work Monty Python
They have released a teaching resource to support young people across the country to write their own comedy sketches.
Robert Seatter, Head of BBC History, said: 'When Monty Python's Flying Circus began in 1969 it radically changed the face of TV comedy. By introducing these famous Python sketches to today's young people we want to change it all over again – with the same spirit of surreal invention.
Find out more about BBC History's Monty Python archives, including extracts from the printed material, here.
All pictures on this page © Python (Monty) Pictures Limited
Published: 5 Oct 2019
What do you think?