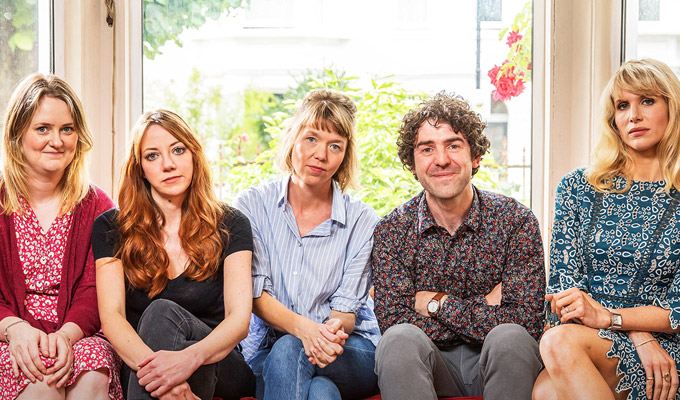 Shame on us for making Motherland so white
When BBC Two's comedy Motherland launched last year it was garlanded with praise for its warts-and-all portrayal of flustered parents thrust together at the school gates.
But co-writer Sharon Horgan says she only belatedly realised they had made one serious oversight.
'We thought it was really fucking white,' she now admits, realising the narrow scope of the characters' ethnic mix. 'By the time we came to watch it, we thought, "shame on us".'
'We thought we were doing a great job writing about women and giving women voices and actually we'd missed a huge trick,' her co-writer Holly Walsh concedes. 'That was a massive conversation we [later] had.'
So for the second series which launches on Monday, they have added a new black character to the roster of mums: Meg, right, played by Tanya Moodie, the acclaimed stage actress who portrayed John Watson's therapist Ella Thompson in Sherlock.
Meg is a work-hard, parent-hard, party-hard type of a woman, who tears her way into the group dynamic like a whirlwind in the opening episode, leaving the existing regulars played by Anna Maxwell Martin, Diane Morgan, Lucy Punch and Paul Ready, struggling to keep up.
Although she seems larger than life, Horgan says: 'Meg is very heavily based on someone who, when we had the first series, was like "Why aren't I in it?"
'I'm really happy Sharon told me she's based on a real person,' Moodie explained at a press screening of the new series. 'I couldn't fathom someone like that really existed. I'm so far away from Meg
And she reveals that at the audition, 'I jumped in feet-first. I thought this person can't possibly exist, so I'm going to go completely over the top. But they so clearly though "that's it!"'
Indeed, the writers admit they wished they'd made more of their new signing.
'By the time we got to filming it we were all gutted there wasn't more Meg in there,' Horgan said.
And Walsh added: 'I looked forward to everything she was in. It makes me really excited about the next series as we have this extra, brilliant powerhouse.'
The next series – incidentally – that was officially announced by the BBC this morning.
Meg is not the only change introduced after the second series.
'We all felt like that we wanted the audience to feel they were more involved,' Horgan said. 'We felt it was a bit too shiny, a bit too sitcommy. We just didn't want it to be so formal.'
There was also a change in the writers' room. Father Ted and The IT Crowd's Graham Linehan has stepped aside – though his wife Helen remains on board – with Barunka O'Shaughnessy joining the now all-female team.
'It made a difference,' Horgan said of the new group. 'It always does when you introduce a new writer anyway, because there's just a different dynamic and there's' a whole set of other politics you have to learn. Writers' rooms are brilliant, but there are a lot of personalities in a very enclosed space.'
Series two also involves a change of circumstances for the lead character, Julia, played by Maxwell Martin, who quits her corporate job to work freelance from home.
'We had to think of something,' Horgan admits. 'In the first series she's thrown in at the deep end because her mum has always done the school drop – and then her mum decided after her lung collapsed that she's not going to do that any more.
'That was our introduction to Julia into that world. We loved that but we couldn't keep that going.
'There are a few things we had to change from the first series because we felt we'd done that joke, so we had to think of a new way to approach it. You never want people to see the strings or to notice the tricks.
'So we thought, let's give her a new problem which is self-employment, which is wonderful and also fucking awful and terrifying and has its own issues.'
Horgan also said it gave them the chance to make more of Maxwell Martin's talents. 'This woman is just a brilliant physical comedy performer, it just gave us more things to throw at her,' Horgan added. 'She does look like a mental patient.. we thought people had to see that.'
But the core issues remain the same as the writing team initially planned.
'We just wanted to represent what it's like to find yourself in that situation [as a new parent] and not necessarily have that much in common with the other women, and occasionally men, at school,' added Horgan – who is also one of the executive producers of Motherland, through her production company Merman.
'We wanted to say that sometimes it can be as scary as an adult staring school as it is for the kids - you've got to find your tribe. We wanted to put together this group of characters who became a little misfitty cell.'
Linehan said she drew on her own experiences. 'Having a baby was something so out of this world,' she explained. 'Then you're lumped in with people you'd never dream of hanging out with, and you're tied to these people for years. I just thought there was comedy in it.'
Walsh put it more succinctly, saying the only reason she was friends with other members of her National Childbirth Trust group was 'because we all had unprotected sex on the same weekend'.
And Horgan said her experience of being a mother was 'shambling and terrifying'.
'I think generally that's what I find funny,' she added. 'People in difficult situations trying to find their way out of it. Those were the stories we wanted to tell.'
She recalled thinking she was on to something when she spotted a group of other mothers from her child's school having a picnic in a park that she hadn't been invited to.
'I thought, "Fuck you! What have I ever done… apart from slink in and out as quickly as physically possible and then write a sitcom about it!'
• Motherland returns to BBC Two at 10pm next Monday, with the entire second series being made available on iPlayer immediately afterwards.
Published: 1 Oct 2019
What do you think?