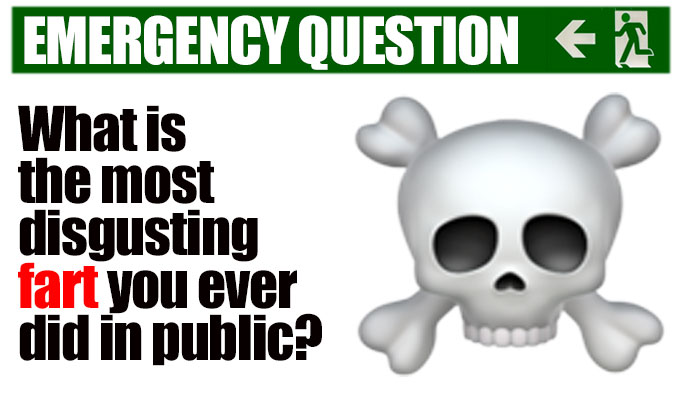 What is the most disgusting fart you ever did in public?
Another from Richard Herring's stock of Emergency Questions.
After a heavy Guinness night, I did one so bad a dog started barking and a newborn baby started screaming. They thought the sewage tank had burst. Also did one in one of my A-levels that was so loud made me teacher escort me out of the hall, only for them to start laughing at me in the behavioural office. Archie Maddocks, Big Dick Energy, Mash House, 16:50
Cleared a dancefloor in Manchester it was so bad security came over and stated that whoever did it should leave. I kept my mouth shut but also I left immediately. Richard
Stott: Right Hand Man, Gilded Balloon, 12:45
Did a vile, sour, vicious one on stage nanoseconds before lights went up on a sketch. Everyone else on stage acted the rest of the sketch looking like they were chewing wasps. I was the straight man but wept burning tears of choked laughter throughout. George Fouracres, Gentlemon, Pleasance, 15:30
I did the smallest fart yesterday in the car with my wife but it was quite a shocker. A window was immediately opened and words were said. George Egg: Movable Feast, Assembly George Square Gardens, 16:30
I farted as soon as i got out of an Uber, I thought it would be a silent but deadly one but it had some bass to it, my driver totally heard it. He gave me 1 star London Hughes, To Catch A D*ck, Pleasance Courtyard, 20:15
I fogged out the elevator in my building once right before a couple got on. They began to sniff audibly. I was feeling guilty as hell, but then the girl sniffed again and said 'mmm someone ordered pizza' and the boy sniffed even louder and said 'smells like Dominoes'. I haven't eaten Dominoes since. David Tieck, What Would Bill Murray Do?, Just The Tonic at the Grassmarket Centre, 18:00
I suffer from IBS which is brought on by stress so Edinburgh is great fun. While performing at Clover in Underbelly with Lead Pencil we were hiding behind the curtain next to the audience entrance and I let one rip. The audiences' first impression of our show was my guts on a stressful mid-Fringe Scottish diet. We've all gone solo now. Dave Bibby: Crazy Cat LAD-y , Globe Bar PBH Free Fringe, 16:45
It wasn't gross but I did a loud fart in Art Textiles in year 9. Everyone turned in my direction and Miguel, the boy sat next to me, said: 'It was Maddie!' A girl across from us said: 'No, Maddie wouldn't do that. Don't blame her for your fart' and I agreed and let Miguel take the blame for it. Sorry Miguel! Maddie Campion, Truly Maddie Deeply, Gilded Balloon, 14:00
More disgusting in terms of etiquette than odour, I did once walk across my silent but full student library, squat down to get a book from a low shelf right in the middle of the oak-panelled acoustically-brilliant room, emit one of the loudest farts of my life, unsquat, take said book and walk back to where I was sitting as if not a person there would know it was me. Cally Beaton, Invisible, Assembly George Square Studios, 17:10
My Nana's funeral. Priest wasn't impressed. Nana loved it. Stephen Mullan, Lisa Richards Presents Irish Comedians: Son of a Preacher Man, Gilded Balloon, 18:45
On a crowded tram during rush hour I farted directly into a woman's face. I couldn't hold it in and she couldn't escape. As a result I died of shame and I am now dead and never want to talk about it ever again. Tom Ballard – Enough, Monkey Barrel, 21:00
The Regatta Hotel, Brisbane, 1992. I really wasn't well. That fart got me punched in the head. Nick Elleray, Big Nick Energy, The Counting House, 12:45
Published: 4 Aug 2019
What do you think?