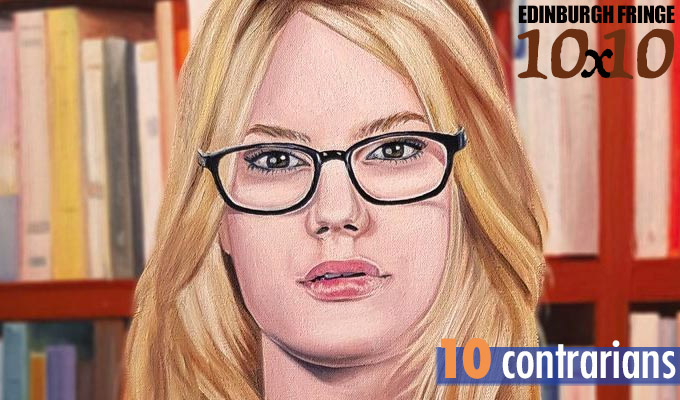 Edinburgh Fringe 10x10: Ten contrarians
You can't say anything any more, apparently. Well here are ten comics flirting with political incorrectness and kicking back against the forces of liberalism dominating comedy. Are they bold contrarians challenging a new authoritarianism, like any good artist, or reactionary sticks-in-the-mud, King Cnuts against the tide of liberalism? You decide if they're Cnuts or not…
Titania McGrath
The radical intersectionalist poet has become one of the most popular parody accounts on Twitter, with almost 300,000 followers lapping up her super-woke satirical posts. Things like 'dieting is fat-shaming yourself'; 'future generations will thank us if we successfully eliminate heterosexuality' and 'All problematic books should be burned; if our ancestors had done this, we might have been spared the rise of fascism.'
It sounds exaggerated, but not too far from some of the genuine posts that the account mischievously retweets.
Comedian Andrew Doyle said he created her in response to the virtue-signallers who are obsessed with victimhood and 'are seemingly impervious to reason, and would rather cry "bigot" than engage in serious debate'.
Quite how he's going to create his demale alter-ego on stage for his show Mxnifesto remains to be seen. But then McGrath would be first to state that gender is a phoney construct… while also somehow laying all the world's ills at the feet of men.
Pleasance Courtyard, 21:00
Doyle also has his own stand-up show, Exodus, at the Pleasance Courtyard at 22:30 from August 19 to 25.
Konstantin Kisin
The Russian comic is most famous for a gig he DIDN'T do.
Last year, he was asked to perform at a charity gig at the School of African and Oriental Studies in London, but refused after being asked to sign a 'safe space' policy prohibiting from saying things that could fall under the banners of 'racism, sexism, classism, ageism, ableism, homophobia, biphobia, transphobia, xenophobia, Islamophobia or anti-religion or anti-atheism'.
'Students are being taught to prevent offence rather than to seek truth and pursue experiences,' he said in one of the many interviews he gave after the event, becoming something of a poster boy for all those who thinks students today are delicate snowflakes.
No surprise, then, that his Fringe debut, entitled Orwell That Ends Well, looks at freedom of expression and 'wokeness'.
Gilded Balloon Teviot, 19:00
Expect a more playful take on the same issue as these two Fringe veterans present Virtue Chamber Echo Bravo, a safe space – 'as long as your thoughts corollate with ours'. Their aim? To make sure everybody is being right.
Like Titania McGrath, they have taken the 'man' out of manifesto , and they have chosen to categorise the show as 'seminar, light opera' under the festival's sub-genres.
Heroes@The Hive, 15:40
Geoff Norcott
One of the first of the new wave of comics to go against the grain and identify himself as a Tory (and later an EU Leaver, too). It's certainly helped fill a gap in the market – and on Radio 4 panel shows – where every other comedian was triumphing their liberalism. Since 'coming out', he's been on Question Time and The Mash Report – and this Fringe presents a work in progress.
Underbelly Bristo Square, 19:20
Sarah Southern
A full-on proper Tory: and former Conservative Party official and aide to David Cameron when he was Prime Minister
But in 2012, she had to quit after becoming embroiled in the 'cash for access' controversy after undercover journalists from The Sunday Times filmed the Conservative co-treasurer Peter Cruddas apparently offering meetings with the Cameron and his Chancellor George Osborne for £250,000. Southern is alleged to have introduced the journalists to Cruddas
None of this is mentioned in the blurb to her show, as she tries to launch a stand-up career with Tentatively Tory, which is about her having a crisis of confidence about her political beliefs.
Waverley Bar, 12:00
Omar Ibrahim
In Awokening, Ibrahim promises a 'comedic assault on "woke" ideology' and 'a rally against ideological thinking' that assumes everyone who doesn't agree with you is a Nazi.
However Ibrahim's track record so far, including starring in the anti-austerity pantomime Ricky Whittington & His Cat and Working Christmas by proud leftie Jonny Donahoe of Jonny & The Baptists fame suggests this might not be the all-out assault on liberalism the blurb predicts.
Just The Tonic The Caves, 22.25
Gavin Webster
It's fair to say a stand-up who cracked victim-blaming jokes about the rape of female comics right after Eurydice Dixon was attacked and killed on her way home from a gig in Melbourne, Australia does not have much time for accepted pleasantries.
In his show at The Stand, he promises to tackle the likes of mental health issues, trans rights and veganism … or more likely the blind self-righteous consensus that forms around them. 'I've correct opinions on all these subjects despite having minimal knowledge,' his blurb says. 'Who needs experts?'
Stand 2, 19:35
Dominic Frisby
Dominic Frisby is a free market economist – a MoneyWeek columnist who even has a comic lecture about Adam Smith in the spoken word section of the Fringe – and keen Brexiteer. His anti-establishment song on the subject, 17 Million F*ck Offs, has more than 500,000 views on YouTube. He argues that the Referendum for the first time gave those who didn't agree with the dominant liberal left viewpoint a voice – and that's who he's appealing to. His show of Libertarian Love Songs even vows 'no entry to statists, crony capitalists or the metropolitan liberal elite'. Which is a bold move considering the make-up of the average Fringe audience…
Banshee Labyrinth, 17:00
Chris McGlade
As a working-class bloke from Redcar, he's vehemently anti-PC and has previously raged with a rare intensity against the thought police who would stop him from using the words he wants. There might not be quite so much political stridency in this year's show – which offers a much more personal story, about his father's murder and the subject of forgiveness – but it's part of his DNA, so you'd be rash to rule it out.
Here's a poem from his last show entitled The Right To Hate.
Laughing Horse @ City Cafe, 21:15
Great British Bake Offenders
Rick Molland and Sully O'Sullivan go all-out to offend in this show. Their aim is to create the most offensive bakery product the world has ever seen in the light of the Supreme Court ruling that a bakery was not guilty of discrimination for refusing to bake a cake with a slogan supporting same-sex marriage. But was it really that case that inspired them, or the chance for a very laboured pun in the title?
Scottish Comedy Festival @ The Beehive, 17:45
Check all Chortle's Fringe listings here.
Published: 17 Jul 2019
What do you think?