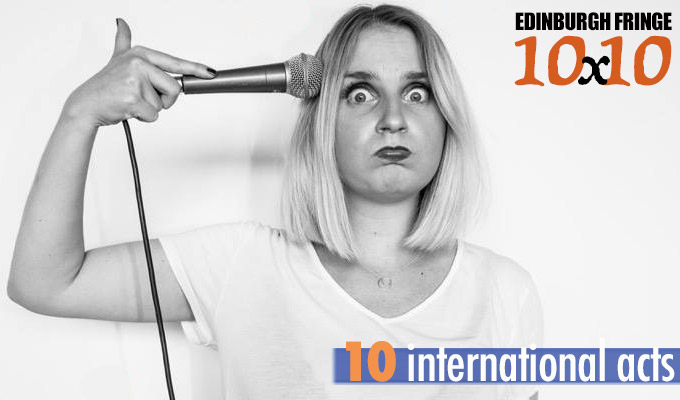 Edinburgh Fringe 10x10: Ten shows from around the world
It's a funny old world… and here are ten comedians from its more unusual corners who are bringing their funnies to Edinburgh:
🇮🇸 Snjolaug Ludviksdottir: Iceland 🇮🇸
Iceland's punching well above its weight for such a small country, with what almost seems like a significant proportion of the island's population heading to Edinburgh to perform Fringe comedy shows.
Ardal O'Hanlon lookalike Ari Eldjárn started it, making waves a couple of years ago with his bewildered observational comedy going down so well he secured a Mock The Week appearance on the back of it. He's back at Monkey Barrel at 7.30pm with his new show Eagle Fire Iron.
Also in town are Laufey Haralds, whose show is about making the next Scandi-noir thriller, and Bylgja Babylons, who describes herself as an anxiety ridden hypochondriac.
But to represent the Land of Fire and Ice we've chosen the comic with the most Icelandic name going. Snjolaug means 'snow', and Ludviksdottir means 'daughter of Ludvik', as Icelanders traditionally take their second name from their father's first name in this way.
In her show, Let In Snow, she tells of growing up in Paris, but having to move back to Iceland at the age of 12 when her parents divorced.
Gilded Balloon At Old Tolbooth, 20:30
🇱🇺Sundeep Bhardwaj: Luxembourg🇱🇺
Originally from India, Bhardwaj is now a fully-fledged Luxembourger, living in the Grand Duchy with his wife and two kids. A banker turned public speaker, he makes his debut with a showd escribed as an 'epic journey across race, religion, language and international borders'. He's also half of the Brown Guys, Grey Skies show at PQA Venues @ Riddle's Court at 8pm.
PBH's Free Fringe @ House Of Gods, 15:40
🇦🇷 Adrian Minkowicz: Argentina 🇦🇷
Argentinean, but based in New York and Brussels, Minkowicz is a comedian, theatre artist and one-time lawyer, though he's turned his back on that now. He was the first comedian to have his own one-hour stand-up comedy show for two consecutive years on the renowned Corrientes Avenue in Buenos Aires and has appeared on various US stand-up shows.
This Edinburgh offering is about the concept of privilege, and he even challenges the existence of white privilege – but cautions: 'If you are racist, perhaps this show is not for you.'
PBH's Free Fringe @ Banshee Labyrinth, 15:55
🇪🇪Straight Outta Estonia🇪🇪
In an Edinburgh Fringe first, Estonian stand-ups are performing their own show. The line-up changes each week, anchored by Karl-Alari Varma and Ari Matti Mustonen, and they have a brilliantly harsh quote from Australian comedian Brendon Burns to sell their show, describing them as: 'Either a pack of brilliant comics or just the disturbed offspring of multiple Holocaust survivors, cold Eastern European white c***s, you probably shouldn't let in your house'.
PBH's Free Fringe @ Ciao Roma, 19:05
🇸🇬 Sam See: Singapore 🇸🇬
Free speech might be limited in Singapore, but Sam See has forged a comedy career there, including being a permanent panellist on the tiny nation's first ever comedy panel show, OK Chope!
Considered risqué in a country where gay rights are non-existent, See's Edinburgh debut will cover the likes of Singaporean censorship, bad charity shows and performing in the Middle East.
Laughing Horse @ The Counting House, 17:45
🇨🇭Johannes Dullin: Switzerland🇨🇭
This avant-garde German/Swiss comic only got one review at last year's festival, right in its dying days. But in its five-star rave Broadway Baby was effusive in its praise, calling Dullin's show 'an unexpected brain-twisting delight… always dancing between the profound and the ridiculous. '
This year's offering promises another 'exhilarating ride on the dark side of human existence' in its blurb – probably one for fans happy with the bounds of comedy and reality being tested.
Heroes @ Dragonfly, 19:20
His Swiss compatriot Leo Mohr is at the same venue at 23:20 with a show entitled When I Was Zorro. In his blurb he deadpans: 'It is [about] how, when I was a child of six, I had many dreams. If you see the show it includes several examples proving this.'
🇯🇵Kilara Sen: Japan🇯🇵
Tokyo-based Kilara has appeared on Asia's Got Talent and took part in The Funniest Person In the World competition run by The Laugh Factory in the US, In Japanese Sweet Wasabi: No Mask Required!, she promises insight into her life as a Japanese woman – as well as a medley of impressions.
🇷🇺The Russian Comedy Experience🇷🇺
Milo Edwards, Anton Borisov, Ivan Yavits and others offer a comic take on their homeland, and an outsider's look at Britain in this line-up show, returning for a second year.
Just The Tonic At The Caves, 23:35
Meanwhile, 2018 best newcomer nominee Olga Koch is back with her follow-up, If/Then at Monkey Barrel at 16:30; Moscow native Helegis Feldman has a storytelling run at Just The Tonic @ The Mash House at 11:15 and political comic Oleg Denisov is at The Scotsman hotel at 16:40.
🇨🇮Trev Tokabi: Cote d'Ivoire🇨🇮
Though born in London, Tokabi moved to Abidjan when he was eight, and spent his teenage years in the military academy. He first brought his story to Edinburgh last year, and reprises it for 2019.
Laughing Horse At City Cafe 20:40
🇮🇱Boycotted: Comedy from Israel🇮🇱
Rabbi David Kimnick runs the Off the Wall Comedy Theatre, the first venue of its kind in Jerusalem, and brings two of his compatriots to Edinburgh to share stories of life in Israel and of Jews in the Middle East. His colleagues are Gil Rosenberg, a character comic and self-described nerd, and Ofir Kariyo, 'the most Arab Jew you will ever meet'.
Champions Of The Festival @ The Scotsman, 20:40
Kimnick also has his own show about being a rabbi and his attempts to make synagogue more fun, also at The Scotsman, at 18:00.
Published: 10 Jul 2019
What do you think?