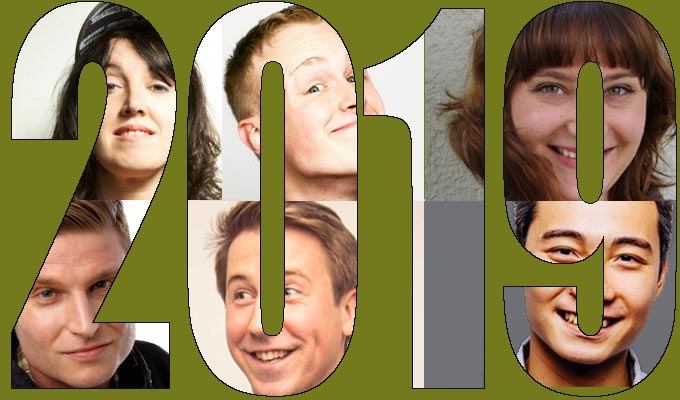 2019: The ones to watch
In what's now an annual tradition, we asked some of Britain's comedy promoters to tip the comedians they expect to go on to big things in the next year. Here's who they suggested:
Eleanor Tiernan
Dave Vickers, who runs the long-running Banana Cabaret night in South London, tipped the Irish comedian and writer Eleanor Tiernan.
She said: 'We have been big fans since we first saw her and think it will be a great year for her.
'She has such a lovely, unassuming and individual style. Her delivery is fabulous and the unpredictable path she takes with it enables her to be able to cover even big political issues such as feminism, religion, cultural identity in a warm, incisive and most importantly, extremely amusing manner.
'She is the sort of act who would be so watchable for more than a twenty minute set because of her demeanour, wonderful pacing and politics.'
Josh Jones
Jessica Toomey, managing director of Manchester's Frog & Bucket, recommended 2016 Chortle student comedy award finalist Josh Jones, who hails from the city and is a graduate of the Salford University comedy degree.
She said: 'Purely by word of mouth recommendations between bookers, Josh Jones has gone from undetected to pro within a year as well as getting signed by an agent.
'Josh's cheeky persona and high energy makes him instantly likeable on stage, adorably bitchy and working class makes the entire audience his new best friends.
'Unfortunately there isn't a magic formula of what will work but someone comes along with a spark in their eye and you just know they have it and will go far in the next year.'
Laura Davis
Martin Willis, who runs London's Objectively Funny comedy nights, has chosen Australian comic Laura Davis, who has been a staple of the circuit down under for the best part of a decade and has now moved to London.
He said: 'She isn't new to the game by any stretch. However she recently moved to the UK and is in a position to become gain a massive cult-like following over here.
'She's got a TV script being fought over by massive production companies both in the UK and US, and continues to create extremely entertaining and highly artistic work for the stage. 'Her 2018 show Ghost Machine tackled big subjects with a fine brush, managing to give hilarious insight into tricky matters like atomic biology and existential philosophy. If that sounds hard to swallow, it wasn't – she added plenty of sugar, bringing huge laughs from gloriously lowbrow topics like oral sex, chicken shops and thrush.
'Laura's got a ton of talent, and is experienced enough to make the most of it.'
Scott Bennett
Helen Stead of East Midlands-based NCF named Yorkshire-born Scott Bennett as her tip for 2019.
She said: 'Whether Scott is performing his established material or working on brand new he is always a big hit and leaves the audience wanting more.
'It's becoming a common question at our gigs to ask when Scott will be back, the audience just love him. He's a very strong performer whose talent and likability deserves to be widely recognised.
'I expect big things from Scott in 2019, hopefully some TV or radio work will come his way.'
Carl Hutchinson
Rob Riley, who runs a series of gigs mostly in the North of England and has himself just been named independent comedy promoter of 2018 by comedians, put forward Carl Hutchinson.
He said: 'Carl has been a favourite on circuit for many a year but he's also one of those performers that realises 'business' is just as important as 'show'.
A combination of solid graft and a canny eye for capitalising on his tour support work with Chris Ramsey make him a viable tour act in his own right with sold-out dates far into 2019.
Nigel Ng
The Malaysian, who won Amused Moose's National New Comic Award in 2016 and last year appeared on Comedy Central's Stand Up Central, was chosen by Daniel Dearlove, of the Backyard Comedy Club in East London.
He said: 'Nigel has always been a very good act but in the last year we have seen him a lot at the club with the help of our Thursday night new material show which has elevated him to a Malaysian tour de force.
'The hard work and natural talent is starting to pay off. He's surely destined for great things.'
Class of 2018
How did the comics tipped this time last year fare in the past 12 months?
Sindhu Vee certainly had an impressive year, with her first Radio 4 series, Sindhustan, an appearance on Have I Got News For You and a nomination for best newcomer at the Edinburgh Fringe. She makes her QI debut early this year, too.
Lauren Pattison had already been nominated for the Edinburgh Comedy Award in 2017, and in 2018 continued to forge ahead in her career, with appearances on Comedy Central's Stand Up Central and Comedy Up Late in Australia, while she was at the Melbourne Comedy Festival. She was also invited to Just For Laughs in Montreal, where she recorded a set for Canadian TV's Stand Up Show with Katherine Ryan.
Scott Bennett was also tipped last year, so clearly promoters are still expecting big things, though he remains a circuit favourite rather than attracting wider attention
Also yet to make a major leap forward – though continuing to make waves on the live circuit – were Richard Todd, Christopher McArthur Boyd, and Andrew White (unless you count hosting the 2018 EssexTV Awards), but the latter is still only 19 so has plenty of time.
Published: 3 Jan 2019
What do you think?