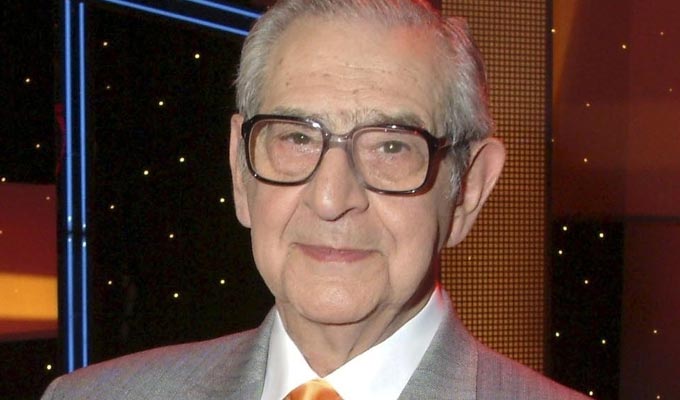 'It's hard to make a word processor laugh'
As a teenager Norden became taken with the idea of becoming a foreign correspondent, so wrote to the Daily Express journalist Sefton Delmer asked if he could accompany him to the civil war in Spain… and he agreed! However Norden's parents refused to let him go.
Instead he started work in cinemas and theatres, and he once recalled a blonde vocalist taking to the stage for her first number 'dressed in a long, full skirt, and, smiling radiantly, stood directly over the little trap door through which the rising mike was about to slip upwards…'
Soon after VE day, Norden, Eric Sykes (with who he served) and about ten other airmen made an unauthorised visit to Denmark, which had largely escaped the austerity of war. So the meal they had in a restaurant in Aabenbraa was a real treat after six years of tough rations. After their hugely satisfying main course, the dessert trolley came around laden with cream flans in various shapes and sizes. Each man duly ordered a desert, their eyes affixed to the luscious cream they had not seen for so long. Then the commanding officer, a man called Bill Fraser, said: 'Gentlemen. Under the circumstances there is only one thing to do.' He then put his hand under his plate and balanced it, and waited for the rest to do the same. Them as one, all 12 of them 'sploshed a plateful of cream flan full in our faces'. As they stood stock-still, the cream dropping from their noses, the restaurant broke out in applause.
Norden and Frank Muir liked to telegram each other imagined TV shows. Danny Baker today recalls on Twitter that one of Norden's is 'my favourite joke in the world'. It went: 'By day she dispensed justice. By night she was Queen Of The Music Halls. Join us at 8 for: Tara Raboom - D.A.'
Norden and Muir can also lay claim to introducing some phrases into the English language. Muir claimed that they introduced the phrase 'Trouble at t'Mill' in one parody; and one series featured an opinionated newspaper letter writer named 'Disgusted of Tunbridge Wells'.
They once wrote a radio show for Bernard Braden that aired at breakfast time, for which they came up with the line: 'Instead of constantly interrupting the show to give you time-checks, we'll get them all out of the way in one go. So at various points in this programme it will be 8.07, 8.12, 8.17, 823, 8.26 and eventually 8.29'. They got complaints.
Speaking of complaints, Norden was seated next to Kenneth Tynan when the provocative theatre critic made a broadcasting first - saying 'fuck' on television for the very first time.
He says he found it difficult to write after his partnership with Frank Muir ended because 'when you're on your own, there is that terrifying possibility that you may be the only person on the planet who thinks it's funny - and you have no way of finding out'. So for reassurance he would hand his scripts to a secretary in the hope of hearing chuckles as she typed up his handwritten notes. 'Then after that came word processors and it's hard to make them laugh,' Norden used to joke.
Norden was often the victim of mistaken identity. He would tell the story that once, when he was caught short while out driving, he stopped his car, nipped out, and took a pee in an alleyway. Whereupon a passer-by spotted him and shouted: 'Oi, you're that Barry Norman, aren't you.' To which he replied. 'Yes. Yes, I am.'
A journalist once rang Norden to ask what he thought about the BBC scheduling a screening of Gone With The Wind opposite It'll Be Alright On The Night. 'Frankly, my dear, I don't give a damn,' he, of course replied. After an icy pause the woman replied: 'Isn't that a bit arrogant?'
He used to tell audiences of his TV recordings that he always carried a clipboard as he didn't know what to do with his hands. One day a heckler shouted out: 'Ever thought about putting them over your mouth?'
• Several of these stories have been taken from Norden's entertaining showbusiness memoirs, Clips From A Life, available here.
Published: 19 Sep 2018
What do you think?