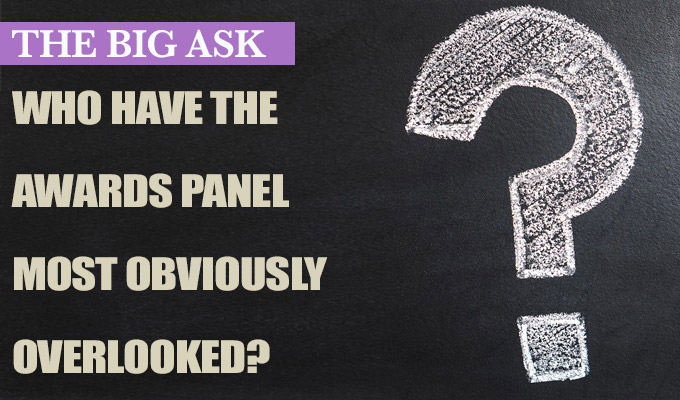 Who have the Edinburgh Comedy Awards panel overlooked, up to now?
This question was asked before today's shortlists came out...
The obvious answer to this is James Acaster, though to be fair nominating the best comedian in the country for Best Show at the Fringe five years running and never letting him win is pretty funny. Ahir Shah, Duffer, Cabaret Voltaire, 14:15
Luisa Omielan. I'm incredibly excited to watch her blow everyone away again this year. Lauren Pattison, Peachy, Pleasance, 19:00
Nick Mohammed. Nick Mohammed. Nick Mohammed. Kieran Hodgson , Kieran Hodgson: '75, Pleasance Beneath, 20:15
To mention a couple of specific names, Joz Norris, John-Luke Roberts and Sam Gore (for I See You Live). Really, what they overlook are generally shows that are very funny 'straight' stand-up. I understand and applaud the promotion of acts who play with different genre tropes, but we should equally be applauding people who write an hour of funny, original jokes. Alexander Bennett, Housewives' Favourite, Waverley Bar, 19:30
Mat Ewins, should be the new Ant and Dec, both of them. Alison Spittle, Worrier Princess, Gilded Balloon Teviot, 17:15
Hmmm….I think the main award is wall to wall aces every year. Stellar acts. The newcomer sometimes reminds me of a science fair project in school where the winner built an actual rocket ship. Only you find out later that his dad works for NASA. Russell Hicks, Love Song for the Viciously Ambitious, Laughing Horse @ The Free Sisters, 17:45
Me of course Tony Law, A Lost Show, Monkey Barrel , 15:00
I would say Tim Renkow, because he is so so good and I can't believe he hasn't been nominated yet. Luca Cupani, God Digger, Underbelly: George Square, 17:20
The Lords Of Strutt kids shows have been a highlight for the family and me. Scott Bennett, Leap Year, Just The Tonic At The Mash House , 17:55
Lou Sanders and Luke McQueen. Brett Goldstein, What Is Love Baby Don't Hurt Me, Pleasance: Beneath, 19:00
Jonny Pelham's debut was phenomenal. It was everything a show should be. Thoughtful, personal, engaging, heartbreaking, it had a solid joke every step of the way and there was not a shred of self pity in it. It was a debut delivered with the grace and poise of a seasoned veteran. Garrett Millerick, Sunflower, Tron, 17:00
Minorities and Phil Ellis (same thing) Che Burnley, Elvis Was Racist?, Bar Basis, 21:30
All our brave fighting men and women overseas Pierre Novellie, See Novellie, Hear Novellie, Speak Novellie, Pleasance Courtyard, 19:15
Neal Portenza Damien Warren-Smith, Garry Starr Performs Everything , Underbelly Cowgate, 20:10
You would think Acaster would have won it by now. And Jamali Maddix as best newcomer. Ashley Haden, We all Die C*nts, Harry's Southside, 20:45
John-Luke Roberts. His shows are always at the top of my list. David McIver, David McIver Is a Nice Little Man, Opium, 14:30
Neil Hamburger. Lloyd Langford, Why The Big Face?, Banshee Labyrinth Cinema Room, 22:00
The Showstoppers. They won an Olivier guys; it's time to accept improv. Lee Apsey, CSI: Crime Scene Improvisation, Underbelly, Bristo Square, 15:35
Fin Taylor. He's the funniest one. Please someone, anyone, give him trinkets. Chris Betts, Chris Betts Vs The Audience, Bob's Blundabus, 17:20
Sean McLoughlin. He's fantastic! We did our Edinburgh previews together this year and he was outstanding! He's also just supported Bill Burr at the Royal Albert Hall which is not too shabby. He has a bright future. Rich Wilson, Still Relevant, Sneaky Pete's, 18:15
Everyone you ask this to is secretly thinking me... Not me, but themselves. God, I hope they're thinking me. I wish they were. Seriously though it's hard to say, the quality of shows seems to get better every year. Matthew Highton, Insufficient Memory, Heroes at Dragonfly, 20:40
All of the Weirdos comedy collective? Marny Godden, Marny Town, The Hive, 18:20
They gave the panel prize to all the acts one year, but they've never given it to the audience, who really put a lot in to it. Best, give the award to everyone who doesn't come to the Fringe, because if they did all come the place would come to a complete standstill so they're really the ones who make the whole thing possible. John Luke Roberts, All I Wanna Do Is [FX: GUNSHOTS] With a [FX: GUN RELOADING] and [FX: CASH REGISTER] and Perform Some Comedy!, Assembly: Studio Five, 17:30
Trygve Wakenshaw is a once in a lifetime performer. Zach & Viggo and Thumpasaurus, Where Does The Love Go?, Underbelly Cowgate, 21:20
Women, mostly. Hardeep Singh Kohli, You-Topia, Assembly Studio Three, 17:15
Paul Currie is a definite. I've seen him fire cornflakes out of his mouth to "Arthur's Theme (Best That You Can Do)" so many times and have always been helpless with laughter. Every show Paul stuffs it ideas that are unique and lovingly stupid. Thankfully he has an audience that will see him year upon year but I don't understand why critics and judges aren't in the same boat. Struan Logan, Struan All Over the World, Counting House: Attic, 18:05
A lot of veterans hardly seem to get a look in. For example, Jo Caulfield has been going up consistently since 2001, and it really shocks me that she's never even got a nomination. So funny, and audiences love her. Andrew White, Andrew White: Coming of Age, PQA Venues @ Riddle's Court, 18:00
Stephen Bailey, I love him and everything he has to say. I know he'll definitely quote me on saying I love him and take it way too meaningfully... That's why I love him. Aaron Calvert, Declassified, Gilded Balloon at the Museum , 18:00
I believe Colin Hoult deserves more awards. His show 'Anna Mann How We Stop The Fascists' was one of the most hilarious and best pieces of character comedy I've ever seen. It truly inspired me to go home and write my hour to bring to the fringe this year. Naomi McDonald, Stardumb, Fireside, 15:45
It's not a who, it's a what. For years they've heinously overlooked the concept of actual comedy that makes people laugh. The Perrier used to be won by club comics - Vegas, Skinner, Tiernan - deeply hilarious, resonant comedians. Now it's all people moaning about stuff and crying. Leo Kearse, Right Wing Comedian, Espionage, 19:30
Published: 22 Aug 2018
What do you think?