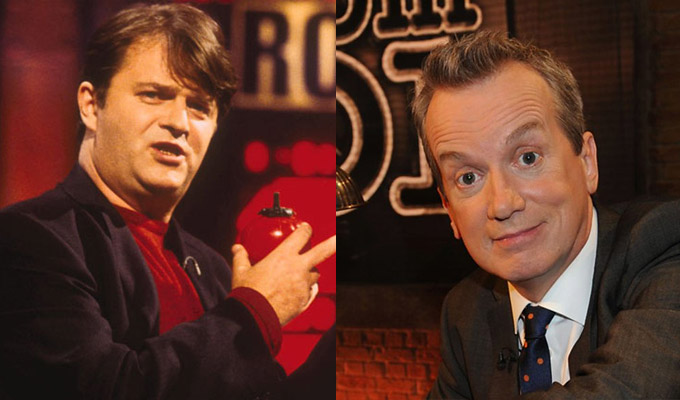 Whine list
As host Frank Skinner announces that 'Room 101 is dead', we look back at some memorable moments from the show.
• Anne Robinson was accused of xenophobia when she proposed putting the Welsh into Room 101 in 2001, claiming they were 'rritating and annoying'. 'I've never taken to them,' she said .'What are they for?' The Broadcasting Standards Commission investigated 427 and found her comments 'came close to the boundaries of acceptability'.
• But she was only following tradition. The first item ever put into Room 101 was the French, Guest Bob Monkhouse said: 'I would like to tilt the Channel Tunnel downwards and turn it into a sewer.' On that occasion, no complaints were raised.
• Mel and Sue condemned Leighton Buzzard to Room 101, causign outrage in the town. But they were never fans anyway: In 1995. the pair did a show there that went so badly, they were made to leave the theatre via the back door so they wouldn't ynched.
• On his episode, Ricky Gervais told a of who, on moving out to the country, was presented with a rice pudding made with his new neighbour's leftover breast milk. The comic joked that if he had been in that situation, he would have offered to make her a 'spunk sandwich'.
• Stephen Fry attempted to put Room 101 into Room 101, because he didn't like people talking about things they hate. Paul Merton found was reluctant to agree, saying it would be 'professional suicide'. But eventually he relented – whereupon the screen went blank, with only Merton's voiceover saying: 'I wish I hadn't done that.'
• Kirsty Young wanted to get rid of people with very loud voices… but Merton won the argument by showing Brian Blessed commenting on the snooker.
• In Merton's last show as host, Ian Hislop put his Have I Got News For You co-star into the room of doom. Hislop also suggested Piers Morgan, but the room itself rejected the presenter for being 'too toxic'
• Spike Milligan put Chris Evans into Room 101, saying: 'The best I can wish him is an early death.' When challenged by Merton that that might be too much, he wished leprosy on him instead. Merton said of Evans: 'He's got the look of a comedian but without the talent or the writing ability or the timing'
• Rhod Gilbert tried to put himself in Room 101, because of his laziness. However, he was denied. Sheila Hancock also tried to put herself into Room 101.
• Other item banished have included dogs' lips, static electricity, cartoon animals that wear clothes, the YMCA dance, the revamped theme tune to The Bill and 1975, the year not the band.
• Clips are not available for most shows as producers Hat Trick clamp down on the copyright infringements. But here is a selection of more recent rants, compiled by one YouTube user.
Published: 25 Jul 2018
What do you think?