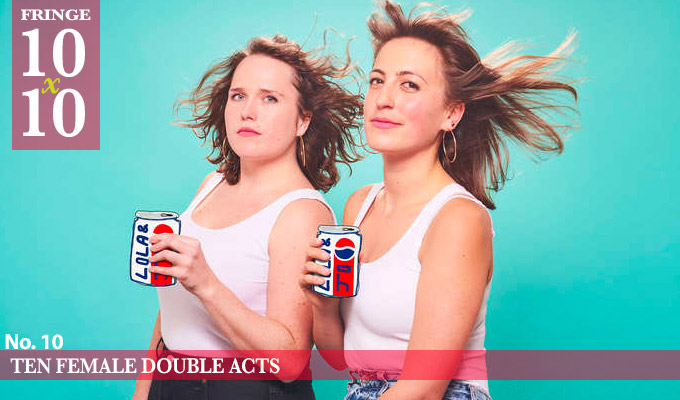 Edinburgh 10x10: 10 female double acts
Shared bills are rife on the Fringe, but proper double acts are harder to come by. And it's one of the few subsections of comedy with gender parity, with about as many men as women… maybe something to do with such acts being more about collaboration than competition, if we are going to evoke a gender stereotype. Anyway, here are some of he all-female duos in Edinburgh next month.
Flo & Joan: Alive On Stage
They were ubiquitous on TV for a while, fronting those Nationwide with bespoke ditties in their distinctive style, if perhaps with some of the edge lopped off. For their live work, they won the music and variety category of the Chortle Awards this year, and this Fringe run is a precursor to their first UK tour which kicks off in September. Pleasance Courtyard, 16:00
Beard: Baby Come Back
Cambridge Footlights alumni Rosa Robson and Matilda Wnek (herself a Chortle Student Comedy Award finalist) made their Fringe debut in 2015 with a strange, sometimes ethereal but proudly distinctive show. It's taken them three years to come back, but here they are with more 'darkly intimate' comedy. Pleasance Courtyard 15.30
The Kagools: Kula
Last Edinburgh, the physical comedy duo of Claire Ford and Nicky Wilkinson won the Amused Moose award for the best comics without a DVD-style deal. Their wordless - though not silent – family-friendly comedy means language is no barrier to them performing around the world, and indeed their travels have taken them as far afield as Norway and Vietnam. Formerly performing under the less inspired name of Wilkinson Ford, this is their third show as The Kagools. Just The Tonic @ The Caves, 14:30
Lucille and Cecilia
More physical comedy comes from this pair, called Chloe Darke and Susannah Scott in real life, who developed the show as part of the Soho Theatre's Young Company. They play two sea lions try to break free from the confines of the circus to discover the freedom of the world beyond. C Aquila 17:25
Croft & Pearce: Double Take
Character duo Hannah Croft and Fiona Pearce are one of the most experienced double acts on the Fringe. Friends since school, they started writing and performing sketch comedy together in 2011, when they took their first show to the Fringe. They've picked up a couple of awards and landed their own Radio 4 show, the imaginatively named The Croft & Pearce Show, in 2016. They've twice toured the UK, and this is their latest show, Underbelly Bristo Square, 14:00
Egg: Richard Pictures
Egg is a newish double act made comprising Anna Leong-Brophy and Emily Lloyd-Saini, who spent five years working together in the improv troupe BattleActs! Their work can mark audiences for life - literally. After their 2016 debut, one dedicated audience member had one of their punchlines tattooed on to his arm. Expect many egg-based puns in the reviews of their Fringe show. Pleasance Courtyard 18:00
Lola and Jo
Lola and Jo, pictured, previously posed as leaders of a corporate awayday to package their sketches. The year, they are Leslie and Jackie at market research company, Focus On, conducting a survey into what the discerning comedy audiences of 2018. 'Laughter NOT guaranteed,' they insist, 'as this is for research purposes only. Underbelly Cowgate, 16:00
Róisín and Chiara: Back to Back
'Stream-of-consciousness, messy art-house disco funk comedy' is how Mesdames O'Mahony, and Goldsmith describe their own character comedy. 'The Mighty Boosh on acid' his how one cliché-loving reviewer saw it… glossing over the fact that the Boosh are pretty trippy themselves. The Lecoq-trained clowns and improvisers are back at the Fringe for the third time with this offering. Heroes @ Boteco, 14:40
Siblings: Acting Out
Maddy and Marina Bye got a fair bit of coverage for their Edinburgh debut last year by dint of being the daughters of Ruby Wax and TV producer Ed Bye. Marina is a classically trained actor, while Maddy went through Gaulier's clown school – a variance of high art and low that they played up in their 2017 show, as they picked away at their sibling issues… which is likely to be a cornerstone of this sophomore show, too. Underbelly George Square, 18:40
Witt 'n' Camp: Swag
This duo, comprising Charlie Howitt and Holly Campbell, promise to inject some clowning, character-comedy and cabaret into their musical comedy show, which is described as 'a wild and joyful celebration of female identity.' Characters include opera stars, Wittundra & Deborah, who turn the likes of Nicki Minaj into classic arias, and Bridget & Braun, two battery hens who dream of escaping. Assembly George Square 20:00
Published: 27 Jul 2018
What do you think?