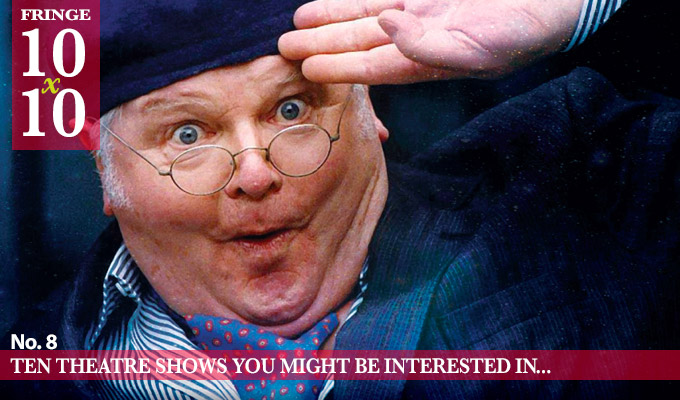 Edinburgh 10x10: 10 theatre shows you might be interested in
As a comedy fan, this might be news to you: but there are actually OTHER sections of the Fringe programme? Weird, huh? Well here are a few picks from the Theatre part of the festival that might still interest you…
Benny
Benny Hill is soon to be the subject of a majorTV biopic, but here Liam Tobin offers his one-man look at the comedian, using his familiar comedy style to re-evaluate his peculiar and lonesome life, his controversial work and his legacy as misogynist boogieman. Fair or not? Gilded Balloon, 14:45.
Do You Think That's Wise? – The Life and Times of John Le Mesurier
Another affectionate tribute; this one featuring mimic Julian Dutton of BBC One's The Big Impression bringing to life the Dad's Army star. And Le Mesurier had quite some life and times to draw upon, not least being cuckolded twice: when second wife Hattie Jacques moved her lover into the family home when Le Mesurier was still there, and when third wife Joan began an abusive affair with Tony Hancock, with whom Le Mesurier remained friends Laughing Horse @ Cabaret Voltaire, 13:10
Other bygone comedian shows include the Spike Milligan tribute A Sockful of Custard at Pleasance Dome at 20:00, and Ken – with Terry Johnson as improvisational comedy and theatre pioneer Ken Campbell – also at the Dome at 15:30.
Brexit
Mike McShane, Jo Caulfield, Pippa Evans and Hal Cruttenden star in this new play about Brexit alongside Archers actor Timothy Bentinck. The man who plays David Archer in the long-running Radio 4 soap – takes the role of a politician who wins the Tory leadership contest but now must unite his warring MPs for the final stages of the negotiations to leave the EU. Total fantasy, of course. McShane, Caulfield and Cruttenden play advisers and colleagues in the show, which has been written by Robert Khan and Tom Salinsky, creators of previous topical Fringe plays including Coalition and Making News. Pleasance Courtyard,13:30
Courtroom Play: A Courtroom Play
'Legally Blonde meets Hot Fuzz' is the elevator pitch for this comedy play, which clearly has cinematic ambitions It's written by Jon Gracey, of The Beta Males sketch group, and features an cast of Fringe comedians including Richard Soames, Mandy Dassa, Emily Lloyd-Saini and Thom Tuck as the judge. And for plot? A hotshot lawyer is about to make partner, when an urgent call drags her back to the small English village she thought she'd left behind… Pleasance Dome, 12:25
The Flop
They're tempting fate with the title there, but Spymonkey have a very strong record of making physical comedy hits over the past 20 years. This one is set in 1650 Paris where impotence has been made illegal. When a wealthy member of the aristocracy is accused of being less than upstanding, his wounded pride leads him towards a far more monumental and very public flop.Summerhall 16:55
Grace
This one-woman comic play is set in the world of stand-up, with Katie Reddin-Clancy performing all six characters. These include Zoe, taking to the comedy stage to compere her first gig on her own in a run-down regional theatre and a sharp-tongued talent agent. Her performances and sharp one-liners were praised when this show was performed in Australia, although the narrative, themed around artistic struggle, was described as a 'bumpy ride'. Gilded Balloon, 13:45
The Half
Anna Crilly starts in this new from fellow comic Danielle Ward, writer of cult Fringe shows including Psister Psycho and Dani Frankenstein. It's another tragicomic play set in the world of comedy. The premise is that a double act are meeting for the first time in over a decade just before they go on stage. But whatever happened to cause such a rift? Shades of Inside No. 9's Chesee and Crackers, certainly, in the set-up for a play that promises to explore ambition, friendship, motherhood, ageing… and mice. Pleasance Courtyard, 14:00
The Ladder
Real-life husband and wife Rob Rouse – the stand-up who plays Bottom in Upstart Crow – and Helen Rutter perform in this new comedy play about 'marriage, grief and being stuck up a ladder'. It is based on a true story in which Rutter got stuck up a decorating ladder and is described as 'a funny and poignant play about a tumultuous time in a couple's relationship'. Gilded Balloon, 11.15, 2 to 12 only
Mark Thomas – Check Up: Our NHS at 70
Thomas's issues-led storytelling shows are usually the theatre section, emphasising the narrative over the jokes. But no one would deny his impassioned performances, whether polemic or personal, are funny. His latest offering looks at the health service as it enters its eighth decade, and draws parallels with his own ageing. The show is based on interviews with leading experts and residencies in hospitals and surgeries, and explores what's going wrong in our NHS, and how it can be put right. We reviewed an earlier version at Latitude earlier this month. Traverse Theatre, various times
Nina's Got News
Eyebrows were raised when the BBC revealed it has backed a number of new plays at the Edinburgh Fringe with management giant Avalon, only for the support to go to people well-established in other genres (and often not short of a bob or two) such as Frank Skinner. This is his offering, in which Nina receives some information that scares her. She calls on her ex-boyfriend and best friend for help. Will her friends believe her, no matter how implausible her story? The cast includes stand-up Rob Auton. Pleasance Dome, 14:50
Published: 25 Jul 2018
What do you think?