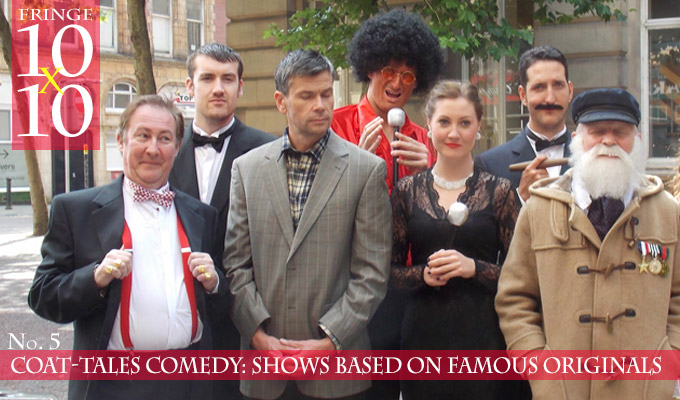 Edinburgh 10x10: Coat-tales Comedy
Worried your comedy show won't stand out among the hundreds of others at the Fringe? Then why not hitch yourself to the far more successful creative efforts of others? We call this Coat-tales Comedy, riding on the coat-tales of a hit franchise.
Harry Potter
JK Rowling conceived the boy wizard in Edinburgh, and he's been working his magic on box office receipts ever since.
He most obvious is Pottervision, a parody in which grown men, led by, Lukas Kirby and Tom Lawrinson pretend to be 12-year-old children as they re-enact scenes from the first film. It's sold out the past couple of years, so the spell is working. Or there's Spontaneous Potter (Gilded Balloon, 20:45), an entirely improvised Harry Potter comedy play, based on a suggestion of a fan fiction title.
Then there's Voldemort and the Teenage Hogwarts Musical Parody (Assembly George Square Studios, 17:00) which follows He-Who-Must-Not-Be-Named through his moody teen years at Hogwarts, as he learns all about love, proper snake maintenance, and the unforgivable curses.
For his show, Aaron Simmonds and the Person That He Loves (Tolbooth Market, 18:45), the Jewish comedian of the year has mocked up a Harry Potter-style poster, and promises to talk about the series as part of the hour, while sketch trio Sheeps have shamelessly titled their show Live and Loud Selfie Sex Harry Potter (Pleasance Dome, 19:00) ., even though they promise: No Potter stuff. At least Jessie Cave (Stand 4, 14:25) and Jim Tavare (Stand 4, 14:25) (Laughing Horse @ The Counting House, 16:15) were actually in the films, playing Lavender Brown and Tom the Innkeeper respectively
Sherlock Holmes
The Adventures of the Improvised Sherlock Holmes may only exist for the pun 'no script Sherlock', but that seems good enough reason for us. Improvisers from Racing Minds come up with a new adventure each day based on audience suggestions. Just the Tonic at La Belle Angele, 14:00
Doctor Who
Improv's appropriation continues with Any Suggestions, Doctor?, a long-running show featuring a live radiophonic workshop. Sweet Grassmarket, 16:00. Then there's the lunchtime parody Space Doctor! Gilded Balloon, 12:15, or those after more camp, the Doctor Whosical, promising drag queens galore Greenside @ Infirmary Street, 23:05.

Jane Austen
It's a truth universally acknowledged that Austentatious is one of the most dependable hits of the Fringe, as top improvisers don their breeches and bonnets to spin a new Jane Austen novel every day, based entirely on a single audience suggestion. (Underbelly, Bristo Square, 13:10, August 15 to 24 ). Also on the bandwagon this year is American comedian Charles Ross, the king of Coat-tale Comedy, having previously presented One-Man Star Wars and One-Man Lord Of The Rings, creating the trilogies all on his lonesome. In 2018, he's back not only with One-Man Pride and Prejudice ( Assembly George Square Studios, 15:50, August 2, 4, 6, 8, 10 and 12 ); but also his take on a more modern blockbuster, One-Man Stranger Things (Assembly George Square Studios, 15:50, August 1, 3, 5, 7, 9 and 11) .
Sex And The City
Knowing when he's on to a good thing, TJ Dawe, who directed some of Ross's shows, has branched out only ever so slightly to co-write One-Woman Sex And The City with its performer, Kerry Ipema. It's an affectionate romp through the series, without ignoring some of the elements that seem a little unenlightened to modern, 'woke' eyes. Underbelly Bristo Square, 18:55. Here's a clip
Only Fools And Horses
The Faulty Towers dining experience, ripping off or paying homage to John Cleese and Connie Booth's creations, depending on your point of view, returns for an umpteenth year of chaos (The Principal, various) But there's competition this year in the form of Only Fools And 3 Courses, pictured, with Del Boy and Co serving up the meals, which we can only hope are lovely jubbly. (Karma Sutra, 14:00 and 18:00)
Rihanna
Bald Man Sings Rihanna seems to be exactly what it promises, with Gary Sansome belting out the hits from the Barbadian pop queen – and quite possibly some other chart stars – to break up his stand-up in what's described as 'an irreverent look at pop culture' Ciao Roma, 20:20
Game Of Thrones
The bloody swords and sex saga is parodied in a couple of shows the Fringe. There's a musical version from the Baby Wants Candy team called simply Thrones! (Assembly George Square Theatre, 22:30); while Lord of the Game of the Ring of Thrones offers an improvised epic fantasy, taking in the Tolkien mythology too. (Just the Tonic at La Belle Angele, 18:30)
Spice Girls
As the fivesome behind Girl Power prepare for a reunion, Funny Spice Michelle De Swarte, a former model turned TV presenter, argues that the image they peddled was all fake news… especially their vow that friendship would last forever. The Spice Girls Lied to Us is on at Laughing Horse @ City Cafe at 1am on August 12 to 15 only.
Beetlejuice
Timely, this, since it's the 30th anniversary of the movie. Edinburgh-based comedian Ross Hepburn says that the obnoxious ghost of Tim Burton's comedy-fantasy is his hero. So donning the same sort of stripy suit that Michael Keaton wore so well, the stand-up describes how Beetlejuice has helped him through life. Sweet Grassmarket, 20:00
Published: 20 Jul 2018
What do you think?