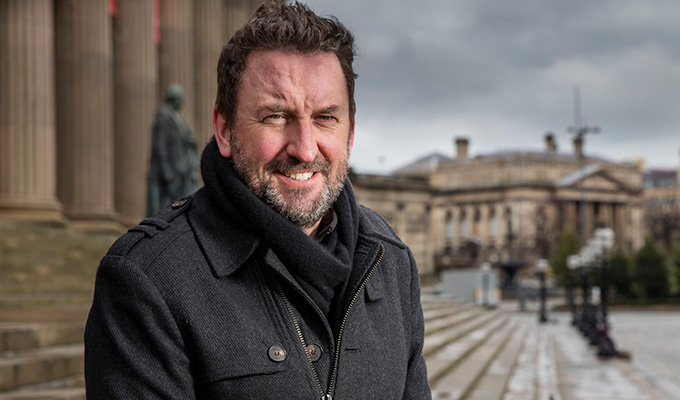 How Lee Mack's comedian great-grandfather walked off the battlefield and on to the stage
Lee Mack has discovered that his great-grandfather was not only a comedian, but a soldier who ­survived the bloodiest day in British Army history.
The comic has long known that Billy Mac was an entertainer, and owns three dog-eared photographs that had been passed down throught the family.
But taking part in the BBC genealogy programme Who Do You Think You Are?, he discovered that Billy fought in the First World War.
'Typically.as a self-obsessed stand-up comedian I've been trying to find about his showbiz life,' Mack said. 'But perhaps there's something more interesting and profound I should find out.
Further investigation found that he took part in the Battle of the Somme, walking across no man's land to help take the German trenches. On just one day of the battle, 20,000 British soldiers were killed.
Astonishingly, Billy would entertain the troops after taking part in the fighting.
Mack travelled to Ypres where historian Rebecca D'Monte showed him a report of his great-grandfather's comedy troupe, The Optimists, performing on the front line.
The cutting refers to the entertainers performing an outdoor concert in their 'ordinary and mud-stained clothes' – their uniforms
Mack expressed disbelief that Billy would perform after 'literally walking off a battlefield. 'To be shot at, or perhaps kill someone, and then walk on stage…' he mused
Dr D'Monte explained 'The very morning of the performance there was a battle going on and Billy Mack was part of that. It was a very bloody battle, a very difficult battle, with lots of people who were killed.'
'Putting on these performances helped normalise their experiences. They helped people feel more sane in a complicated and difficult situation.'
There was no report of The Optimists performing after 1918, but Mack travelled back to his hometown of Southport, where Billy performed after the war both in drag (below) and as a 'swell' character – a spoof of a fancy socialite.
It appears he ended up marrying an autograph-hunter – Mack's great-great grandmother Gladys. But Billy did not pursue a long career in comedy. In 1922, the birth certificate of his son describes Billy as a maker of wireless equipment.
'His comedy career was weirdly not as big as I thought it was, and yet at the same time more important than I thought it was,' Mack says on the show. 'He didn't go for decades in the variety halls of Great Britain but it sounds like he did a really worthwhile job of it. That boosting of morale during the First World War cannot be underestimated.'
The Not Going Out star was also surprised to learn that Billy, was more middle class than he expected.
Billy was one of first middle-recruits into the 17th battalion of the King's Liverpool regiment, a so-called 'pals battalion', of men from similar backgrounds.
'I find it fascinating,' Mack said. 'You'd think they would just be terrified of fighting the Germans but, no, they were worried about mixing with the hoi polloi.'
However, Lee rejects the idea that being funny is genetic, saying: 'I think it is more likely it's about upbringings.
'If he was the kind of person who was a joker and messed about, and he passed that on to his son, that would make sense about how my grandad passed it on to my dad. Because my dad was a joker.'
In his episode of Who Do You Think You Are?, which airs on BBC One next Monday, Mack also investigated why his maternal granddad Joe was sent by his mother to be brought up by his grandparents in Ireland.
Published: 10 Jul 2018
What do you think?