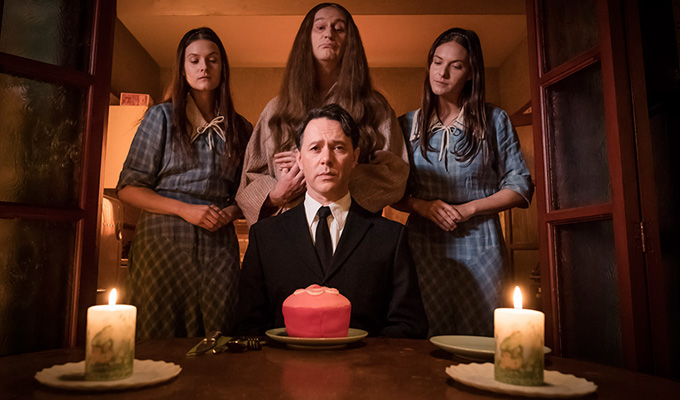 League Of Gentlemen specials: First pictures
The BBC has released the first images from the League Of Gentlemen comeback shows.
The pictures show new characters including Henry (Reece Shearsmith) and Ally (Steve Pemberton), a dodgy-looking pair who are hawking knock-off DVDs such as The Matrix and Terminator 2, complete with hand-drawn covers, in a park.
Another new character is a balding bingo caller called Toddy, played by Mark Gatiss.
Gatiss also plays another new character called Lindsey, from the county planning department.
Car Share star Sian Gibson has also joined the cast for the first episode as a character called Trish, seen having breakfast with Pop (Pemberton) and his son Al (Gatiss).
Pemberton has described the monstrously bad father as one of his favourite characters and both dad and son appear in several scenes in the new programmes.
The three new episodes are called Return To Royston Vasey; Save Royston Vasey and Royston Vasey Mon Amour.
They of course feature the return of old favourites such as Edward and Tubbs Tattsyrup, who seem to have survived being hit by a train after their 'local' shop burned down at the end of the last series.
There's also more from community theatre group Legz Akimbo…
…as well as Pauline, Mickey and Ross.
Creme Brulee's Les McQueen is still trying to make it to the big time…
…and hapless vet Mr Chinnery and sneering vicar Bernice Woodall – seen here with a new character called Murray (Gatiss) are also back in Royston Vasey.
The token 'normal' person, Benjamin (Shearsmith) proves the town's motto 'you'll never leave', again facing the creepy toad-loving Denton family. The Twins Chloe and Radclyffe are now played by Francesca and Lily Knight, not the original actresses, Megan and Rosy De Wolf:
The BBC has also released some behind-the-scenes shots:
The 20th anniversary shows will air on Monday December 18, Tuesday December 19 and Wednesday December at 10pm on BBC2. Read interviews with the team here.
Earlier this week, a teaser trailer was released highlighting some of the returning characters:
Published: 7 Dec 2017
What do you think?