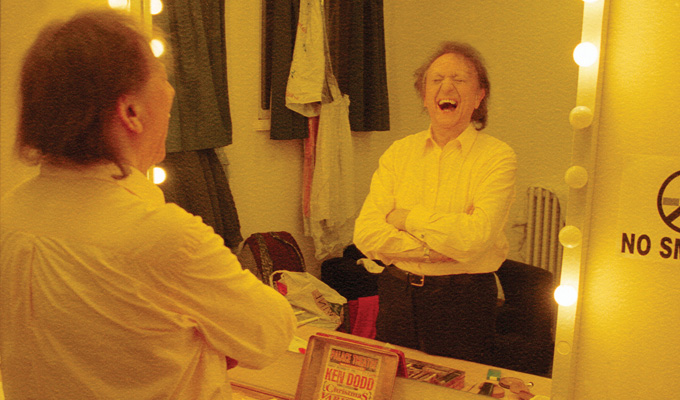 RIP Ken Dodd: 90 facts about the legendary comedian
1. The day Ken Dodd was born, November 8, 1927, also marked the return to public speaking of one Adolf Hitler, then 38, following his ban after his attempted 'Beer Hall Putsch' four years earlier.
2. He died in the same home he was born in.
3. His middle name was Arthur – after his father.
4. As a youngster, Dodd sang in the local church choir of his local church, St John's in Knotty Ash, Liverpool.
5. At the age of 7, Dodd was dared by his school friends to ride his bike with his eyes shut. He accepted the dare, crashed and sustained facial injuries which resulted in his distinctive buck teeth.
6. Dodd left school at 14 to go door-to-door selling on his dad's coal round.
7. He was offered a job as a cub reporter on the Daily Express but was turned it down to stay in the family business.
8. He became interested in showbusiness after seeing an advert in a comic that read: 'Fool your teachers, amaze your friends — send 6d in stamps and become a ventriloquist!' He sent off for it.
9. He called his first ventriloquist's doll Charlie Brown – a poor choice given how hard the letter 'B' is to say without moving your lips.
10. His parents bought him a Punch & Judy Show, too, and he used to put on shows in the back garden.
11. He performed his first show at the age of ten in an orphanage 'because the poor little beggars couldn't get away'.
12. But he made his professional debut under in 1954 under the name Professor Yaffle Chuckabutty, Operatic Tenor and Sausage Knotter.
13. That debut was at the Empire Theatre, Nottingham. 50 years later he played the city's Royal Concert Hall, that was built on its site, and got a framed playbill of that first performance.
14. However, in 2009 he was banned from the same venue after its boss slated his show as being 'poor quality'.
15. In 1955 Dodd joined a summer revue at Blackpool Centre pier with a company that also included Jimmy James, Jimmy Clitheroe and Roy Castle.
16. Dodd says Arthur Askey was his boyhood comedy hero, describing his act as 'like a fireworks display going off'. Others include Al Read, Max Miller and Robb Wilton.
17. He made his radio debut on Workers' Playtime, where he joked about his buck teeth: 'I'm the only man in the world who can eat a tomato through a tennis racket.'
18. One of his foils on the radio was Judith Chalmers, the future host of Wish You Were Here?
19. In the 1960s he earned a place in the Guinness Book of Records for the world's longest ever joke-telling session, cracking 1,500 gags in three-and-a-half hours.
20. His gigs, including guest variety turns, famously went on even longer – five hours was not uncommon.
21. Bernie Clifton would joke that at his age, he doesn't go and see a Ken Dodd show without putting his affairs in order.
22. Over his career, Dodd, has built up 'giggle gazetteer,' methodically listing exactly which of his jokes go down best where, so he can adapt his act to every city he returns to.
23. He said that was inspired by his time as a salesman, noting down what each customer had bought.
24. Even late in life he would rack up 100,000 miles a year while on tour, preferring to drive his Mercedes home after every gig.
25. But when he had to stay over he would prefer to use Travelodge hotels as they welcome dogs: Pippin George, the black poodle, went everywhere with him.
26. He appeared on six Royal Variety Shows, starting in 1965, when he appeared alongside Jack Benny; Spike Milligan and Peter Sellers; and Peter Cook and Dudley Moore. His latest was in 2006.
27. Insiders at the 2006 Royal Variety Show said Dodd 'smelt strongly of TCP'.
28. He also once performed a private gig for the Queen at Windsor Castle, at which he noted her tapping her foot to Happiness.
29. He had a library of more than 20,000 books on comedy and related subjects.
30. In the 1970s he devised a one-man show based on the history of laughter, but audiences were said to be baffled by the serious tone and it never took off.
31. Although he popularised the Diddy Men, he did not invent them. They are a longstanding part of Merseyside mythology, along with the Jam Butty Mines of Knotty Ash. Arthur Askey referred to them in his act before Dodd.
32. His 'ticking stick' is said to be a throwback to the old jesters marotte, the prop sticks the medieval entertainers used to carry.
33. He was also a singer, with his first single Love Is Like a Violin making No 8 in 1960
34. He had the third biggest-selling British single of the entire 1960s, Tears.
35. Other hits include Tears Won't Wash Away These Heartaches, It Is No Secret (What God Can Do) and Where's Me Shirt?
36. His signature tune, Happiness, was originally a waltz, but was re-written as a four-beats-to-the-bar number for Dodd.
37. He also holds the record for the longest comedy season at the London Palladium – with a mammoth 42-week residency in 1965.
38. At the time he told jokes to Bob Hope and sang songs to Bing Crosby, who were in the audience.
39. In 2004, he performed a gig by torchlight after a power cut plunged Stockport's Plaza Theatre into darkness.
40. The Guardian's theatre critic Michael Billington called Dodd 'the greatest solo performer in Britain'.
41. Eric Sykes once said: 'He's a Chippendale in a room full of MFI.'
42. Peter Kay's also a fan, one saying: 'I have a lot of respect for him, when he goes that will be it, there will be no-one else like him.'
43. There is a waxwork of him at Madame Tussaud's in Blackpool.
44. Taskmaster creator Alex Horne chose the life of Ken Dodd as his specialist subject when he appeared on Celebrity Mastermind in 2011.
45. Dodd also appeared on Celebrity Mastermind himself in 2014 and his specialist subject was theatre variety comedians since 1950. A few of the questions were famous feedlines, with Dodd proving the payoffs.
46. He played Malvolio in a production of Twelfth Night at the Liverpool Playhouse in 1971.
47. And he played Yorick – 'a fellow of infinite jest' – in Sir Kenneth Branagh's Hamlet in 1996.
48. Although he didn't have any lines in that movie, his job was also to play the film's jester on set, cracking jokes to the cast between takes.
49. He played The Tollmaster in the 1987 Doctor Who story Delta and the Bannermen, with Sylvester McCoy as the Time Lord.
50. Dodd also voiced millionaire Sir Fitz-Patrick Flush in the 1996 TV version of Dennis The Menace.
51. He partly inspired John Osborne's 1957 play about a music hall comic, The Entertainer, with the playwright event taking the cast, including Laurence Olivier, to watch Dodd in action.
52. In 1989 Dodd was charged with tax evasion – but was acquitted.
53. The prosecution was led by Brian Leveson QC, who went on to head the inquiry into media ethics.
54. During the court case it was revealed that Dodd had £336,000 in cash stashed in suitcases in his attic.
55. The court was also shown a video of his disorganised house, with a pantomime horse taking pride of place in the hall. He admitted he was a hoarder.
56. It also emerged that that The Diddy Men who appeared in his stage act, were often played by children from stage schools – but Dodd never paid them.
57. The case gave him lots of lines such as: 'Self-assessment. I invented that!'
58. And referring to his legendary reluctance to leave the stage, others joked: 'If Ken Dodd gets two years, he'll do four.'
59. His recipe for the perfect jam butty was: decrust two slices of bread then dip in in a beaten mixture of egg and milk in a shallow dish, before frying in butter or margarine. Make a sandwich with a tablespoon of jam, then also top with more jam and hand-whipped double cream.
60. In October 1987, Dodd officially opened the Arndale shopping centre in Accrington.
61. In 2001 he was made a Freeman Of The City of Liverpool.
62. He was made an honorary fellow of Liverpool John Moores University in 1997; an honorary fellow of the University of Chester in 2009; and an honourary Doctor of Letters at Liverpool Hope University in 2010.
63. Dodd only married his long-term partner Anne Jone on Friday, less that three days before he died. He had no children.
64. He said not being a father is a major regret. 'I wish I could have had a family but it wasn't to be,' he once said. 'I think anyone who has a healthy child is a millionaire.'
65. Dodd had a 22-year relationship with Anita Boutin until she died of a brain tumour in 1977 at the age of 45.
66. And he had been with Anne Jones, a former Bluebell Dancer, since 1988.
67. In 2001, a stalker, Ruth Tagg, admitted harassing Dodd and Anne by sending them threatening letters and a dead rat – and also attempted to burn down their house by pushing burning rags through the letterbox.
68. Dodd was a supporter of the Conservatives under Margaret Thatcher and campaigned during the 1979 general election which first brought her to power. In the last rally, in Wembley Arena, he introduced her on to the stage.
69. But he's also presented tickling sticks to Harold Wilson, Edward Heath, Jim Callaghan and John Major
70. He underwent a hernia operation in 2008.
71. In 2004 he planned to open a comedy museum in his native Knotty Ash, but a fire at the historic building he hoped would house the attraction kiboshed the idea.
72. Dodd was the subject of a special edition of Songs Of Praise in 2007, where he spoke about his Christian faith.
73. A regular church-goer, he would say a prayer before each performance.
74. He always said jokes about religion are off limits. 'It's not right that people should poke fun at the Christian religion,' he once said. 'My God has been very good to me.'
75. He also hated comics who swore and who make jokes about the Royal Family. 'God almighty! Why don't they let them alone to be a proper family,' he said in a 2006 interview with Armando Iannucci.
76. Dodd came 36th in a 2005 poll to find the 'Comedians' Comedian.
77. In April 2003 he was named the 'Greatest Merseysider' of all time by people of the region, beating John Lennon and Paul McCartney.
78. In 2016, he was awarded the Aardman Slapstick Comedy Legend Award at the Bristol festival of vintage comedy.
79. A British band called Ken Dodd's Dad's Dog's Dead formed in the mid-2000s; though they appear to be defunct now.
80. There is usually a statue of Dodd with his tickling stick in Liverpool Lime Street station, unveiled in 2009 - but it's currently been taken away while refurbishments take place.
81. His image hangs in the National Portrait Gallery, a 2004 portrait of the comic backstage, painted by David Cobley.
82. He has an aircraft named after him - one of the Jetstream 41 jets owned by regional airline Eastern Airways.
83. Dodd was patron of Shakespeare North, a replica of an Elizabethan playhouse being built in in Prescot, Merseyside.
84. ...and the British Hedgehog Preservation Society,
85. Dodd made a gaffe when presenting the best comedy award at last year's National Television Awards, reading out Mrs Brown's Boys twice but omitting Orange Is The New Black.
86. You can buy a life-sized cardboard cutout of Ken Dodd for £35 from eBay.
87. He was made an OBE in 1982 for services to show business and charity.
88. He was knighted in the 2017 New Year Honours; after being nominated eight times. It's thought his tax problems may have held him back.
89. The award was conferred by Prince William at Buckingham Palace in March last year – and the Palace laid on jam butties for the occasion.
90. He was performing up until late last year. He would say: 'A man retires to stop doing what he doesn't want to do and start doing what he does want to do. I'm doing what I want to do!'
Published: 12 Mar 2018
What do you think?