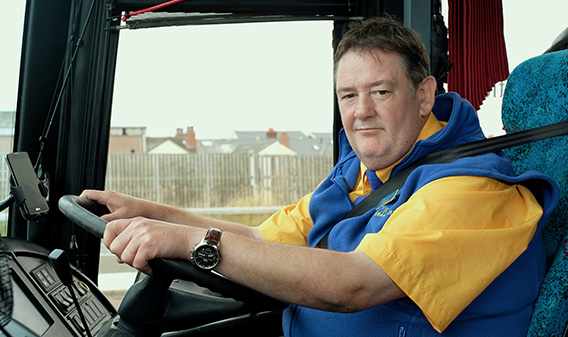 Murder On The Blackpool Express: The prime suspects
The Gold channel has assembled a galaxy of stars for Murder On The Blackpool Express, a one-off comedy from stand-up Jason Cook which airs next weekend. The cast is headed by Griff Rhys Jones, who plays famous author David Van Der Clane who sets up a book tour he's set up with coach operator Gemma Draper (Car Share's Sian Gibson) and driver Terry (Johnny Vegas). Here, some of the actors described their characters and reveal what it was like to shoot the comic murder-mystery….
Sian Gibson plays Gemma
Gemma owns the coach business, it's a bit of a flop but she wants it to succeed. She is very ambitious but... it doesn't go too well. She really relies on the coach driver, Terry, and they have a really good laugh. They are a little bit flirty but not over the top. They've had a close friendship for years.
Being set on a coach means that everyone is in every scene so you are just forced together – all the characters are constantly together so there is no escaping. You see everything and that heightens the fear and the suspense and it is just the closeness. I'm used to filming in a moving vehicle, but this was far roomier than a Fiat.
When I saw the cast list I was so excited. Absolute TV royalty. The worst thing I had to deal with was getting through a scene without getting the giggles.
Johnny [Vegas] has a way of looking at me and just making me laugh. The script is so funny that we just all had our problems with reading our lines and not laughing. I am going to blame Johnny for that. Because he's got a little glint in his eye.
Johnny Vegas plays Terry
Terry is the long-suffering coach driver, he's a little bit jaded. It's Gemma's business, and Terry has not been paid for a while. He is a lot more suspicious early on that something weird is going on when people start dying.
I think Gemma is just kind of praying that they are accidents because she knows exactly what is riding on it, business-wise. Terry has been quietly smitten with Gemma for years and that's been probably what has kept him in the job working for nothing, because he thinks the world of her.
Murder On The Blackpool Express is comedy played straight, which I quite like, so more comedy than drama. Apart from Griff Rhys Jones who is enjoying himself! His character is big so I think he sits nicely within that – and that gives us a lot to play off, the fact that he is playing it hammy.
Sian and I have had a laugh. We got on very well off camera, and I think that has formed what we were doing on camera. In Between takes we'd be sitting round having a giggle. In fact, there has been lots of corpsing.
I think across the board corpsing has been a bit problematic on this. It's when it's getting to half six at night and you cannot finish the scene, and you suddenly start calling Garibaldi biscuits 'Baligaldi'.
Sian will quite happily just turn her back on me [if she starts to corpse]. We've spent a full day of filming and all she did was look in a fountain so she didn't have to look at me. When you see it, you'll go, 'Why is she looking at the fountain?', and you'll see the shoulders are going and she is corpsing through the entire scene. It was a really long scene.
He is a slightly flamboyant, self-obsessed writer, who thinks that the tour revolves around him, which it does to a certain extent. Gemma is supposed to be the tour leader but David takes over a bit. Wherever he goes, he likes to cut a flamboyant figure and be centre of attention.
It's based on a real experience that the writer Jason Cook had, seeing this writer giving a talk, and he's obviously out to make as much money as he can on the side from selling autographs and books and extra merchandise and goodness knows what he can, wherever he can.
It would be invidious of me to say who some of this is based on, but as I was standing there, up in the church, I thought, 'Ooh, this reminds me of somebody I knew quite well,' who was a best-selling author!
As a piece, it's a character comedy, probably more like an Ealing Comedy than an obvious sort of modern stoner comedy, you know, and it's not a scrupulous parody.
Nina Wadia plays Moira
Moira's wicked. She's the best kind of character to play, because you get to be funny and evil. It's always more fun to be the bad guy, so I love her.
She's angry and bitter and upset, so she has thrown herself into reading these murder mystery books by David, so she quite looks forward to Griff's character turning up and showing them round.
For some reason, Moira just exists in me – the minute the wig comes on, the corners of my mouth just automatically turn down, and I don't know if it's because the wig is so ugly!
It's black comedy, that's exactly what this genre is, exactly the kind of comedy I like. It's got a feel of an old-school Miss Marple, but with more modern characters, so I think people will enjoy guessing.
The coach setting gives you some claustrophobia. Anything where people are forced to be together that wouldn't normally be together – that's just comedy gold anyway. And the irritation levels go up and up and up.
Kimberley Nixon plays Laura
Laura is very sweet and sort of put-upon, and she's a carer for Moira who is a bit of a tyrant of an employer – one of those people that thinks if she is paying you, she can treat you exactly how she wants.
We're all playing it like a good murder-mystery farce. This would be an amazing cast to do a stage play, but we'd never get through it, there's no way. The corpsing on this is the worst I've ever experienced!
Nigel Haver plays Doc
I'm a doctor and I look after my brother Kevin, who has memory difficulties. In fact, he can't remember anything for more than five minutes, really.
It's been shot in a very traditional way, with minimal movement from the cameras. I didn't notice anyone with a Steadicam or hand-held camera. That's not the normal way these days; everyone likes to throw a camera over their shoulder and leap in. But they aren't doing that. So there's something sort of 1950s about it. Miss Marple-ish.
Everybody's famous in this show.I hadn't really met Griff properly. But now I'm going to be staying with him after filming. He has a house in Suffolk, I said I'm going that way, and he said, 'Well, you must come and stay.' So that's come in handy, that hotel can be cancelled
The filming interfered with our socialising. It was really annoying! So now we carry on regardless with the anecdotes. They might say 'action' but we ignore them and finish the story and then say, 'Sorry, starting now'.
He's kind of like a human goldfish. He was hit by a car some years back and he's very happy but just not entirely in possession of all the facts all the time.
Mark Heap plays Graham
He's a loner. He's on his own, at the back of the bus, and doesn't say a great deal, just looks sort of angry. He thinks the author is a total oaf and an idiot, and hates everyone else pretty much.
So it's very unsociable for me, because I'm just sitting on my own, I haven't got any little chum to play with during filming.
Sheila Reid plays Mildred
Mildred is a woman of surprises. She has travelled the world and had a lot of experience. She's a very gentle, loving soul at heart. Very warm and caring but emotional. Not terribly clear in her thoughts. Tends to be what one might term 'dizzy', or a bit of a firefly. She's great fun to play.
It's a riveting story. It's really interesting to see what's going to happen. The two main characters, Terry and Gemma, are such innocents really. And suddenly they are plunged into this terrible world. They are our anchors
Una Stubbs plays Peggy
Peggy's quite stoic really, and sometimes irritated by Mildred who weeps regularly. But on the whole, basically quite a nice woman.
I think it's tedious when actors always say, 'Oh we're such a happily little family', but I'm afraid we are. I think it comes from the top and Johnny just spreads that. Such a good gatherer of people that makes a lovely friendly atmosphere.
Susie Blake plays Marge
Marge is a grumpy old cow! She's got a sense of humour that comes across as aggressively unpleasant but it makes her laugh that she's so beastly to other people.
• Murder On The Blackpool Express airs on Gold at 9.30pm on Saturday November 11.
Published: 3 Nov 2017
What do you think?