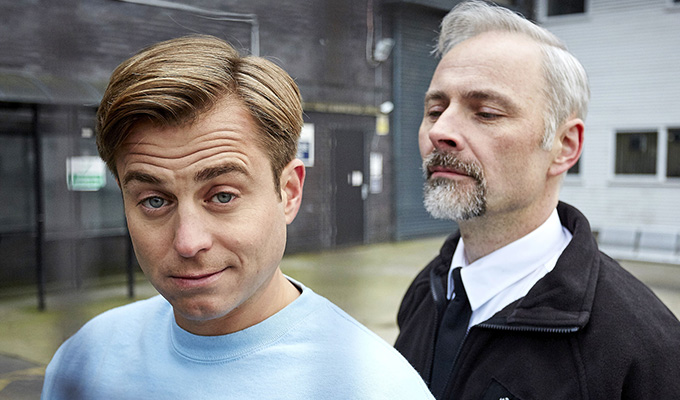 'They are big shoes to fill'
The star of the new version Porridge has admitted it seemed like a 'bad idea' to reboot the classic sitcom.
Kevin Bishop confesses that even after a pilot episode that aired last year, he's still 'very nervous' about whether the viewing public is prepared to accept him as the new Fletch, the grandson of Ronnie Barker's original prison inmate.
And he says that as a fan, he'd 'completely slate it,' if a remake got it wrong.
'They are big shoes to fill,' he says of his new role. 'It's Ronnie Barker. It's my favourite sitcom of all time
'Porridge is something that I've always really loved and when they initially said they were going to remake it, I thought that may not be a good idea because it's the closest thing to a perfect sitcom that I know. So I did think it was a bad idea at first.
'I wasn't really sure, even throughout the rehearsal process of the pilot, whether it would be a success or not. I was very nervous and still am, if I'm honest. It's something that people hold very close to their hearts. That's why I was slightly reticent at first.'
Bishop is a talented impressionist who shot to fame via Channel 4's Star Stories – and he mimicked many of his co-stars on set. 'It is like Tourette's,' he jokes.
But while he admits it would be 'very tempting to do an impression of Ronnie Barker – I think it would have been a mistake.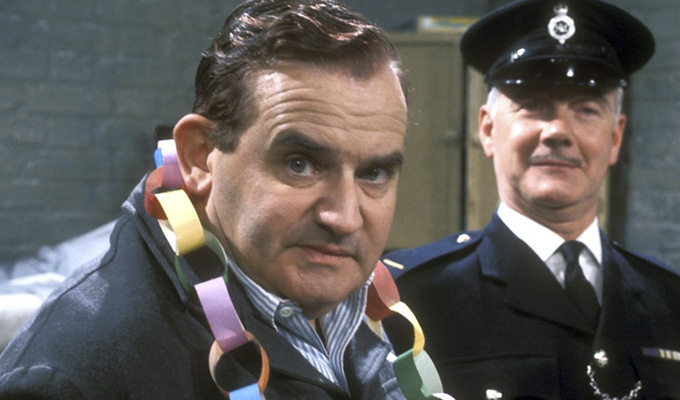 'The wonderful thing about that character, a gift from Ronnie Barker, is that he must have known that person. He must have based that on someone he knew because it's such a well-layered character. So really he's given me that frame to work from.
'Very much in the original Porridge, Ronnie Barker is the eyes and the ears of the audience. He plays it in such a way that he's you if you were in prison, that's how it feels. And that's what I'm trying to do with Fletch in this, make him feel like an everyman who's stuck in a place he shouldn't be.
'In every episode, there's a moment where it's not all jokes and you realise that being in prison is not fun. It's a tragic waste of life.'
Probably the biggest factor in persuading Bishop to climb into Fletch's bunk was that the reboot was written by the show's original writers Dick Clement and Ian La Frenais – now a youthful 80 and 81 respectively.
Clement also admitted that they were reticent about returning to Porridge, 'of course we were. But we started, and it was great fun.
'It's the plots that drive you crazy: once you've got the plots it's fun. And we've got a great cast here. Everybody was working together extremely well, and that's why we felt very confident about it. The [studio] audience in Manchester told us a lot. They seemed to like it, which is reassuring.'
That live audience was a new experience for Mark Bonnar, who plays prison guard Meekie – a far cry from making single-camera comedies such as Catastrophe.
'When you're on set doing a single camera shoot, you're isolated, it's more intense,' he said. 'Whereas this is a perfect meld of theatre and television. You've got the audience there and they let you know when they're bored, and they encourage you - sometimes to catastrophic effect - when they're enjoying themselves.
'It's fantastic, I love it. I'd never done any of that at all before the pilot and was absolutely terrified, but I watched Kev swan out there like an old pro and kind of thought, "oh, just enjoy yourself", and I did. It's a joyous job.'
Bonnar admits a debt to original Porridge star Fulton Mackay in his portrayal of the dour Scot. 'There are several Fultonisms, that are sort of nicked,' he confesses. 'It's a little tip of the hat to what Fulton did because he did such a marvellous job in that role. I think that familiarity is what people love, and why we are here.
'You just try to not let go of what is a massive institution of British sitcom, but imbue it with "you". Whatever you can bring to the role.
Dominic Coleman, who plays the more genial Braithwaite, akin to the Mr Barrowclough of the original agrees: 'Yes, it's just taking that spirit of what's there already and putting your own spin on it, having your own take on it.'
He adds that he started to re-watch the original before filming the new episodes 'then panicked slightly and thought "ooh, no".'
La Frenais certainly thinks the cast have done well, saying: 'Interestingly, I don't think I ever thought of the original Porridge when this bunch of excellent people were doing this version of Porridge.
'Neither Dick or I ever compared it to any previous episode or situation or scene or exchange, ever. That never entered our heads. That's credit to the cast.'
That's will come as music to Bishop's ears.
'The only thing I wanted to achieve from this really was, a) if Ronnie Barker watched it, would he think it was done well; and b) would Dick and Ian like it.'
Turning to the writers he asks: 'Well, did you like it, by the way...?
'We haven't really discussed it…' La Frenais quips.
• Porridge begins on BBC One at 9.30pm tonight. The entire six-part series will then also be released as a box set on iPlayer.
Published: 6 Oct 2017
What do you think?